Augen The Book Review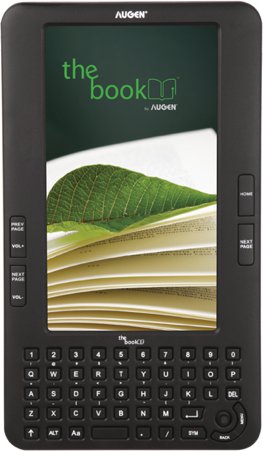 Overview
Based is Florida, Augen is a small electronics company that makes inexpensive netbooks, MP3 and MP4 players, tablets, and now ebook readers with their new Augen "The Book" ereader.
Like the Pandigital Novel, The Book is being marketed as an ebook reader, but is really more of a multimedia device than something designed to just read books.
Update: Since this review was written, Augen has issued a firmware update that fixes the G-sensor so that the orientation rotates as it should. The update also fixes issues with sentences cutting off in Adobe ePub ebooks. The download and instructions can be found on the Augen website. However, Augen's directions are pretty much unintelligible, so I'd recommend following the directions on this thread over at MobileRead instead.
Features and Functions
Augen The Book has a 7-inch color TFT screen that has a pixel resolution of 800 x 480, which is a lot narrower than the 800 x 600 that most ereaders use. The screen quality and color is good, and it is not glossy or a touchscreen, so there's a minimum of reflection.
The brightness of the backlight can be adjusted for different lighting conditions. The device uses very bold fonts that make reading outside in brighter light a little easier than with other LCD ereaders, tilted away from direct sunlight the text is fairly readable with the brightness turned all the way up.
The device has WiFi built-in, a web browser, video player, image viewer, notepad, it supports Adobe DRM for ebooks, and can play music.
One of its most interesting features, The Book has a text-to-speech function that can read aloud just about any ebook or text-based PDF, DRM-encrypted ebooks included.
The Book has a speaker, 2.5mm headphone jack, SD card slot for cards up to 32 GB, and it comes with 2 GB of internal memory, 150 free ebooks, an AC charger, USB cable, and a pretty decent leather cover.
Augen "The Book" as an eReader?
The Augen ereader supports Adobe EPUB and PDF, DOC, TXT, HTML, CHM, RTF, FB2, MOBI, and PRC text formats. Considering the device costs under $100 it's hard to complain too much, it does have some good qualities, but reading certainly isn't its best.
DRM-protected EPUBs have missing paragraphs and sentences, the margins are huge and not adjustable, landscape mode squeezes everything to the center, and there isn't any way to adjust or modify the layout, background color, line-spacing, add notes, highlight passages, lookup words in a dictionary, or anything that you'd expect from an e-reader.
On the positive side, DRM free ebooks display pretty well, save for the fact that The Book seems to have problems with apostrophes in some books, placing a space after them so that words look like this: don' t. The font is exceptionally bold, dark, and defined, and there are options for changing font type, line spacing, margins, and alignment.
PDF functionality isn't very good; the narrow screen isn't exactly the best option for PDFs anyway. The zoom function is hit or miss, there's no re-flow, and the G-sensor doesn't automatically rotate PDFs for some reason; you have to go in and set it to the highest zoom level to switch it to landscape view, which displays PDFs pretty good and readable. Also, large PDFs take forever to load, often freeze up, and page-turns don't seem to work all the time.
Overall, the Augen The Book has some potential as a ereader, but it still needs work, especially with DRM'd ebooks and PDFs. Some standard features need to be added that most other devices offer, like being able to add notes (what's the keyboard for?), highlights, and lookup words in a dictionary.
Augen The Book Video Review
Video Functions
Playing videos is what The Book does best. It supports AVI and MPEG-4 video formats. The specs over at JR.com list WMV as a supported format, but I couldn't get that format to work; it would load and then start to play but then stops and goes to the homescreen.
I tested several different MP4's and they all played well, with no lag or jumpiness except when first starting them and when adjusting the volume.
During video playback, you can skip forward or back with the nav wheel and pause by pressing the nav wheel button. There is no menu system or indicator to show how long the movie is or how far along you are, however, and if you stop the video partway through, it won't save the position when you start playing it again.
The speaker is on the back of the device and is obscured by the case; it's not very loud at all. You'll need to use headphones to hear unless the room is completely silent.
Battery Life
At first, the battery life seemed pretty poor, but after a few charge cycles it seems to have improved and typically lasts for 5-8 hours now. With the last test, I got through 2 full movies, several chapters in an ebook, and most of the way through a third movie before the battery died. This was with the brightness turned halfway up.
Pictures
The spec sheet says that it supports JPG, BMP, GIF, and PNG image files. Images can be zoomed in and rotated, and will automatically rotate when you turn the device on its side.
While I could get some JPG files to open, other would not, saying "Unsupported Flie", typo and all.
Music
The Book has a built-in music player that supports MP3 and WMA audio formats. The speaker is located on the back and is covered by the case so it's not very loud at all. The headphone jack is the smaller 2.5mm, so an adaptor will likely be needed for most headphones.
The music player is basic. No advanced sorting, custom playlists, shuffle, or any features whatsoever. All you can do is play and pause and select which track to play.
Web Browser and WiFi
Wi-Fi needs some work. You have to re-scan for a network and re-enter the password after each time you turn the device off, granted it remembers the password but you still have to tell it to connect each time. After working for a couple of hours the first day, it would not accept my password for several succeeding days, but now seems to be working again—go figure.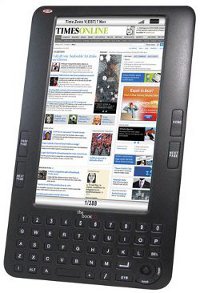 Following the theme of all the other applications, the web browser is very basic. The menu consists of two options: mark page as favorite (which gets put into a folder on the homescreen, not anywhere accessible within the browser itself) and open url.
As far as web browsing goes, pages are displayed with scroll bars left and right and top to bottom. The spacebar will scroll the page down and the next page button takes it back to the top. The two buttons to the left of the screen move around the page, going from one hyperlink to another.
There's also a pointer that can be controlled with the nav wheel for scrolling and clicking hyperlinks.
Overall, the web browser works okay if you need to use it, and you can download ebooks with it, but it requires some patience because like most web browsers on ereaders it's not very fast.
Conclusion
While the Augen eReader offers a lot of features, it does not particularly excel at any of them. But it is a decent basic device that serves a purpose for the price for those with low expectations. And it does withstand being sat on, as I happened to find out while camping.
If you need a cheap multi-purpose ereader then the Augen might be worth a look, just don't expect everything to work like it should and don't expect to get a whole lot of help from Augen's support—they aren't exactly a huge company.
Augen The Book Tech Specs
Screen: 7" diagonal 800 x 480 pixels color TFT.
Built-in 802.11 b/g Wi-Fi.
Web browser.
Processor: XBurst, 400 Mhz.
OS: Linux 2.6.24.
Open-source SDK.
2 GB internal memory, SD card slot up to 32 GB.
Full QWERTY keyboard.
Includes a note-taking app.
G sensor for automatically rotating ebooks and images.
Text-to-speech supported.
Built-in speaker and headphone jack.
Comes with leather case.
Dimensions: 8.89" x 5.12" x 0.51".
Weight: 10 ounces.
Comes with 150 free classic ebooks.
Text formats: Adobe EPUB and PDF, DOC, TXT, HTML, CHM, RTF, FB2, MOBI, PRC.
Image formats: JPG, BMP, GIF, and PNG.
Audio formats: MP3 and WMA.
Video formats: AVI and MP4.