Best Websites for Free eBooks
Below is a list of popular websites to get free ebooks. All are reputable and have been around for several years.
Major ebook retailers often have free ebooks as well, classics that are in the public domain, and promotional titles that are often only free for a limited time.
Make sure to check out The eBook Reader Blog for a weekly roundup of promotional free ebooks from Amazon. Here are some links to a few major ebookstores with a healthy selection of free ebooks that will work with free apps as well as ereaders, and some are cross-compatible between devices.
Project Gutenberg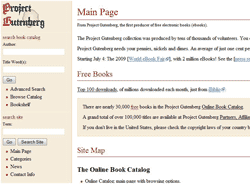 The first producer of free electronic books, Project Gutenberg has over 30,000 titles to choose from, over 100,000 if you include its affiliate and sister sites for worldly books.
Project Gutenberg is more than just ebooks. They have several hundred audiobooks, some read by humans and others computer-generated. There is an expanding sheet music section. They have a news blog and an RSS feed for updates on newly-added ebooks, and a number of other resources too.
These are the most common file types for ebooks: EPUB, MOBI, Plucker, HTML, Plain Text, QIOO, MP3, some PDF.
The site is broken down into categories and you can search by title or author. You can run advanced searches to break it down even more.
Feedbooks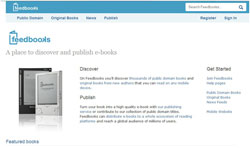 Feedbooks is a good choice for ebooks because they are nicely formatted. They publish original ebooks by new authors, and have a wide selection of free public domain ebooks and original titles.
Feedbooks is compatible with a number of mobile and dedicated readers.
Their mobile url is http://feedbooks.mobi, and users can download free ebooks directly from there with their browser.
Feedbooks has EPUB, MOBI, PDF, and Custom PDF formats available. They also have RSS and Newspaper features for news.
Kindle users can download from Feedbooks using the basic web browser and download ebooks directly to the Kindle.
Manybooks.net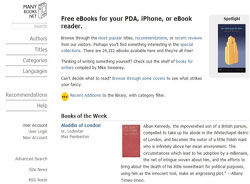 Manybooks.net has over 25,000 ebooks for download, and has been online since 2004. They also has over 1200 free audiobooks for download.
The great thing about Manybooks is that they have just about every format you could ever need, formatted for mobile devices and ereaders. They also have reviews below each excerpt of the book that anyone can contribute to.
Kindle users can visit http://mnybks.net using the basic web browser and download directly to the Kindle.
Baen Free Library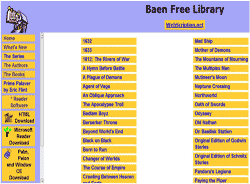 The Baen Free Library has over 100 free science fiction and fantasy novels available for download that the authors have agreed to place online. New books are added regularly.
Most format and device types are supported: Ebookwise/Rocket, Mobi/Palm/Kindle, Adobe/Stanza, Microsoft Reader, Sony Reader, HTML, and RTF.
Baen Free Library is a great place to download original, newer ebooks, and they also sell webscriptions that are worth checking out too if you are a fan of science fiction and fantasy.
Free-eBooks.net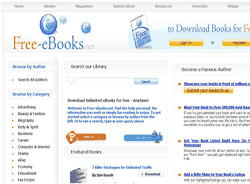 Free-eBooks.net has been around since 2000. They have a wide selection that includes ebooks they publish by authors that submit them to their site.
They also offer free trade magazine subscriptions; certain restrictions apply.
The ebooks are formatted in both PDF and MOBI formats.
For a small fee you can submit your own ebooks to put on their site; and they will help you promote it.
MobiPocket
<

MobiPocket is a good source for free ebooks for Kindle owners because they have over 11,000 free ebooks in MOBI format, which is supported by Kindles natively.
They have several hundred foreign language ebooks, such as 700 French titles, 170 Dutch, 100 German, 100 Spanish, 275 Finnish, and more.
MobiPocket also has a free software application for computer and phones, as well as ebook creation software, and they sell ebooks too.
The Internet Public Library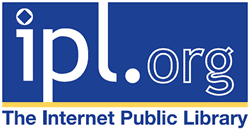 The Internet Public Library is a public service organization founded at the University of Michigan School of Information.
The Internet Public Library is a directory that categorizes resources from across the web for easy access.
You can find a ton of reference books and education material from the IPL. You can also find magazines and newspaper articles from across the globe, as well as books and libraries and much more.
More Notable Sites With Free eBooks
LibriVox Audiobooks
WattPad
Smashwords

Free Tech Books.com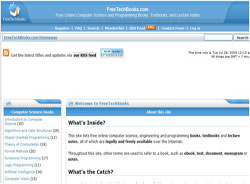 FreeTechBooks.com has been online since 2003 and specializes in free computer science and mathematics ebooks.
They also have free tech books like computer programming and engineering, physics, marketing, business etc.
Most books' contents you can view online or generally download in HTML and PDF formats.
Online Computer Books.com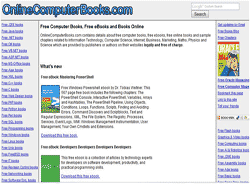 OnlineComputerBooks.com has a wide range of free technology ebooks in science, math, computer programming, etc . . .
Formats vary as the downloads are links to other sites.
This site also has links to free trade magazine subscriptions and technical document downloads, as well as other types of free ebooks.