iRex DR-800 vs Sony PRS-900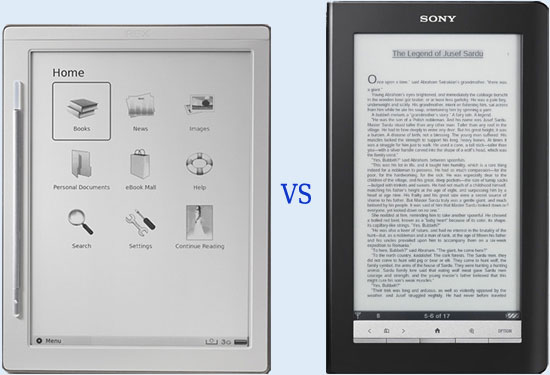 Where Sony Daily Edition Wins
On-screen note-taking, highlighting, drawing.
Built-in dictionary.
Jump to page.
Comes with a leather cover and travel case.
Stylus slot.
History remembers previous pages visited within a book.
Notes app.
Gesture-based touch navigation.
2 page landscape view.
SD and Pro Duo card slots.
2 more text sizes.
Supports TXT, RTF, DOC, DOCX.
More advanced PDF functionalities with zoom, crop margins, landscape view, and 2 page view.
Quick scan through pages.
Supports audio: unencrypted MP3 and AAC.
Where iRex DR-800 Wins
Better contrast, screen quality.
No reflections.
Text more visible in low and indirect light.
1-inch larger display.
Adjustable margins from none to 1/2".
Includes 2GB microSD card.
Download free Google ebooks with wireless through B&N's online store.
Direct tie-in with Newspaper Direct for 1400+ worldly newspapers.
Supports B&N's format.
Slightly thinner.
Flipbar has better placement than 900's page-turn buttons.
Software development kit.
Public domain ebooks pre-installed.
Where They Tie
Both have free 3G connections to download ebooks.
Both support Adobe EPUB and PDF, meaning ebooks can be purchased from many websites and be sideloaded from PC.
Compatible with Overdrive.com for ebooks through local libraries.
User replaceable batteries.
Sold from Best Buy for the same price.
Both support various image files.
Both come with a USB cable, AC adaptor, and stylus.
Shared features: bookmarking, TOC, search functions, on-screen keyboard, hyperlinks, landscape mode.
The Best eReader? - iRONY DRS-850
If we could combine all the advanced features of the Sony with the superior screen quality of the iRex, we could quite possibly have the best ereader out there—at least until some new color technology becomes available later this year.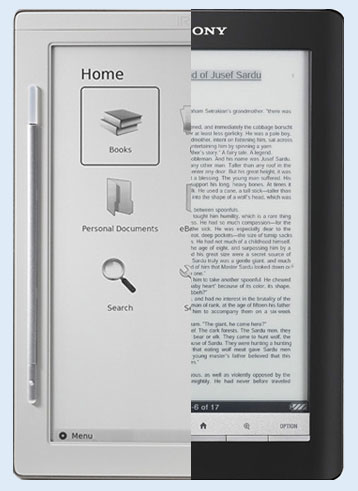 Learn More