NextBook Next6 Review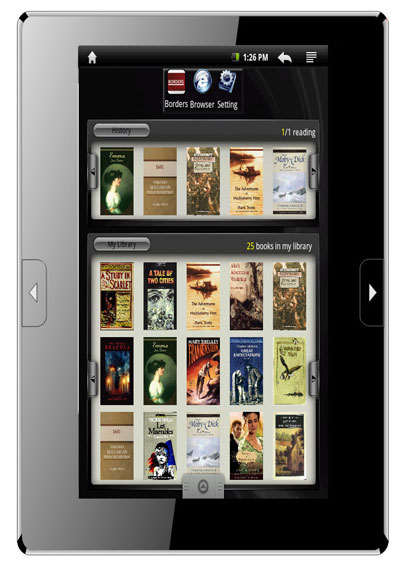 Introduction
The NextBook Next6 is among the latest tablets from E Fun. It is essentially an upgraded version of the Next2, adding a capacitive touchscreen and twice the internal memory.
The Next6 runs Android 2.1 and comes pre-installed with the Borders ebook reading app and a second ereading app for sideloaded ebooks, but it can install other third party Android apps and ereading apps too, including Kindle, Nook, Kobo, Aldiko, Cool Reader, and the OverDrive app for library ebooks, among others.
Aside from the screen differences, the Next6 is exactly the same as the Next3, which I reviewed in January. I didn't want this review to be the same as the Next3's, so you can check the Next3 review for more information since pretty much everything about that review applies to the Next6, except for the screen of course. And if you already have a NextBook, check out this NextBook tips and tricks post.
Hardware and Software
The main difference between the Next6 and NextBook's other tablets is the fact that it is the first to use a capacitive touchscreen instead of resistive. Capacitive screens are more responsive and add additional touch features like pinch-to-zoom and multi-touch. This holds true for the Next6; the capacitive screen works great and gives the NextBook a more high-quality feel.
The screen measures 7" diagonally and is the narrow variety with a resolution of 800 x 480. The screen tech is the usual TFT LCD.
For memory, it comes with 4GB internal, with about 2.5GB available, and an SD card slot for cards up to 8GB, although others have had success getting 16GB cards to work with the other models so that may hold true for this one as well.
One thing that's different about the Next6 and most of E Fun's other tablets is that there are a minimum of hardware buttons, with none of the typical Android buttons. There is a page-turn button on each side of the screen and a power button on the lower right edge. The page buttons double as Menu and Home buttons when holding them down. The rest of the buttons are on-screen buttons that are located on the top bar of the display, and in the settings menu for adjusting the volume.
NextBook is good about not loading their devices with a bunch of junk software. The Next6 comes with the following apps pre-installed: Borders, EbookReader, Advanced Task Killer, Weather Forecast, Sam 4.0, YouTube Player, Explorer, and the standard Android apps for settings, alarm, web browser, video, music, photos, email, and that's about it. More apps can be installed using Sam 4.0, or by following this how to install Android apps tutorial.
NextBook Next6 Video Review
The NextBook Next6 eReading Apps
Borders/Kobo
E Fun, makers of the NextBooks, was partnered with Borders for the built-in ebook store, but all of Borders' ebooks are sold through Kobo, so the Borders app will likely get replaced with the Kobo app at some point down the road. Borders currently has it setup so that you can transfer all your purchased ebooks with them over to Kobo, so there's no need to worry about losing ebooks during the transition. In fact the built-in store says Kobo, nothing about Borders, and ebooks purchased directly from Kobo will show up in the Borders app.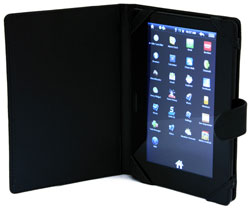 Long story short, you might as well just install the Kobo android app and use it instead, since the Borders app is based off of it and isn't as good (if you are having trouble finding the Kobo app, I downloaded the one from here using the Next6's browser, then tapped the downloaded file to install).
As far as features, the Borders app is pretty bare bones. It has five font sizes, three font types, a page number slider, day and night modes, and a table of contents.
The Kobo app on the other hand has all of those features as well, minus the monospace font type, and adds a brightness adjuster and on-screen text options for adding highlights, notes, and for sharing selections on Facebook. The Kobo seems to load and navigate faster as well, and there's an annoying bug in the Borders app that often makes it turn two pages instead of one when using the page turn buttons. The page buttons work fine with the Kobo app.
The Next6's Reading App
Aside from the Borders app for acquiring DRM'd ebooks, the Next6 has a secondary reading app that supports EPUB, PDF, TXT, FB2, RTF, and PDB formats.
The NextBook app is okay, but its functionality is limited. Features include adding bookmarks, jumping to a page number or chapter with the TOC, adjusting text size (5 choices), auto-adjust to portrait and landscape modes, and you can set the pages to auto-turn at 15, 30, or 60 seconds. Turn pages by swiping or by using the page-turn buttons. It uses animated page-turns.
Other Android eReading Apps
As mentioned earlier, what's great about a device like the NextBook Next6 is that it is open to installing other third party ereading apps and PDF apps like Kindle, Nook, and many others. Of the apps I've tried, the Kindle app works pretty well and the page-turn buttons even work with it. The Nook app works too but is rather slow sometimes and force closes.
A good alternative to the built-in apps is Aldiko 2.0; it has a lot more features and customizing options. It supports EPUB and PDF formats, including Adobe DRM for Borders' and Kobo's ebooks, and library ebooks downloaded with the OverDrive app or sideloaded with Adobe Digital Editions. The only downside is that the page-buttons don't work with it so you have to tap the screen to turn pages.
Multimedia and Games
Aside from ereading, the NextBook Next6 is designed for browsing the web, sending and receiving email, playing videos, music, games, and more.
For the most part it works well for these tasks. Gaming is the one exception. Complex games aren't going to work on this device. I couldn't get Angry Birds, Pac-Man, and a number of other games to work. Simple games like solitaire, chess, and sudoku will work.
Videos
Like the other NextBook tablets, the Next6 has a decent video player. I tried the same MP4 test videos using the video setup from the Nook Color and they played really well. The video player has three zoom settings, 3:4, 16:9, and fit-to-screen, as well as a bookmark for saving your place in the video.
There's a YouTube Player app included with the NextBook, but it doesn't seem to provide full access to YouTube. This other YouTube app works better.
Unfortunately Adobe Flash does not work because that requires Android 2.2 and up, so web videos are out for the most part. Some will work with a web browser app called Skyfire.
Conclusion
As of this review, the NextBook Next6 is priced around $175 at Amazon and other retailers. For that price it is a decent budget tablet/ereader combination, especially compared to similarly-priced devices with resistive screens.
That being said, it's still using the same software and mostly the same hardware last year's NextBooks used, so its functionality is limited. A lot of games aren't going to work, the screen resolution could be better, and adding apps can be tricky with no Android Market access and the Amazon appstore doesn't work. For an extra $50 - $75 you can find an ereader/tablet with better specs and Android 2.2 so it all depends on how much you're willing to spend.
Positives include support for a wide selection of ereading apps, the capacitive touchscreen is more responsive than the resistive screens typically used, and the budget price tag, plus it comes with a cover, AC adaptor, and USB cable.
NextBook Next6 Specs
7-inch capacitive TFT LCD touchscreen, 800 x 480 resolution.
Android 2.1 operating system.
600Mhz dual-core processor.
Wireless: WiFi (802.11 b/g).
4GB memory, SD card slot for cards up to 8GB (16GB cards reportedly work too).
Web browser, email, audio player, video player, image viewer, calculator, Borders ebooks, plus other apps.
Built-in speakers and 3.5mm headphone jack.
G-sensor.
Comes with AC charger, USB cable, and cover.
Battery Life: 5-7 hours.
Image formats: JPEG, BMP, PNG, and GIF.
Audio formats: MP3, WMA, WAV, OGG, FLAC, APE, AAC.
Video formats: AVI, 3GP, MP4, RM, RMVB, FLV, MKV, MOV, WMV.
Supported ebook formats: EPUB, PDF, TXT, FB2, RTF, PDB.