Pandigital Planet Rooting Guide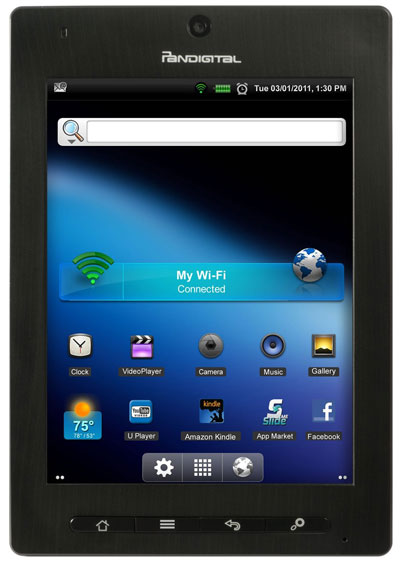 Introduction
The Pandigital Planet is a cheap Android tablet (it's $129 at Walmart) that runs Android 2.3.4. It has some flaws but comes with a decent set of features for the price—front and rear cameras, micro HDMI port, microSD card slot.
I've been getting a lot of requests lately for a how to guide on rooting the Pandigital Planet to get access to Google's Android appstore and marketplace, now called Google Play. So I dusted off my Pandigital Planet that has been sitting on the shelf for the past couple of months (surprisingly the battery was still nearly full) and decided to finally put together this rooting guide.
But first, it's worth considering foregoing rooting and installing a different appstore instead if you aren't very technically inclined or just want access to a certain apps. The Amazon appstore has a good share of apps, including Netflix, Kindle and a ton of games. Here's a list of additional appstores that will work with the Pandigital Planet too.
I found that rooting the Pandigital Nova was more trouble than it was worth with firmware updates and various bugs so that's why I bring it up.
If you really want to root your Pandigital Planet, then proceed. Just know that doing so voids the warranty and comes with the risk of breaking your tablet.
The rooting process is excruciatingly simple thanks to SpzO at SlateDroid. Actually it is a ROM so it's even easier. It removes some of the bloatware and installs new apps.
All you need to do is know what version of Android your Pandigital Planet is running. Find this in Settings > About device > Android version.
According to SpzO, it should be running Android 2.3.4. If it is still running the older firmware, 2.2.1, try hitting the FW update app to see if there is a newer version. My Pandigital Planet is running the 2.2.1 and says it's running the latest firmware, so I had to use the older ROM. But it wouldn't install, just giving an signature verification error every time. So I guess you're going to have to proceed without me at this point (good luck!).
How to Install Pandigital Planet ROM (pre-rooted)
1. Make sure to delete all previous firmware update files from the Pandigital Planet's internal memory and from the microSD card you will be using. The updates are stored in the PD_Universe folder.
2. Download the Open PDP ROM from over at SlateDroid for your version of firmware. Rename the download "update.zip" and place it on the root of the microSD card.
3. Power off your Pandigital Planet.
4. Press the volume+ button and slide the power button and hold both for about 3 seconds and then release. This will boot the Pandigital Planet into recovery mode.
5. Press volume+ to move the selection to apply update from sdcard.
6. Press volume- to apply the update (ROM).
7. Select to reboot system when it is finished. Done!
If you are having any troubles with the process, make sure to read through the threads for at SlateDroid for more information, especially since I never got it to work. Apparently it doesn't work if the Planet model number ends with FR, which mine does (it says so on the box).