Samsung eReaders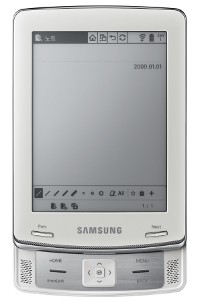 One of the newest entrants into the ebook reader field, Samsung, plans to release their new line of ereaders this summer, the E6, E101, E60, and E61.
Update: Make sure to check The eBook Reader Blog for the latest news on the Samsung ereaders. They're currently available in certain markets, but don't look to be coming to the US any time soon.
Pre-orders are expected to be up for the UK models, the E60 and E61, at any time from selected high street retailers for an expected £299 for the E60, no word on the E61.
The E6 models all feature 6-inch screens and the E101 has a 10-inch screen (no word yet on its release).
From reading the description over at JR's and a couple of scanty press releases, there are a few interesting details about the new Samsung ereaders, the E6 in particular, which seems to be the same as the E60.
The most notable feature of the E6 and E60 is the bottom portion that slides down like some keyboards on cellphones. This area appears to house the speakers, navigation pad, and some additional buttons.
Other advanced features include built-in Wi-Fi, a touchscreen that works with a special electromagnetic resonance pen for writing freehand notes and scribbles on-screen, and a TTS feature that claims to turn any ebook into an audiobook.
Review Status:
The Samsung E6 eReader review is coming soon. Subscribe to our
RSS feed
to keep updated when it goes live.
Samsung eReaders Demoed
Video Removed by User
Preliminary Specs (E6 and E60)
6-inch epaper screen.
Built-in 802.11g Wi-Fi and Bluetooth.
Touchscreen, EMR stylus, free-hand notes.
Supports PDF, EPUB, TXT.
2 GB memory; Micro SD/SDHC card slot up to 16 GB.
Stereo speakers, headphone jack, microphone.
Text To Speech mode.
8 shades of grayscale.
Note sharing feature.
Dictionary.