Sony Reader Accessories
Sony Reader Covers
A quality cover is the most important of all Sony Reader accessories, and is essential for keeping your ebook reader free of scratches and dings, along with keeping the screen safe from breaking. Amazon has over 100 Sony Reader covers for all the various models. If you're buying a reader, the most economical option is to try and find a bundle that includes a cover.
The leather M-edge covers are the most popular and highest-rated, and you can get one for around $35. There are several different styles that all come in a variety of colors (not just the colors shown in the widgets), some are sleeves and others have built-in reading lights, some have hard cases and others soft.
More Cover Options

If you want something more unique you can get a cover from Oberon Design. Their leather covers are handmade and feature intricate designs. An example of one of their covers is pictured to the right. They are a bit pricey but are quite gorgeous.
Buy.com sells a few covers for Sony's products too, some by Caselogic.
Sony Reader Accessories - Canada
If you live in Canada you can purchase Sony covers and accessories for the PRS-300 and PRS-600 from Sony Style Canada and avoid some extra fees.
Sony Reader Skins
Probably the most underrated of all Sony Reader accessories is skins. Skins are a great way to customize your ebook reader. DecalGirl.com has a large selection of Sony Reader skins, with over 100 different designs. The skins cost $14.99. Note that the pictures are of the PRS-505, but they also have them for the 700 and 600.
Example Skins From Decalgirl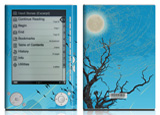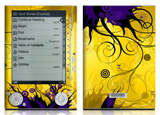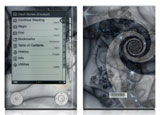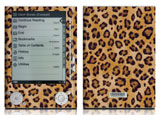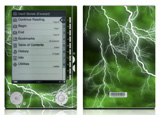 Sony Reader Reading Lights
Reading lights come in a variety of colors and designs and typically cost between $8 and $20. Most clip on to the top of the reader/cover and run on AAA batteries. There are also bundle packages that include covers and lights together, along with a few other accessories.
Screen Protectors
Amazon carries a number of screen protectors
and anti-glare film that help protect the E Ink screen from being scratched and damaged.
Another option is Wrapsol. They sell scratch-proof protectors that cover the entire device as well as screen protectors for the PRS-600, 300, and 700.
Sony Reader Power Adaptors