Archos 97 Titanium HD Review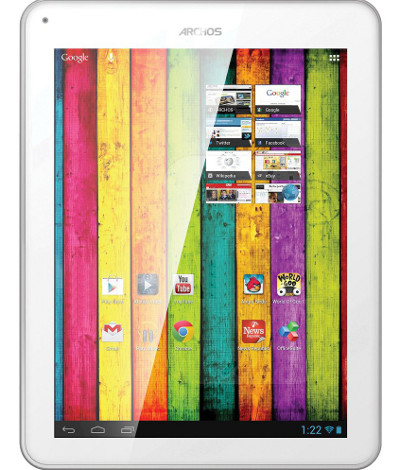 Review Date: April 2013 - Review unit purchased from JR.com
Overview
The Archos 97 Titanium HD is among the first wave of Android tablets to have a screen the same size and resolution as the Apple iPad 3 and 4. That means it has a 4:3 ratio screen that measures 9.7-inches diagonally with 2048 x 1536 pixels.
That kind of pixel density makes for great reading because text is ultra crisp and sharp and easy to read. The larger screen size is also beneficial for larger-form content like magazines, newspapers, comics, and of course PDF files. That's why I was eager to get my hands on the Archos tablet to review. So let's jump in, shall we...
Quick Review: Archos 97 Titanium HD
Pros
Build quality feels solid and the device is comfortable to hold.
The 9.7" high resolution screen is gorgeous and is great for ereading (it's not quite as nice as the iPad's screen but it's still really good).
Android 4.1 Jelly Bean operating system with support for Google apps and the Play store.
MicroSD card slot and USB host support.
Cons
Wi-Fi reception and connectivity is sketchy.
Can't charge via USB; requires the use of a bulky AC charger to charge battery (it comes with the charger).
The device is slow to load and respond at times (the issues with Wi-Fi contribute to this).
No HDMI port or Bluetooth.
Archos's customer service is pretty much nonexistent; if anything goes wrong good luck getting any response from them, you're basically on your own (I tried asking them about the Wi-Fi issues but couldn't even get a response).
Verdict
Dealing with the Archos 97 Titanium HD has reminded me a lot of the of the story Dr. Jekyll and Mr. Hyde because the device seems to have a split personality. Sometimes it works gloriously and is very smooth and quick to operate. At those times I like it and want to call it a good buy. But other times it slows down and starts acting up to the point to bring about utter madness. At those times I want to throw it against a concrete wall and watch it break into a million pieces.
I think what it all comes down to is a weak Wi-Fi signal. I'm not sure if it's just my particular unit or if all of these devices suffer from this shortcoming. Close to a router the Archos 97 Titanium HD works well (within 25 feet or so). The farther you get from away from the router the more it brings out the bad side of Mr. Hyde. So basically the proximity and strength of your router will greatly determine the usefulness of this particular device. From my experience any distance beyond 25 feet starts to wake the evil Mr. Hyde.
Price: about $249 at JR.com
Archos 97 Titanium HD Video Review
Hardware and Design
The overall design of the Archos 97 Titanium HD is better than I expected it to be for a budget tablet. In fact it is quite classy, and the build quality feels solid. It has an aluminium back panel that wraps around the sides; there's no bendiness or give at all when twisting it. The edges are contoured and make the device comfortable to hold. I actually find the Archos tablet more comfortable to hold for long periods than the iPad 3, which I use all the time.
The Archos Titanium HD has two speakers of average quality, a headphone jack, a microphone, microSD card slot, micro USB port, and a charging port. Unlike most tablets you can't charge it via the USB port; you have to use the included wall charger, which is rather bulky and large, but at least it comes with international plug adaptors, and the USB port supports connecting peripherals, such as a keyboard or external storage.
The internal storage is only 8GB, but since it supports memory cards that's not a big deal. It has 1GB of RAM and is powered by a 1.6GHz dual-core A9 processor, which is relatively fast but it can lag at times. For instance Temple Run 2 stutters a lot, but other high end games like Dead Trigger and RipTide GP play smoothly. The device scored a better quadrant score than I was expecting, clocking in at 4252.
The front and rear cameras perform about as well as you'd expect for 2MP and 5MP cameras, which isn't saying much. There's no flash so there needs to be lots of ambient light for pictures and videos to look good. Indoor shots are usually fairly grainy, and the color seems to be a bit off.
One thing I feared is that battery life would be horrible having to power that many pixels, but it has turned out to be about average for a budget tablet, which puts it in the 6-7 hour range. And unlike my iPad 3 that takes about as long to charge as it does to discharge, the Archos tablet charges quickly in under 3 hours.
The Screen
The only reason I bought this tablet to review is because it's one of the first to offer a screen the same size and resolution as the iPad 3 and 4 (9.7" with a resolution of 2048 x 1536 pixels). The screen doesn't quite live up to Apple's standards—it's not as bright and fine details aren't quite as crisp—but it's still a really nice screen. Images are bright and colors appear to be accurate, and text is very sharp and clear. The screen supports 10-point touch and it also has IPS (in-plane switching) so the the viewing angles are superb.
The screen is definitely the Archos 97 Titanium HD's strong point, and it doesn't disappoint. The screen makes this tablet a strong contender for ereading. Comics, magazines, and web pages look great and fill the large screen up nicely, and you rarely have to zoom in. Text is sharp and easily readable in a wide range of text sizes. It's like getting an instant boost in vision; tiny text you'd normally have to zoom in to read is very clear and readable.
One interesting detail is that the specs for the Archos 97 Titanium HD say the screen resolution is "up to" 2048 x 1536 pixels. I don't know what that implies, exactly. The device has an option under settings where you can set the display to normal or HD. I can't see any difference between the two, however.
Wi-Fi Issues
As mentioned above, Wi-Fi strength is the main thing holding back the Archos 97 Titanium HD from my full endorsement. It can be quite frustrating. I can be sitting in one spot using the web browser and having pages load in a few seconds, and then all the sudden web pages will hang and stop loading, and the Wi-Fi will disconnect entirely. It re-connects after a little while and then before you know it the signal is gone again.
Sitting closer to the router remedies this, but the max range for a constant reliable connection seems to be about 20-25 feet, which isn't very far at all. By contrast my iPad 3 and most tablets I test can double that range without any issues at all.
I thought maybe the Archos tablet just doesn't like my old Buffalo router, but the results are the same when using my T-Mobile Wi-Fi hotspot.
This tablet also takes longer than normal to automatically connect to Wi-Fi when turning the device on out of sleep mode. Most tablets connect in under 5 seconds, whereas the Archos can take up to 30 seconds to connect.
Software and Apps
The Archos Titanium HD runs Android 4.1.1 Jelly Bean and comes with full support for Google apps and the Google Play store. It comes pre-loaded with the usual Google apps like Gmail, Calendar, Google Talk, Google+, YouTube, Google Maps, Street View, Google Earth, and Play Books and Play Magazines and Play Movies.
The device also comes with Flash Player pre-installed. The first time you open the web browser it automatically installs on its own.
It has a pretty standard version of Android Jelly Bean installed; there's Google Now, voice search and voice typing, support for folders, widgets, live wallpapers, and all the customizing options that makes Android unique.
During setup you have the option to install some third-party apps, but mine all disappeared after having to do a factory reset when the device was acting up initially (after installing a firmware update I haven't had any more issues). The only non-Google apps that remained were a couple of Archos's for music, videos, and remote control.
Archos Titanium HD as an eReader
Because of the super high resolution screen, the Archos 97 Titanium HD makes for a great ereader. The large 4:3 screen size is well-suited for everything from magazines and comic books to PDF files and just plain ebooks. In landscape mode, two-column mode is especially nice when reading ebooks, and you can install any ereading apps that you want from Google Play.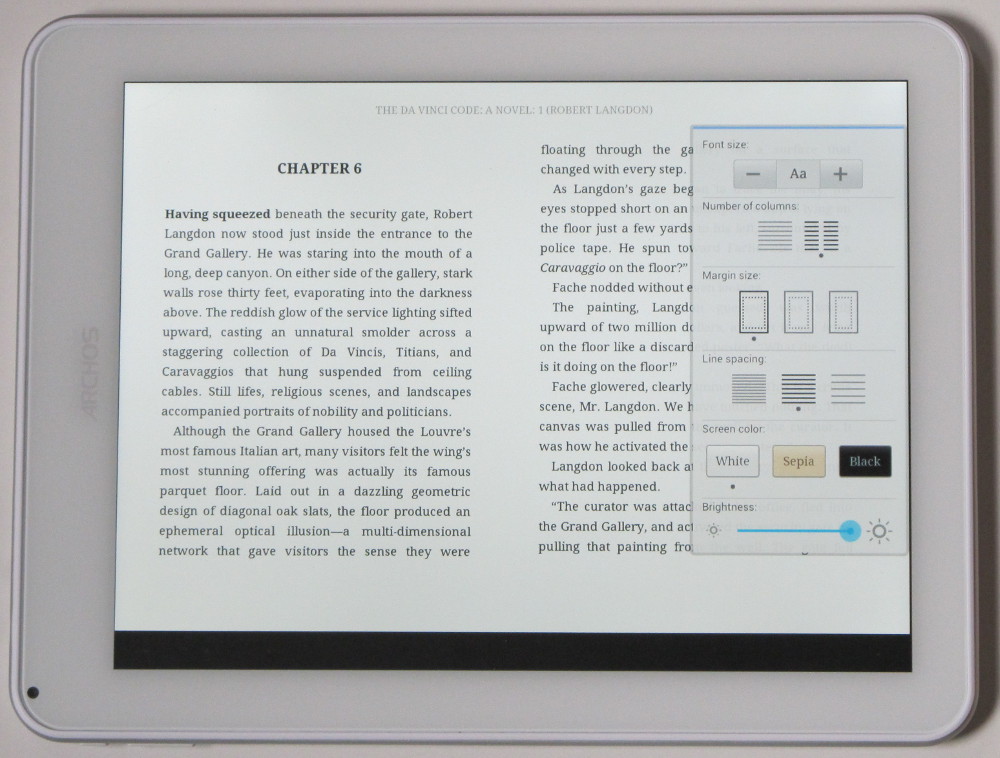 What's great about the high pixel density screen is that you can use the smallest font size without seeing any pixelization in the text. Everything is very clear and sharp.
One of the strongest points of a tablet this size with a high quality screen is web browsing. Web pages fit the screen so much better than on smaller 7" and 8" tablets, and since text is so clear you rarely have to zoom in to read anything.
Who Should Buy an Archos Titanium HD?
This tablet is best suited for those that are looking for a large-screen tablet that is cheaper than the Apple iPad and offers the same kind of Retina quality display as the iPad. The Archos tablet has some shortcomings like the lack of Bluetooth and HDMI, and the Wi-Fi range is downright frustrating at times, but it makes for a good large-screen ereader and it's cheap at about half the price as the base iPad. Right now there are only a few other options for Android tablets with screens like the iPad 3 and 4. The iPad is still miles ahead of the competition, though, so if you can afford one you'd be better off getting it instead.
Archos 97 Titanium HD Specs
9.7-inch IPS display with 10-point capacitive touch.
2048 x 1536 screen resolution (264 dpi).
Android 4.1.1 Jelly Bean operating system.
Processor: Dual-core A9 @ 1.6GHz Quad-core GPU Mali 400 MP4.
8GB internal memory.
1GB RAM.
MicroSD card slot supports cards up to 64GB.
Micro USB port, supports OTG and MTP.
Cameras: Front 2MP, Back 5MP with Auto focus.
WiFi 802.11n.
2 Built-in speakers, microphone, 3.5mm audio jack.
Weight: 22.5 ounces.
Dimensions: 9.4" x 7.2" x 0.3".
Price: about $249.