iPad 3 Review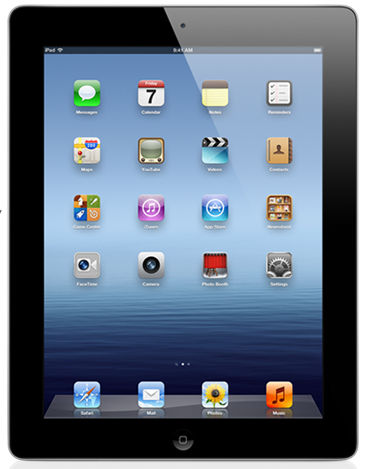 Overview
The new iPad is Apple's third generation tablet, but instead of calling it the iPad 3 they just call it the "iPad"—that's kind of confusing so let's call it the iPad 3 anyway, especially since Apple is continuing to sell the iPad 2 for $100 less.
The iPad 3 is almost an exact duplicate of the iPad 2 in terms of design and functionality, but it comes with some shiny new upgrades. But are these upgrades worth spending $100 more? Read on for the details...
Quick Review: Apple iPad 3
Pros
New Retina display is gorgeous, colors are very bright and detailed and text is super crisp and clear.
4G LTE wireless optional for extremely fast internet, up to 42MB download speeds.
Fast, smooth, and polished operating system and apps.
Cons
Can get very warm on the back.
Still no memory card slots or USB port for memory expansion.
Lacks customization, widgets, and the wide selection of free apps Android tablets offer.
Verdict
I'm among the small number of people that never really liked the iPad 1 or 2 very much, in large part because of Apple's gated community but also because I hated the fuzzy appearance of the text for reading. Most people wouldn't consider it bad, and I wouldn't either on a cheaper tablet, but for a $500 - $800 device I felt it could have been better.
I had expected to dislike the iPad 3 just as much, but after giving it a fair chance I am now a convert. I love the high resolution screen. Apple may have a restrictive closed-in system, but at least everything is polished and professional and works as it should. That's often not the case with Android. And since I've been having problems with my Asus Transformer since the Android 4.0 upgrade, I've had more reason to use the iPad 3 and it has become one of my favorite tablets—I wasn't expecting that at all.
Price: $499 - $829
Apple iPad 3 Video Review
Hardware and Design
The design of the iPad 3 is pretty much exactly the same as the iPad 2, and it still comes in 16GB, 32GB, and 64GB varieties, with the option for black or white. The hardware is very similar too. The iPad 3 is a .03" thicker and just a tad heavier, roughly 2 ounces.
The four main differences between the two are the screen, quad-core graphics, the rear camera has been upgraded to 5MP, and 4G wireless is now optional. The battery has been beefed up on the iPad 3 to handle all the extra pixels and 4G wireless, but battery life is still roughly the same, about 10 hours per charge.
The iPad 3 has a 1GHz dual-core processor with quad-core graphics and 1GB of RAM. This makes it very smooth and fast, even intensive 3D video games play without any lag or stuttering.
New Screen
The iPad 3's 9.7" 2048 x 1536 pixel resolution screen is its best quality. With 4 times as many pixels they are so close together you cannot see them. Colors are vibrant, text is super crisp and clear, images are incredibly detailed and look like they are straight out of a magazine. And the viewing angles are incredible. It looks great at every angle, with very little degradation in clarity.
As mentioned in my iPad 3 first impressions post, my favorite thing about the new screen is how sharp and clear text appears. Apple shows a good example of this by comparing the iPad 2 with the new iPad on the iPad 3 features page.
Still, most people won't have any problems with the iPad 2's screen. It just mostly comes down to personal preference. I much prefer the iPad 3's screen, obviously.
Another thing I really like about the screen is the brightness adjuster goes down to extra dim. It's probably the dimmest of any tablet, which is great for reading at night. I find that most tablets' lowest brightness setting isn't low enough. That's not a problem on the iPad 3.
Audio
Unfortunately the iPad 3 has the same speaker configuration as the iPad 2, which means it has a single speaker on the lower right corner. The speaker quality is better than a lot of tablets, but that's not saying anything. Oftentimes sound is just too quite for videos unless you are in a quiet room. Plus it's rather odd with sound coming from just one side of the iPad; I was hoping Apple would find a way to fit a second speaker on the opposite side so it has more of a stereo sound.
Luckily it has a 3.5mm headphone jack (surprisingly Apple hasn't created a proprietary version yet) and Bluetooth 4.0. Not being a fan of wires, Bluetooth works great for wireless headphones and speakers.
The iPad has a microphone for recording sound. It also works for dictation. The keyboard has an icon that you press to speak aloud to enter text instead of typing. Siri, the iPhone personal assistant, isn't included on the iPad yet.
Software and Apps
One thing that struck me about the iPad 3 out of the box is that it doesn't require you to connect it to a computer to sync with iTunes like the previous models did. You can set up Wi-Fi and sign in to your Apple account from the device itself. That makes the setup process a lot smoother for someone like myself that hates having to deal with iTunes for everything.
Gestures: It's not obvious to those new to the iPad brand, but there are gestures for making navigating easier and faster. In fact, you never need to use the home button at all. Use four fingers to slide up the recent apps list, and slide it left to get quick controls for volume and screen brightness. You can use four fingers to slide the display left and right to move between recent apps, and pinch five fingers together to get to the homescreen.
Included apps: no sense in repeating what's already out there. Apple has a list of the included apps on their website with video tours of each app's features. There are a lot of additional free apps in the appstore too, and over 200,000 total apps for the iPad.
iPad 3 as an eReader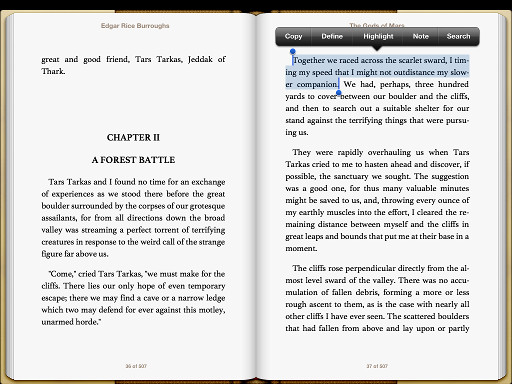 When it comes to ereading, the iPad 3 is a step ahead of the iPad 1 and 2 simply because the text is clearer and sharper. But the iPad 3 is still a step behind Android tablets when it comes to ereading because Apple made all the ebook sellers remove in-app purchasing and links to their respective stores, thus making customers use the web browser to shop for ebooks—an extra step that is a lot more inconvenient than it sounds.
Apple would rather people buy ebooks from them so they made the competition have to jump through hoops. Personally, I think the iBooks app is really nice and it has a good set of features, but I will never buy ebooks from Apple because they are the most locked-in of any platform. You can only read Apple's ebooks on an iPad, iPhone, or iPod touch, nothing else. Not even a Mac computer.
The iBooks app can read Apple's ebooks and DRM-free ePub ebooks and PDF files. Since I posted the iBooks review on the original iPad two years ago, not a lot has changed. It has gotten some updates, of course, and now offers a few additional features. I plan on posting a full updated review with tips and tricks for iBooks soon, as well as other ereading apps. So more updates to come in this section.
Video Games
The iPad 3 has gotten some gamer-friendly upgrades with the higher resolution screen, quad-core graphics, and 1GB of RAM. Games that have been updated for the retina display look great and even games that haven't been optimized for the retina display look phenomenal.
Being a fan of Mass Effect, I decided to get Mass Effect Infiltrator for the iPad 3. It was updated for the high resolution screen and the graphics are incredible, the detail and color, everything just pops off the screen. Here are some screenshots (click for big) but I had to shrink them and lower the image quailty because they are too large to upload otherwise.
The controls for Mass Effect Infiltration take some getting used to at first but once you get the hang of it it's a great game, and challenging. You can even use it to boost your Galactic Readiness Rating in Mass Effect 3.
Movies, Cameras, Video Recorder
Since this is primarily an ereader website, I'm not going to go into very much detail for video playback and the built-in cameras. The one thing I'll say about video is that low definition videos certainly don't look any better on a screen with more than your average set of pixels. In fact, they look a little worse since the detail isn't there. The iPad 3 is definitely more suited for HD videos. And that's something to keep in mind when choosing a model because offline HD videos take up a ton of space.
The front camera on the iPad 3 remains the same VGA quality on the iPad 2. But the rear camera has been majorly upgraded to a 5-megapixel camera capable of HD 1080p recording. It has autofocus, face detection, and video stabilization. Still no flash, though, so anything in low lighting isn't going to look great.
Apple iPad 3 Specs
9.7" LED-backlit glossy widescreen Multi-Touch display with IPS technology.
2048 x 1536 pixel resolution with 264 pixels per inch (ppi).
16GB, 32GB, or 64GB storage.
1GHz dual-core processor with 1GB RAM.
4G wireless optional through AT&T or Verizon.
Sensors: accelerometer, ambient light sensor, gyroscope.
Cameras: 5 MP rear, VGA front.
Speaker, 3.5mm headphone jack.
Battery life: 10 hours.
Size: 9.5" x 7.31" x .37".
Weight: 1.44 pounds (Wi-Fi model); 1.46 pounds.
Price: $499 - $829