Asus Transformer Review Page 2
Polaris Office 3.0 comes pre-installed on the Asus Eee Pad Transformer and makes a great companion software with the Transformer's unique keyboard docking station.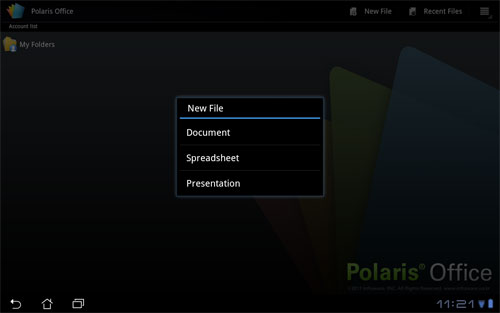 With Polaris Office you can edit and create documents, spreadsheets, and presentations in Microsoft Office file formats, such as (.doc), (.xls), and (.ppt). It also makes for a pretty decent PDF viewer (see PDF section on page 1).
For editing documents, Polaris Office brings a full-fledged word processor to the Asus Transformer. It has settings for adjusting justification, line spacing, indent spacing, font face, font size, font color, background color, text positioning and style. There are bullet points and number lists, find and replace, reflowable text, you can add images, hyperlinks, bookmarks, symbols, and tables.
ASUS MyCloud and MyNet
The Transformer comes with an app called MyCloud, Asus's cloud storage service. It's like Dropbox where you can store and access videos, documents, music, and other files online where you can get to them anywhere you have an internet connection. Asus also provides software to setup your Transformer to remotely access your home computer to easily stream digital media wirelessly.
ASUS Transformer On-Screen Keyboard
Asus added their own on-screen keyboard to the Transformer instead of using the new stock Android keyboard that other Honeycomb tablets use (you can switch to the Android keyboard or another keyboard by tapping the keyboard notification icon whenever the keyboard is open).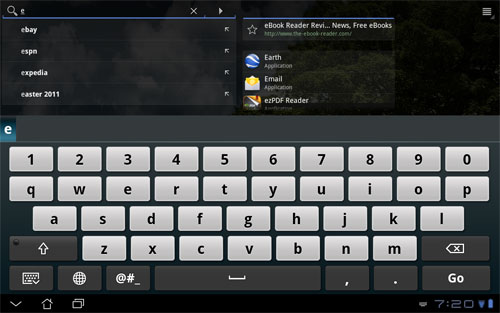 The Asus keyboard adds a section for numbers on top as well as a section that predicts words as you type. It's nice having the number keys accessible without having to hit an extra button. There are settings for auto-punctuation, auto-caps, keypress sounds, word completions, and auto-corrections.
The keyboard also has a tracing feature that allows you to slide your finger across the letters instead of typing each letter individually. This makes typing easy and fast. I find that this works really well sometimes and other times it's not even close to the word you were trying to spell.
Other ASUS Honeycomb Tweaks
Aside from the aforementioned keyboard, ebook app, and Asus cloud storage and PC sync, Asus added a couple of additional tweaks on top of the standard Android Honeycomb operating system. The most obvious change is to the icons in the lower left corner for Back, Home, and Recent Apps. Those icons are blue and differently designed on other Honeycomb tablets.
Asus also added a few of their own widgets, one for weather, email, time and date, and two "MyZine" widgets. None are very functional compared to what else Honeycomb has to offer. The weather app only shows the present temperature, nothing else. The email app is rather redundant and doesn't work in conjunction with the Gmail app, just the Email app (there's a difference, trust me).
The best tweak that Asus made was adding the ability to easily take screenshots. Just go to settings, then screen, and select screenshot. Now any time you hold down the recent apps key, the Asus Transformer will take a screenshot and save it to a screenshots folder that can be found in the gallery app. Most Android tablets either have to be rooted or plugged into a computer in debug mode, which requires downloading and installing the Android SDK. That's a pain in the arse. Nice fix, Asus.
Audio and Video
Honeycomb features a new music player designed to make use of a tablets large screen. Open up the app and you're greeted with a carousel of albums to scroll through. There are several songs included from various artists. You can create playlists, shuffle, all the usual audio player functions.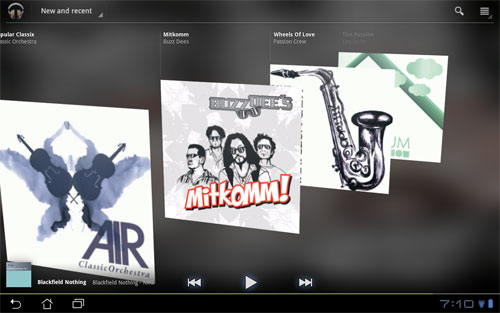 Unfortunately the Asus Transformer's speakers are absolutely dreadful. Go to your stereo, turn the treble all the way up, then turn the mid, the bass and every other dial all the way down—that's what the Transformer's speakers sound like. Luckily there's a 3.5mm headphone jack. To be fair, most tablets' speakers are pretty crummy, but the Transformer's are even worse.
The Transformer's video player plays most 720p HD videos smoothly, but I had trouble with a few, including some YouTube videos that played smoothly on the Xoom. It supports MPEG4 Simple Profile and H.264, H.263 codecs. The Transformer also has a mini-HDMI port for connecting to a TV or monitor.
As for recording video and taking photos with the rear 5.0MP camera and 1.2MP front camera, the Transformer certainly isn't going to win any awards. It doesn't have a flash so anything indoors is going to be grainy, even outdoors in good light the photo quality isn't great and is often fuzzy. The cameras will get the job done, but seem more of an afterthought.
Google Apps, Android Apps
As you would expect with an Android tablet, there plenty of Google apps pre-installed, such as Google Maps, YouTube, Gmail, Android Market, voice search, Google Books, search, navigation, talk, with many more via the Android market. Of course the usual Calculator, Calendar, Gallery, and Contacts app are on-board as well.
Asus Transformer Review Conclusion
The Asus Transformer is one of the most popular Android Tablets on the market for a few reasons. The Honeycomb operating system is the first reason. The fact that the Asus Transformer is the most inexpensive Honeycomb tablet is the second. And the optional keyboard dock accessory is the third reason. Couple that with the higher quality LED IPS display and the Transformer is a pretty well-rounded tablet for the price.
If you've been reading this review closely, however, along with the comparison review pitting the Asus Transformer vs the Motorola Xoom, you'll have noticed that the Transformer isn't without its fair share of problems. Between the screen issues and the fact that the Transformer frequently freezes up and restarts, there is reason for concern, especially considering that I've used the Xoom daily for 2 months without any of these problems whatsoever.
As stated earlier in this review, I've decided to exchange this faulty unit for a different one, since these defects only seem to be affecting a small percentage of orders. I'm not giving up on the Transformer yet because the keyboard dock and 16 hour battery life make it more appealing for my personal uses than a traditional tablet since I type a lot of reviews and articles. I'll update this review with the details on my new Transformer soon, along with a hands-on with the keyboard dock.
Update: I received the replacement unit and there's some good news and some bad news. The good news is that in the 2 weeks that I had it, it did not crash one single time, as the other unit had several times. It did not have any touch screen responsiveness issues either; the touchscreen worked just as good as the Motorola Xoom's.
Now for the bad news. It had one really bright spot where the backlight was bleeding through. You could see it at all times, even with a white screen background. The second problem was that the screen was detached from the frame on the left side and creaked whenever touched.
Long story short, I ended up sending it back again to get another replacement. But it all ended up being for naught because TigerDirect called and said they weren't expecting anymore stock for several weeks so they said they would issue a refund instead.
I haven't decided if I want to try to get another one or not. I really like the Transformer in theory, but ASUS's lack of quality control is giving me second thoughts.
Update 2: I ended up buying another Transformer (how could I resist) and it turned out to be in great condition. The details are a little long-winded for this page, instead they are here on this blog post, The ASUS Transformer Strikes Again.
Asus Transformer Specs
Screen: 10.1" IPS LED WXGA (1280 x 800), 10 finger multi-touch support, scratch resistant glass
1 GHz dual-core NVIDIA Tegra 2 processor
Storage: 16GB/32GB models, plus microSD card slot
1 GB RAM memory
Wireless: WLAN 802.11 b/g/n@2.4GHz + Bluetooth V2.1+EDR support
Android 3.1 Honeycomb operating system
Optional keyboard dock ($150)
1.2MP front-facing camera
5.0MP high-definition rear-facing camera
Stereo speakers and microphone
Built-in SRS Sound technology
1080p HDMI output via mini HDMI port
Sensors: G-sensor, Light Sensor, Gyroscope, E-Compass, GPS
Battery life: up to 9.5 hours, 16 hours with keyboard dock
Dimensions: 271mm x 171mm x 12.98mm
Weight: 24 ounces; 680 grams
Price: $399-$499