Asus Transformer Review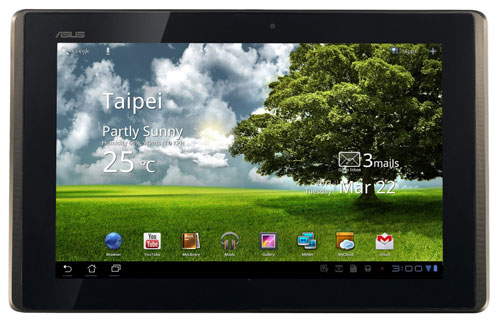 Overview
The ASUS Transformer is one of the most popular Android tablets on the market. The fact that ASUS priced it $100 lower than the equivalent iPad 2 and lower than any other 10" Honeycomb tablet has certainly helped. The 16GB model sells for $399 and the 32GB model is $499.
Note: Since the Motorola Xoom and Asus Transformer share about 90% of the same features, there is some overlap between this review and the Motorola Xoom review. I didn't want to duplicate large sections in this review so check the Xoom review for more details and screenshots of the Honeycomb web browser, Gmail app, Google eBooks app, and some video games.
Hardware
The Asus Transformer comes with a 1GHz dual-core Tegra 2 processor, WiFi and Bluetooth, dual cameras for taking pictures, recording 720p video, and video chat, full Adobe Flash support, 1GB RAM, options for 16 or 32 gigabytes of memory, and it packs a microSD card slot for memory expansion, not to mention access to Asus's cloud storage.
Other features include built-in speakers, one on each side, a 3.5mm headphone jack, mini-HDMI port, built-in gyroscope, barometer, e-compass, and accelerometer. There are just two exterior buttons, one for power/standby and a rocker for volume. Both are placed on the upper-left edge in landscape mode and work well. Battery life is about 8-10 hours per charge with typical use.
Compared to other 10" slates, the Transformer has a larger bezel. Overall the Transformer measures about 10.7" x 7" x 0.5". That's about 3/8" wider and 7/8" taller than the Motorola Xoom. The Transformer weighs about an once less, however, so even with the larger size it feels lighter.
With a plastic back, the Transformer's build quality isn't as good as the iPad and other Honeycomb tablets. I wouldn't say that it feels cheap, but it definitely doesn't feel/look as high quality as some other tablets. My unit has some separation along the right side of the screen so it pushes down below where it joins to the frame. It suffers from some other screen issues too...
Screen
The Asus Transformer comes equipped with a 10.1" IPS display that packs a resolution of 1280 x 800, a 16:10 aspect ratio. The IPS display gives the Transformer superior color quality and 178 degree viewing angles.
Overall the display quality of the Transformer is excellent. Colors are very bright and detailed, text pops off white backgrounds and blacks are inky and dark. The Transformer's screen is like a mirror, though, so reading outside in bright light really isn't very pleasant. Reflections and glare are an obvious problem with any tablet. As long as it's not in direct sunlight it's pretty good.
As nice as the Transformer's IPS screen looks, it's not without some problems. My particular unit suffers from light bleeding and there are a couple of spots on the screen that won't react to touch. There are a few people reporting similar problems, and a lot of people that aren't. So I've decided to exchange this Transformer for a different one and will update this review with the details once the new one arrives.
Update: The replacement unit arrived and it also had light bleed issues but no touch responsiveness issues whatsoever. There were less spots with light showing through, which would have suited me just fine, but there was one really bad spot that was so noticeable you could see it at all times, even when the screen was white you could see the discoloration. (There are more details about the replacement in the conclusion on the next page.)
Docking Station
One thing that sets the Asus Transformer apart from other tablets is the fact that there is an optional keyboard docking station that essentially turns it into a mini laptop.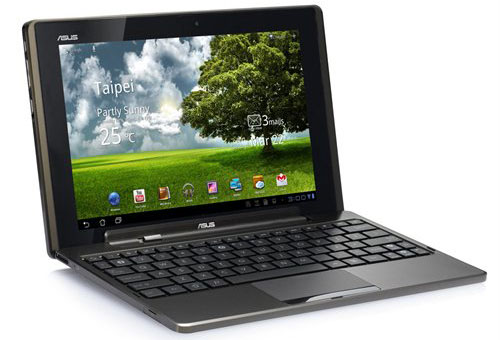 The docking station costs $149 and has a full QWERTY keyboard, unique Android function keys, a touchpad, 3.5mm audio jack, two USB ports, and built-in SD Card reader. Plus the docking station has a battery built-in so it extends the Asus Transformer's 9.5 hour battery life into about 16 hours.
Having to mess around with replacement units, I haven't had a lot of time to test the keyboard dock. But the times I have used it I've been very impressed. It's easy to connect and disconnect, the keys have a nice responsive feel, the touchpad works better than the one on my laptop, and once you get used to all the shortcuts it works quite well.
My only complaints thus far is there isn't any way to access the recent apps list with the keyboard, there's no way to tell exactly how much battery power the dock has left, and it seems to drain excessive battery when in sleep mode.
Here's a video review of the ASUS Transformer keyboard dock.
Hands-on Asus Transformer Video Review
ASUS Transformer vs Motorola XOOM »
ASUS's MyLibrary eBook App
The Asus Transformer comes with its own special ereading app called MyLibrary. Surprisingly it's a pretty decent ereading app. There's not a ton of features but it has enough to make it worth using.
The MyLibrary app works with EPUB, PDF, and TXT files. You can load your own, download them online, or buy some through Asus's @vibe—which I couldn't get to work; they don't have a very large selection anyway. It also says it supports ebooks with Adobe DRM, but I did not test any because I would rather use Aldiko 2.0 for those since it has more options for modifying layout.
For EPUB ebooks the MyLibrary app has animated page-turns, text-to-speech, 2 page landscape, bookmarks, highlights, notes, a built-in dictionary, and a translator with 8 different languages. You can copy text and share highlighted selections and search online and within a book.
There are 7 font sizes but only one font type, and no night reading mode and no margin or line-height adjustment options. It does not have any kind of table of contents support either; there's a page slider at the bottom of the screen and that's it for navigating within a book.
For PDFs, the Asus ebook app isn't very good. The only options available are fit to width, fit to height, and zoom in and zoom out. There's a page dial at the bottom of the page for moving around but no table of contents. The app has problems focusing on the PDF; the text is often blurry.
Luckily there are better options for PDFs. The Asus Transformer comes with Polaris Office pre-installed (more about this on page 2 of this review). The Polaris Office app can display PDF files and does a much better job of it than the MyLibrary app. With it you can save bookmarks, zoom in and out, search, send, pinch zoom, and bring up a thumbnail list of pages to quickly scan through them. There's an option for "edit mode" but it is grayed out and I couldn't get it to work. An even better PDF app is ezPDFReader, which costs $0.99. RepliGo is another popular paid PDF app with a ton of features.
PressReader
The PressReader Android app comes pre-installed on the Asus Transformer. If you like reading newspapers, this is the app to have. The PressReader app provides access to over 1,800 full-content newspapers from 94 countries in 48 languages.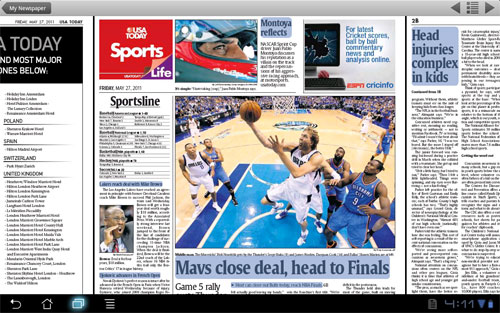 The PressReader app shows newspapers in their original printed form, with all the same pages and layout as the print version. You can zoom and pan around a page, or tap the heading of an article to reformat the article in an easy-to-read layout with adjustable font sizes, sharing options, and the coolest feature of all, text-to-speech. The TTS voice is pleasant, with natural cadence and rhythm; it's one of the best TTS voices I've heard, in fact.
As you would expect with a Newspaper app, you can setup PressReader to automatically deliver your subscriptions.
The biggest fault with the PressReader app is that it is not cheap. Each issue will set you back $0.99. Or you can buy a subscription for $29.99 per month, which provides access to all of PressReader's publications, not just one. So if you read a lot of different newspapers it is a good deal. Otherwise it's probably going to be cheaper to get a single digital subscription via an ebook store like Amazon or B&N.
Other e-Reading Apps and News Readers
The Android Market is loaded with different kinds of free and paid ebook reader apps. All the major ebook stores have free apps: Kindle, Sony, Nook, Kobo, and Borders. Some of the other popular ereading apps include Aldiko, FBReader, Cool Reader, Moon+Reader, and OverDrive for free library ebooks.
Aside from ebook reading apps there are other e-reading apps too. There is an app for offline Wikipedia, numerous Bibles and religious texts, children's books, survival guides, dictionaries, thesauri, RSS readers, etc. Some nice tablet-specific apps include CNN, Pulse, and USA Today.
Check out the app section of The eBook Reader Blog for individual reviews of all the best Android e-reading apps.
There are in-depth reviews of the Kindle and Nook apps on Honeycomb, with more to come.