BlackBerry PlayBook Review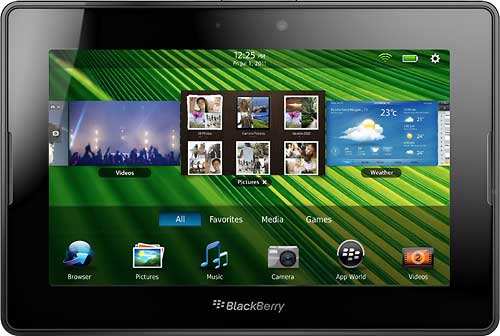 Overview
When it comes to tablets, there are two major platforms, Google's Android and Apple's iOS, with Microsoft lurking in the background. Now enters RIM with the release of their first tablet, the BlackBerry PlayBook, with its new QNX based operating system.
Hardware and Features
Equipped with a 7" capacitive touchscreen, the PlayBook comes with WiFi and Bluetooth for connectivity, a 1GHz dual-core processor and 1GB RAM for speed, front and rear facing cameras, microphones, dual speakers on each side of the front, and a mini-HDMI port for connecting to a TV. Other hardware includes a mini USB port, dock connector, headphone jack, and four buttons for power, volume + and -, and play/pause.
What jumps out first about the BlackBerry PlayBook is the design is simple but solid, with a soft matte coating on the sides and back to give it a pleasant feel. The second thing that jumps out is the screen. Colors are very vivid and detailed. In fact, it's one of the best-looking tablet screens. The touchscreen responsiveness is really good too, and supports different kinds of gestures.
Speaking of gestures, that's one of the coolest things about the PlayBook. There aren't any home, back, or menu buttons. All navigation is done by using gestures, swiping up from the bezel, down from the bezel, from the sides and from the corners.
Multitasking is another unique aspect of the PlayBook. The upper-half of the homescreen consists of small windows of each app currently open. This makes scrolling through them and jumping from one to the other fast. You can also slide to each open app without going to the homescreen from within each app by swiping left and right from the bezel.
The new QNX based platform is really smooth and a joy to use on the BlackBerry PlayBook, but I'm finding out that there aren't very many apps available at the moment. Apparently it cannot run BlackBerry smartphone apps either. The platform is brand new so it's going to take some time. On the bright side, there's supposed to be an Android emulator app for the PlayBook that will let it run Android apps. It will be very interesting to see how that works.
BlackBerry PlayBook Video Review
The PlayBook as an eReader?
With a name like PlayBook, you'd think digital reading would be a focus with a device like this. However, that is not the case at all. At least not yet. It comes with the Kobo ereading app—a decent app with access to Kobo's 2.3 million ebooks—but it lacks features like dictionary support, notes, highlights, and worst of all it doesn't allow for sideloading other ebooks.
The Kobo app works in both portrait and landscape modes, with an option for two column landscape view. It has adjustable text size and two font styles, serif and sans serif. There are bookmarks, table of contents, night reading mode, and an in-app brightness dial.
There are no other ereading apps available yet. There are a few news apps and RSS readers available in the App World, but just a few, and nothing really all that great. The one halfway decent news app is The Globe and Mail, but it lacks even basic features like adjusting text size.
Once the PlayBook gets some more ereading and news apps it will make a good electronic reader because of the excellent screen quality and high pixel density. As it stands there's not much going for it on the ereading front.
PDF Files
The PlayBook comes with the Adobe Reader app for PDF files. The Adobe app does a good job of displaying PDFs, and loading is relatively quick. But the app is very basic; it doesn't even remember what page you are on if you close a PDF then re-open it. Basically you can move to different pages and zoom in and out, and that's about it.
Games
Given the name PlayBook, gaming is something you would think it would excel at. And it does. The gaming section in PlayBook's App World already has several hundred games. It comes with Need for Speed Undercover and Tetris, both optimized for the PlayBook.
Testing the graphics and performance, Need for Speed runs smooth without any lag, even with multiple apps running in the background. The game is addictive and fun, but is a little too easy.