PlayBook Review: Page 2
Music, Audio, Videos
Like any tablet, the PlayBook comes equipped with an audio player. It is rather ordinary but it gets the job done. The PlayBook connects to the 7digital music store for purchasing music from a catalog of over 13 million MP3s. Aside from music, the PlayBook also comes with the BlackBerry Podcasts app for downloading and listening to your favorite podcasts.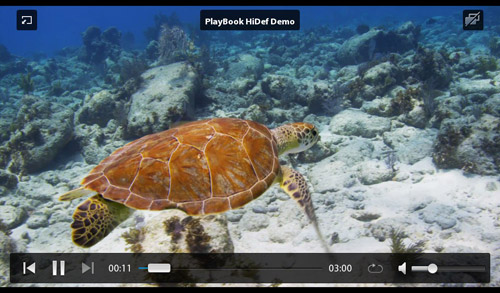 The PlayBook's design is well-suited for audio because the speakers are located on each side of the device's screen. The sound projects much better than with the speakers on the back, as is the case with most tablets. The speakers are very small but have surprisingly good sound. High volume can get a little distorted but overall sound quality is above average.
For videos, the PlayBook has a lot of options. In addition to being able to capture 1080p video with its rear camera, the PlayBook can output 1080p video to a TV or monitor via the mini HDMI port. Video playback on the PlayBook is one of its best qualities given the vibrant, high-quality screen, support for 1080p, and speedy processor. It supports MPEG4, H.264, and WMV formats.
Other video options include a built-in YouTube app, support for Adobe Flash, and there's a National Film Board of Canada app that gives the PlayBook access to 1,500 films from the NFB library for free. Hulu doesn't work, however (it worked fine the first few days before they found out about it). There isn't an app for purchasing videos on the PlayBook yet, but one is sure to be made available soon, and hopefully a NetFlix app too.
Camera and Camcorder
While currently lacking a video chat app (one is supposed to come along in May), the PlayBook has a 3 megapixel front camera and a 5 megapixel rear camera capable of recording up to 1080p HD resolution video at 30 frames per second.
The camera app has a minimum of settings and lacks auto-focus. Still, the camera takes decent photos and surprisingly detailed videos in areas with adequate lighting. It does not have a flash, however, so anything with low light is going to be grainy. Close-ups are rather fuzzy for both photos and video.
Other Included Apps
One of the oft-mentioned features of PlayBook is the out-of-the-box support for creating and editing Word and Excel documents with the included Data Viz's Documents to Go suite. The feature set is solid at should certainly help to attract business users.
Something different, the PlayBook comes with Bing Maps instead of Google Maps. It's a decent basic map app but doesn't come anywhere close to the features and functionality of Google Maps, so it hard to get used to.
Some other apps include a nice visual weather app, audio recording, advanced calculators for conversions, tips, scientific, and the picture gallery app, which regretfully doesn't offer any easy way to transfer or email photos. One odd detail, some of the icons in the app drawer aren't actually apps. The Twitter, Facebook, and email apps all sneakily launch the web browser.
BlackBerry PlayBook Review Conclusion
The BlackBerry PlayBook has gotten its fair share of negative reviews, but almost all of them have been negative because the PlayBook doesn't have a wide selection of apps at launch and doesn't yet come with several key apps for a tablet, such as email, contacts, or calendar. While that is true, it is not permanent.
Most reviews, and this one too, point out the quality hardware and design of the 7" slate, and how the new QNX based operating system is a nice alternative to the competition.
Aside from the lack of a memory card slot, my main concern with the BlackBerry PlayBook is the price, from $499 - $699. For some crazy reason, RIM elected to price the PlayBook the same as the iPad 2. It makes even less sense when you consider the PlayBook has a much smaller screen and offers access to far fewer apps. If would have been a lot more strategic to include 3G wireless at those prices.
The PlayBook packs a lot under the hood and has a lot of potential, but the price and lack of apps is likely to steer a lot of folks toward another brand, especially with $399 10" Honeycomb tablets like the Asus Transformer hitting the market. Nevertheless, it's good to see another alternative to Android and Apple, and the PlayBook definitely brings some new elements to the tablet niche.
Is the BlackBerry PlayBook ready for primetime right now? No, it is not. Give it some months to mature and it could very well end up being a true competitor in the long run.
PlayBook Specs
7" 1024×600 WSVGA capacitive LCD touch screen
CPU: 1 GHz dual-core processor, 1 GB RAM memory
Wireless: WiFi (802.11 b/g) + BlueTooth+EDR support
BlackBerry® Tablet OS with support for symmetric multiprocessing
3.0MP high-definition forward-facing camera
5.0MP high-definition rear-facing camera
Stereo speakers and stereo microphones
1080p HDMI output
Support for high resolution video playback (H.264, MPEG4, WMV)
MP3, AAC and WMA audio playback
G-sensor automatically rotates screen orientation
GPS, Orientation Sensor (Accelerometer), 6-Axis Motion Sensor (Gyroscope), Digital Compass (Magnetometer)
Dimensions: 7-5/8" x 5-1/8" x 1/2"
Weight: 14.4 ounces