Cybook Opus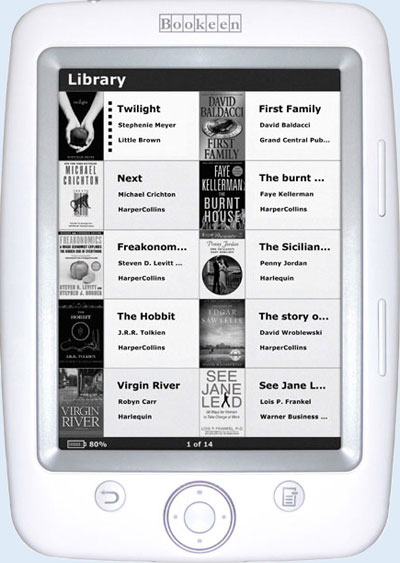 Overview
Although it is available in many markets, the Cybook Opus is predominately a European ebook reader, and sells for around £175 from places like Pixmania and Amazon UK. It receives very little exposure in the United States up against competitors like the Amazon Kindle and new Sony Readers, and sells for about $215 from Amazon.com.
Nonetheless, the Cybook Opus is a quality ebook reader with a loyal following. It works with Adobe Digital Editions and comes installed with support for DRM-protected EPUB and PDF formats, with the option of installing firmware for Mobipocket.
Bookeen recently updated the firmware and added several color options for the Opus: pink, red, blue, black, grey.
Features
The Cybook Opus is marketed as a pocket-sized ebook reader. It has a 5-inch (76 mm x 101 mm) E Ink screen, and weighs just 150 grams (5.3 ounces). It's designed to fit in either hand comfortably, and has a long battery life of about 8000 pages.
Its most unique feature is the G-sensor motion detector that automatically rotates the text when you rotate the device. The accelerometer quickly switches from one direction to another and is especially useful when reading PDFs.
You also have the option of turning the device completely upside down if you are left-handed, and when you do this the controls automatically switch too, so that page-forward is still the top button.
There are 12 different font sizes and a zooming options. You can change fonts in TXT and HTML files if you copy font files to the device, but you can't change EPUB fonts.
The Cybook Opus comes with a USB cable, black PU leather protective sleeve, and quick start guide. It comes installed with 100 French and English public domain ebooks. The 1 GB of internal memory is enough to hold close to 1000 books.
Along the bottom there are three keys: In the center is a 5-way navigational controller; to the left is the back button; and the menu button is on the right. The two long buttons on the side of the screen are page-forward and page-back buttons.
For organization, there are a number of options for customizing the view of the main menu. You can choose how many books to display, how to display them, how they're organized, etc.
It has a handy folder management system with sub-folders and customizable options. You can organize the folders onto a memory card and the order stays how you want it. There are a number of organizational options and ways to sort ebooks, such as file type, author, title, date, etc.
Video Demo
Cons
The firmware is prone to the occasional freeze-up or crash.
It remembers the last page you were on for each ebook, but there is no way to bookmark pages (a future firmware upgrade may add this feature).
Can't take notes.
You can change font type with certain formats, but there is no ability to change EPUB fonts.
No touchscreen.
Only comes in white.
Doesn't have a cover; it has a leather "slide" instead.
eBooks for Cybook Opus
Depending on the firmware you choose, you can get DRM protected ebooks in PDF and EPUB from a number of online sellers like Waterstone's, BooksOnBoard, or Powell's Books.
If you'd rather your device support MOBI files you can go with Mobipocket and choose from 120,000 titles on their website. Mobipocket doesn't allow DRM-protected ebook support for both their format and Adobe Digital Editions at the same time.
Another option, eBooks.com, has both format types.
Formats
Text: DRM-protected MOBI (PRC), and unprotected TXT, HTML, and PDF. Or Adobe Digital Editions support through firmware upgrade: DRM-protected EPUB and PDF, as well as unprotected TXT and HTML. Mobipocket doesn't allow DRM-protected EPUB in conjunction with their format.
Images: JPG, GIF, PNG
Technical Specifiations
Dimensions: 151 x 108 x 10 mm; 6 x 4.2 x 0.4 inches.
Weight: 150 grams; 5.3 ounces.
Memory: 1 GB internal memory; 32 MB RAM; Micro SD card slot.
Display: 5-inch E Ink screen; 4 levels of grayscale; 600 x 800 resolution – 200 dpi; portrait and landscape modes.