Elonex eBook Reader Review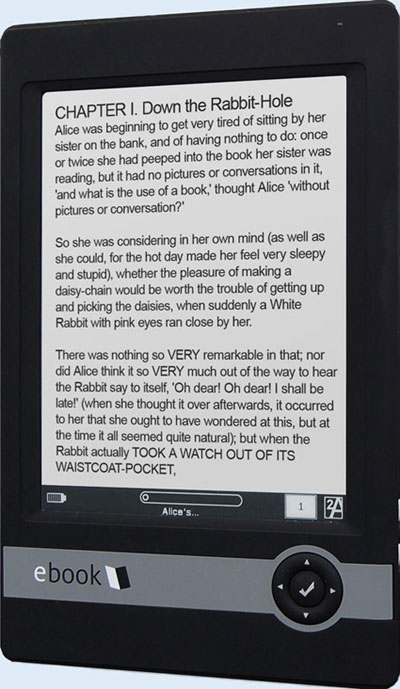 Overview
Elonex is an IT solutions provider and supplier of consumer electronics, most notably netbook computers. They recently stepped into the ebook reader industry with their own version of ereader.
The Elonex eBook Reader was available exclusively at Borders UK for around £190.
The new Elonex 511EB eBook Reader can be found at Waterstone's for about £130.
Elonex is compatible with Adobe Digital Editions software, which supports PDF and EPUB file types. If you want to download DRM-protected ebooks you have to use Digital Editions. You can download ebooks from Waterstone's or any other website that supports ADE.
Specs and Features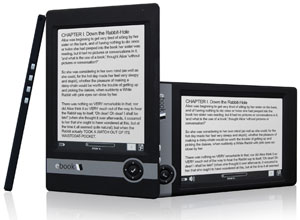 The Elonex eBook is a basic, simple-designed ereader without any features to make it stand out from the ereader crowd.
It has a 6 inch E Ink Vizplex screen, the same technology as other ereaders. Its physical dimensions are 187 x 117 x 9mm, and its resolution is 600 x 800 pixels.
The high-contrast screen is definitely its strong point. The text is very crisp and clear and easy to read for long periods of time, and you can read it in direct sunlight without glare.
It sports a matte black finish and a lightweight, sturdy design, weighing just 180 grams.
It has 512 MB of internal memory, and supports up to 4GB with an SD memory card.
The menu system allows for sorting ebooks by name, category, date, or size. There is a bookmark feature, and built-in language support for English, Spanish, Portuguese, German, French, Chinese, and Japanese. It also comes with Sudoku, if you get tired of reading.
Page turning and menu navigation is done with the navigation wheel. It has four buttons on the left side: one for Multimedia (Sudoku), Rotate from portrait and landscape modes, Return to Main Menu, and pop-up Menu for bookmarks, settings, etc. There are two buttons to adjust font size on the right side.
There are a three different font types—Georgia, Courier, and NXT New—and 8 levels of text size.
The Elonex ebook reader comes with an AC Power Adapter, rubber case, USB 2.0 cable, and a quick start guide. It also comes pre-installed with 100 books, and customers can select from 45,000 more at the Borders UK website.
Quick Video Demo
Video Removed by User
Cons
The most common user complaints are:
Slow startup.
Limited options for buying ebooks.
Slower page turning than its rivals.
The bookmark feature can't be accessed in the Main Menu; you have to be in the ebook to access its specific bookmarks.
When you turn off the device then turn it back on, it automatically goes to the menu screen instead of opening on the page where you left off.
No dedicated page-turn buttons; you must use the navigational wheel.
It doesn't support MP3.
No dictionary.
Formats
Text: EPUB, HTML, TXT, PDF
Images: JPG, BMP, PNG
Audio: no audio support