Fire HD 6 Review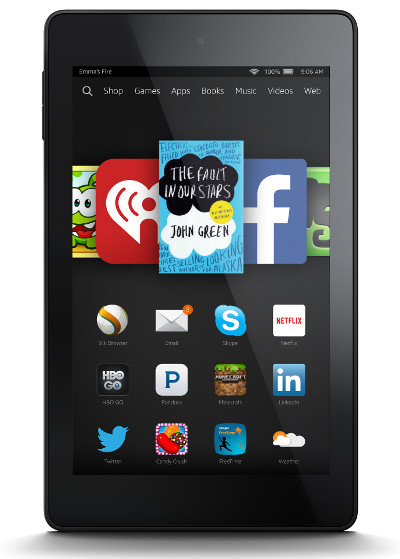 Review Date: October 2014 - Review unit purchased from Amazon
Overview
The Fire HD 6 is the first 6-inch tablet that Amazon or any other major company has released. There's also a 7-inch model, the Fire HD 7. This review focuses on the 6-inch model specifically but it can be used as reference for the 7-inch version too because both devices are identical from a software standpoint, and the only difference hardware-wise is the larger screen and the addition of a second speaker on the Fire HD 7.
The Fire HD 6 costs $99 for the 8GB Special Offers version and $119 for 16GB. The Fire HD 7 is $139 for 8GB and $159 for 16GB. The non-ad models cost $15 more. The HDs are entry-level tablets. Amazon also offers the higher-end HDX line. Additionally, Amazon dropped the Kindle branding from their tablets; they are simply called Fire now.
Comparison Review: Fire HD 6 vs Kindle Fire HDX »
Quick Review: Fire HD 6
Pros
Good value for the price in terms of overall hardware and specs, plus the build quality feels solid.
Small and portable, easy to hold and operate one-handed.
Much more versatile than an E Ink Kindle, while still offering most of the same Kindle reading features.
Exclusive Fire tablet features like X-Ray for music and video, Prime member benefits, added Kindle features, such as text-to-speech, audiobook syncing with ebooks, Goodreads, etc.
Cons
Like all Fire tablets, you are forced to use Amazon's custom interface that directs all aspects of the device to Amazon to buy more stuff, plus the software is more basic and much less customizable than other Android tablets.
Doesn't support Google Play, and Amazon has fewer Android apps than Google and the ones they do have aren't updated as often.
Overall the screen is pretty good but it could be better (see screen section below).
No memory card slot, minimal storage space internally, relies heavily on WiFi and cloud storage.
Verdict
The Fire HD 6 is a surprisingly nice tablet for $99. It has a high resolution screen, front and rear cameras, Bluetooth, a zippy quad-core processor, and a respectable 8-hour battery life. Most tablets under $100 have low resolution screens and weak batteries, so it's good to see Amazon offering something better.
But what stands out the most with the Fire HD 6 is the unique size. The smaller profile makes it more portable and easier to hold than 7-inch tablets, and even 6-inch ebook readers because of the narrower screen ratio. The small size gives the Fire HD 6 its own unique set of benefits. Couple that with the low price and it makes it hard to be disappointed with the device, even despite the lack of expandable memory and having to use Amazon's custom interface. The Fire HD 6 is a good entry-level tablet and it makes for a good secondary tablet too.
Price: $99 - $134 at Amazon
Fire HD 6 Video Review and Walkthrough
Hardware and Design
For $99 the Fire HD 6 has respectable specs. It's powered by a quad-core 1.5GHz processor with 1GB of RAM. It has Wi-Fi, Bluetooth, a speaker, microphone, 3.5mm headphone jack, and front and rear cameras. Battery life is rated at up to 8 hours, and that seems pretty accurate.
The front camera is VGA quality and the rear is 2.0 MP. Picture quality is okay; 2 MP isn't great, and there's no flash of course. The single speaker on the Fire HD 6 is okay too, it's just loud enough to be useful and the sound quality isn't as good as the HDX.
There's also a power button, volume buttons, and a micro USB port for charging, and the device even comes with a 5w USB charger (E Ink Kindles don't even come with those anymore, just a cable, and they cost $20). The USB port is SlimPort enabled, meaning it can connect to a TV or computer with a SlimPort adapter.
One of the weak points with the HD line is the small amount of onboard storage space. There's the option of 8GB and 16GB. That equates to only 5GB/12.2GB of usable space, and that's not very much when it comes to things like videos and audiobooks. Devices like these are much better suited for cloud storage and streaming, which requires a constant internet connection. Fire tablets aren't very useful in cases where Wi-Fi access is limited.
What makes the Fire HD 6 most unique is the slimmed-down overall size from more common 7-inch tablets. One inch doesn't sound like a lot, but when it comes to holding the device in one hand or sticking it in a pocket there's a hug difference. The Fire HD 6 is just 4" wide, which makes it a little over 1" narrower than the 7-inch Fire tablets and about 5/8" narrower than Kindle ebook readers, so that gives it the unique distinction of being the smallest Kindle or Fire tablet yet.
The Screen
Most tablets range from 7 to 10 inches, whereas the Fire HD 6 is closer in size to a large phone with its 6-inch 1280 x 800 screen. The resolution is high enough at 252 PPI to give text and fine details a nice sharp and clear appearance. The IPS LCD screen is made by LG. It has wide viewing angles, colors are vivid, and there's a good range of brightness adjustment, although some may find a dimming app is needed to further dim the screen when reading at night.
The light has more of a bright white tone than the screen on the 7-inch Fire HDX, which has a warmer yellower tone. The HDX's screen is nicer by comparison. The resolution is higher, making everything appear a little sharper, and colors have more depth, plus it supports 10-point capacitive touch whereas the Fire HD 6's screen supports just 2.
One thing I like better about the Fire HD 6's screen is it doesn't have an annoying blue border that surrounds the screen like on the HDX. However, the Fire HD has it's own display issue, or at least my unit does. I noticed while reading an ebook that the screen brightness/color isn't completely uniform across the screen. On one side, along the edge, it is visibly brighter/whiter than the other side, and it doesn't matter what orientation the screen is in, what the brightness setting is, or what color the background is—the one side is always slightly brighter.
Pretty much the only place I notice this color difference is when reading ebooks when the background of the page is one solid color. With the rest of the interface, when watching videos or playing games, it is virtually impossible to see. In fact I didn't even notice it for the entire first week. Now I find it somewhat distracting while reading, but less so than the blue haze that surrounds the HDX. Either way, E Ink Kindles still offer the best overall reading experience in my opinion.
Comparison Review: Fire HD 6 vs Kindle Paperwhite »
Software Features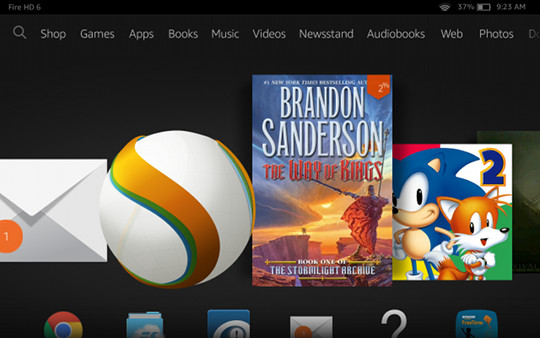 This year's Fire HD tablets run Fire OS 4 "Sangria", Amazon's own custom interface. It's based on Android 4.4 KitKat, but you'd never know it because Amazon's interface is nothing like regular Android, and it offers far less features and customizations.
Unlike regular Android tablets, you can't customize the homescreen or the lockscreen, there are no widgets, no Google apps, and you can't use alternate homescreen launchers because they don't work properly thanks to Amazon disallowing them.
You can't even use the Amazon appstore to download and install things like alternate web browsers or other ereading apps, except OverDrive, because Amazon is so controlling that they hide them from appearing on Fire tablets, even though many are offered in Amazon's appstore using other devices. These apps have to be sideloaded instead; at least Amazon hasn't disabled that.
If Amazon hadn't announced that they updated the software, I wouldn't even have noticed. The interface remains pretty much exactly the same as Fire OS 3 on the HDX from last year. All they did is change the appearance of a few icons and added a couple features like user profiles, faster video streaming (ASAP), and smart suspend to improve battery life. But you're still stuck with the same homescreen carousel just like the original Kindle Fire from 3 years ago, with the same soulless black background and everything categorized into different lists where you can't change or customize anything. The single thing you can do to customize the interface is place app icons at the bottom of the homescreen for "easy" access where you have to scroll down to even see them.
Like I've said in past Fire tablet reviews, it feels more like Amazon's tablet than your own because they want to control every single aspect of how you use it. If you can get past that then a Fire tablet might be a suitable option for you. If not, then you're better off spending twice as much on a real Android tablet.
Kindle Books and Reading Features
When it comes to reading Kindle ebooks on the Fire HD 6, there are some additional features not found on the Kindle Android app, such as X-Ray, Goodreads, text-to-speech, and instant translations. Additional reading features for the Fire HD include the ability to add notes, multi-colored highlights and bookmarks, you can share via Goodreads, Facebook and Twitter, there's search, dictionary look-up, Wikipedia reference and built-in support for audiobooks.
You can adjust margins and line spacing in three intervals. There are four themes to choose from for different font and background colors, including white, green, sepia, and black. Font choices included Caecilia, Georgia, Palantino, Baskerville, Helvetica, Helvetica-Light and Lucida.
The Kindle reading app supports TXT, PDF, MOBI and PRC formats in addition to Amazon's Kindle formats (AZW, AZW3). In order to get sideloaded ebooks and PDFs downloaded with the web browser or email to appear in the documents list and the homescreen, you need to use a file explorer app to move the ebook from the downloads folder to the documents folder. Or you can send documents and ebooks to the device through Amazon and they will get added to the personal documents section, and will have all the same syncing features as regular Kindle ebooks.
You can also load other reading apps onto the Fire HD, including ePub reading apps (see sideloaded apps section below).
Audiobooks and Text to Speech
One of the things that set Fire tablets apart is the inclusion of text-to-speech and Immersion Reading with audiobooks from Audible. TTS uses IVONA and features a pleasant female voice, with adjustable speed settings. When you own both the audiobook and ebook of the same title you can switch back and forth between listening to the audiobook and reading the ebook, and it will highlight the words in the ebook as it reads aloud. These features are shown in the video above.
Amazon Appstore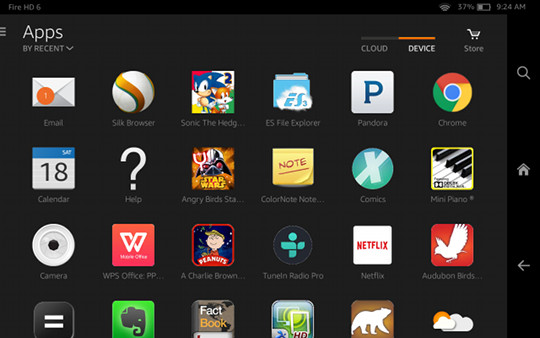 Unlike regular Android tablets, Fire tablets don't have access to the Google Play appstore unless you root them. They rely on the built-in Amazon appstore for apps. You can also sideload Android apps and use third-party alternate appstores (see section below).
The Amazon appstore doesn't have as many Android apps as Google, and they aren't updated as frequently, but the number has grown considerably over the past few years, with over 200,000 apps currently available.
There are tons of games, not many high-end games but nearly half the available apps at Amazon are in fact video games.
One of the main advantages of using the Amazon appstore is to get free apps. They give away a paid app for free everyday. Usually it's a video game, but eventually they give away just about everything. Sometimes you can nab a $10 productivity app for free (they usually give away the best apps on holidays).
Sideload Android Apps and Google Apps
One of the good things about the Fire HD 6 and Fire tablets in general is the fact that they support sideloading apps, even several Google apps without rooting. That means you can install apps downloaded online and from third-party alternate appstores. You can install other reading apps (even competing apps like Nook and Kobo), news apps, comic apps, etc. Here's a list of ePub ereading apps that work on the Fire HD. OverDrive is a good choice, and it is available from the Amazon appstore and online. To install Android apps from outside Amazon, you just need to enable the installation of apps from unknown sources from the applications menu under settings.
Silk Web Browser
Ever since the original Kindle Fire, Amazon has been developing their own web browser called Silk. It uses tabbed browsing. You can print a page, share a page, add bookmarks, find on page, request alternate view, and view in full screen, which is especially nice on the small 6-inch screen. Silk also offers encryption features and a number of settings
Personally, I don't care much for the Silk web browser. The reading feature is cool but otherwise it doesn't have much going for it. I use the Chrome browser instead. It's much faster and smoother, especially when it comes to scrolling. Here's a list of eight alternate web browsers for Fire tablets.
Photos
Now that the Fire HD tablets come with rear cameras, Amazon has started offering free automatic backup for all photos taken with new Fire tablets, and the photos get synced across Amazon devices and Cloud Drive apps. There are a number of photo editing options with the default app, or you can download several others from Amazon. Photos can easily be shared on social networks, email, etc.
Music
Fire HD tablets are good music playing devices, and they sound great with headphones. They integrate nicely with Amazon's MP3 store, and most songs have free samples you can listen to before buying. You can stream music from Amazon or download it locally. And you can even upload your entire existing music collection using Amazon's Cloud Player. The first 5GB of free space is free, and then plans start at $10 per year for 20GB.
There are a number of other options for music too, with apps like Slacker Radio, Pandora Internet Radio, Sky.FM, and TuneIn Radio available in the Amazon appstore.
One of the cool exclusive features with Fire tablets is something called X-Ray for music. What it does is show the lyrics of the song and it even goes along and highlights the lyrics as they are sung. It's kind of like ereading for music.
There's also Prime Music now for Prime members, which provides access to over 1 million songs and playlists for free.
Videos
I'm not going to comment much on video services on the Fire HD 6 simply because I do not use them, and there are plenty of other reviews that go into detail for that.
In addition to Amazon's video service, you can install apps for Netflix, HBO GO, and Hulu+, among others.
This year's Fire HD tablets don't have HDMI ports, but they do support SlimPort adapters that connect to the micro USB port to use an HDMI cable to connect to a TV.
One of the exclusive features with Fire tablets is X-Ray for video. When watching a movie or TV show you can get additional information about characters on the screen through IMDb.
Fire HD 6 Specs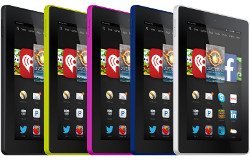 6-inch ISP LCD screen with 2-point capacitive touch.
1280 x 800 pixel resolution (252 ppi).
8GB or 16GB internal storage (5GB/12.2GB usable), plus cloud storage.
1 GB of RAM.
Processor: Quad-Core 2 @ 1.5 Ghz + 2 @ 1.2 GHz.
Front-facing VGA camera, 2 MP rear-facing camera.
Single band Wi-Fi.
Bluetooth
Dolby Audio Dual stereo speakers, headphone jack.
SlimPort enabled USB 2.0 (can connect to HDTV or VGA monitor with adapter).
3.5 mm stereo jack and integrated speaker with Dolby Digital Plus audio engine.
Accelerometer, gyroscope
Formats: Kindle (AZW), KF8, TXT, PDF, unprotected MOBI, PRC natively, Audible Enhanced format (AAX), DOC, DOCX, JPEG, GIF, PNG, BMP, Dolby Digital (AC-3), Dolby Digital Plus (E-AC-3), non-DRM AAC, MP3, MIDI, PCM/WAVE, OGG, WAV, M4V, MP4, AAC LC/LTP, HE-AACv1, HE-AACv2, MKV, AMR-NB, AMR-WB, HTML5, CSS3, 3GP, VP8 (WEBM)
Battery life: up to 8 hours.
Colors: black, magenta, white, citron, cobalt.
Dimensions: 6.7" X 4.1" X 0.4" (169 X 103 X 10.7 mm).
Weight: 10.1 ounces (290 grams).
Price: $99 - $134 at Amazon