Kindle Fire Review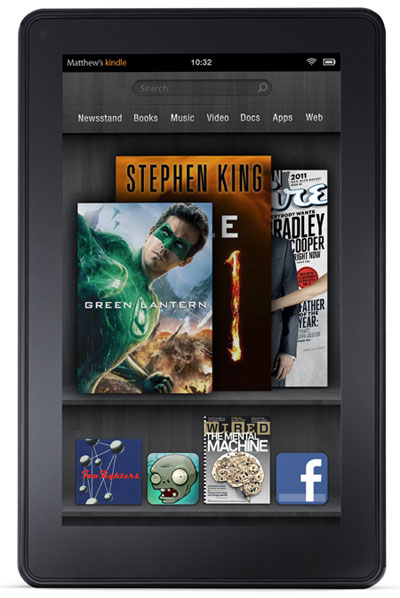 Overview
Amazon looks to replicate the success they've had with their Kindle ereaders with release of their first tablet, the Kindle Fire. Like earlier Kindles, it can displays ebooks from Amazon, but it also doubles as a multimedia device for music, videos, email, web browsing, and all the multitude of other things that can be done with the thousands of Android apps available in the Amazon appstore and beyond.
Quick Review: Kindle Fire
Pros
Compact design, feels solid and sturdy, comfortable to hold one and two-handed
Runs smooth and quick, and the touchscreen is very slick and responsive
High-quality display with bright colors, crisp text, and wide viewing angles
The Kindle Fire supports third-party apps so you can install applications from other sources, and it can even be rooted to install the Android Market
Cons
Just 6GB of onboard usable storage space and no memory card slot, depends heavily on Wi-Fi and cloud storage
User interface needs polishing: carousel too ungainly for large libraries and images from sideloaded apps look terrible, no way to quickly jump between apps like other Android devices
Amazon purposely removes certain apps, such as other ereading apps, from the Appstore because they don't want you to use them on the Kindle Fire (you can sideload them anyway)
Limited eReading features: lacks features other Kindles have like text-to-speech, collections, book descriptions, etc
Verdict
The Kindle Fire lacks some advanced features that more expensive tablets offer, but there's no question that it is one of the best options for a budget tablet on the market. Amazon made sure of that by pricing it under $200.
The Kindle Fire is heavily integrated with Amazon; that's what makes it unique from other Android tablets. If you like shopping from Amazon.com and are looking for a good starter tablet, then the Kindle Fire is for you. If you have no desire to use Amazon's ecosystem then there is no reason to get the Kindle Fire—you'd be better off getting a tablet with memory expansion.
Price: $199 at Amazon
Kindle Fire Video Review
The Kindle Fire as an eReader
The Kindle Fire is being marketed as an Android tablet and color ereader. Amazon will continue to sell their monochrome E Ink Kindles, but with the huge success of the Nook Color from last year, they are looking to expand into the color ereader/tablet market for those wanting to add some color to their reading experience.
Screen
One of the Kindle Fire's best features is its high-quality ISP display. The screen measures 7-inches diagonally and has a resolution of 1024 x 600 with 169 ppi. Colors are very bright and detailed (according to the specs it supports 16 million colors). And with the higher resolution display, text appears solid and crisp without excessive pixilation at the edges. It is much better than the usual 800 x 480 and 800 x 600 resolution screens that most 7-inch tablets use, especially when it comes to text clarity.
There's a lot of debate about backlit displays being harder on the eyes for reading than E Ink screens. I think it all depends on personal preference. Turning the brightness down can help a lot to make reading on a backlit screen like the Kindle Fire's more pleasant. One problem I have, though, is that the lowest brightness setting still seems too bright at night with all the lights turned off. Otherwise I don't have any problem reading on the Kindle Fire's backlit screen.
Reading Outside
Like any other tablet, the Kindle Fire is less than ideal for outside reading. Despite the supposed anti-reflective treatment, the screen is highly-reflective. Attempting to read the screen in direct sunlight is not a pleasant experience, and you can see every smudge and speck of dust on the screen. But as long as the display isn't in direct sunlight it's not too bad. I don't think you'll be seeing very many Kindle Fires at the beach. E Ink Kindles still have the major edge in that department.
How it Feels
The Kindle Fire is one of the more compact 7-inch tablets on the market. It feels solid and well-built without being too heavy. I find it comfortable to hold both one and two-handed. It is quite a bit smaller than the Nook Tablet, even though it weighs slightly more. The back of the Kindle Fire has a soft coating that is comfortable to the touch and adds some grip.
Overall, the device feels good in your hand and is small enough to be easily portable. My one complaint with the design is the power button. It is located on the bottom edge and protrudes out enough to make it so I'm always accidently turning off the Kindle. It requires very little pressure to activate, just lightly brushing your finger across it will do the trick. Sticking the Kindle Fire in a cover has remedied this problem for the most part, so now my hand rests on the cover instead of up against the power button.
Kindle Fire eBooks
The Kindle Fire's built-in ereading app is similar to the regular Kindle for Android app, with features typical of other Android ebook apps. Unfortunately that means many of the usual features that other Kindle devices offer aren't included. At least not yet.
The features the Kindle Fire does have includes the usual notes, highlights, bookmarks, syncing last page read and annotations across multiple devices and apps, search, dictionary look-up, and automatic screen rotation that can be turned on and off.
The main difference with the Kindle Fire's reading app and Kindle for Android app is the addition of more font choices and adjusting options. There are three line-spacing and margin settings, with eight font sizes, and the best part, there are eight font styles, Georgia, Caecilia, Trebuchet, Verdana, Arial, Times New Roman, Courier, and Lucida.
Like other Kindle devices, the Fire doesn't generate a table of contents of its own, it use the book's TOC instead, if it has one.
To keep track of which ebooks are loaded onto the device and which ones are archived, the ebook library consists of a section for "device" and "cloud". There are two viewing options, cover view and list view. Sorting options include by author, title, and most recent.
Here's what's missing from the Kindle Fire's reading app: no text-to-speech, no collections or organizing options aside from assigning ebooks as favorites on the homescreen, can't download ebooks with the web browser (they download but won't open), can't sideload ebooks in MOBI or PRC to read in the Kindle app (have to send them to the Fire's email address instead, which is nicer actually because then they get synced), there are no built-in sharing features, and there are no book descriptions.
That last point is especially annoying. I have well over 100 Kindle books and trying to decide which one to read based off of a book cover is not an easy task. The only option is to keep jumping from the library to the Kindle store and manually running a search for each book to read the description and reviews—takes forever.
In the end, the Kindle Fire as an ereader is hardly any different than any other Android tablet with the regular Kindle for Android app installed. The Fire is good at what it does, but doesn't offer any cool extras. Considering the Kindle name branded on the back of the device, I wasn't expecting the ereading aspects of the Kindle Fire to be so vanilla.
Kindle Fire Newsstand
The Kindle Fire has a section called Newsstand for newspapers and magazines. It turns out they aren't the same as the subscriptions for other Kindle devices. They also offer various apps instead of selling the publications directly.
With magazines, they are laid out the same as their print counterparts in "Page View" and then there's the option to view them in "Text View" for reading. The table of contents lists the articles along with a picture for each.
In page view, you can tap or pinch to zoom in. Tapping the center of the screen brings up thumbnails to quickly scan through the pages. In text view, the articles get formatted to look just like ebooks and include a picture at the beginning of each article. All the text adjusting options mentioned for ebooks apply to text view. It also has dictionary and search, but no notes or highlights.
Newspapers and article-oriented magazines have a different layout than magazines. There is no page view, just article view, with all the same options mentioned above for magazines. The table of contents shows a list of articles along with a picture if the article has one. The TOC is broken down into separate sections for news categories to easily jump to a different section. Hyperlinks embedded in articles work too.
As you would expect, periodicals get delivered automatically whenever a new issue is released. And each comes with a free 14 day trial.
Other eReading Apps and News Apps
The great thing about the Kindle Fire is that it can install additional ereading apps and news apps such as the Nook for Android app and my personal favorite Aldiko. Amazon hides some of these apps from the Kindle Fire's appstore, but they can be sideloaded from other appstores and websites.
From the Amazon appstore you can download a newspaper app called PressReader. I'm surprised Amazon offers it considering they sell their own newspaper subscriptions. PressReader is a really nice news app that shows a scan of the newspaper and has article view and text-to-speech.
The Kindle Fire comes with an app called Pulse pre-installed. Pulse is a visually-oriented RSS app that you can use to read RSS news feeds from around the web. It even supports importing your Google Reader feeds.
Comics and Manga
The Kindle Fire doesn't come with a comic app out of the box, but there are comic apps available from the Amazon appstore, including the Comixology app for comics from Marvel, DC, and The Walking Dead. I tested a few random titles and they look great on the Kindle Fire's screen. The text balloons are large enough to read without zooming, and there's a Guided View mode that zooms in on each frame for a closer look.