Free eBook Reader Software
After downloading any free ebook reader app listed on this page, make sure to check out The eBook Reader Blog for the latest free ebooks from Amazon, Sony, B&N, and others. And don't forget the free ebooks page for a list of websites that specialize in free ebooks. In addition, there are more free ebook reader apps listed on the app section of the Blog.
Calibre -
Conversion Software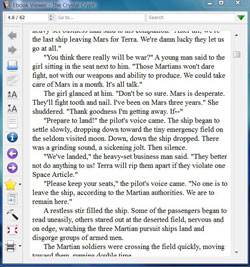 More than just a free ebook reader program, Calibre is a complete ebook cataloging tool with a ton of features, including library management, format conversion, RSS news feeds to ebook conversion, ebook reader synchronization features, and more.
Calibre can be used as an ebook viewer for all major DRM-free ebook formats, and it can convert from many file types, including CBZ, CBR, CBC, CHM, EPUB, FB2, HTML, LIT, LRF, MOBI, ODT, PDF, PRC, PDB, PML, RB, RTF, TCR, TXT.
These can be converted to any of these formats: EPUB, FB2, OEB, LIT, LRF, MOBI, PDB, PML, RB, PDF, TCR, TXT.
Calibre works great for converting files that don't work well on dedicated reading devices like Sony Reader and Amazon Kindle. Whether you are looking to convert PDB to EPUB format or EPUB to PDB, converting files into a more compatible format for your reader can increase readability and minimize formatting errors.
There are a lot of features to learn about when using Calibre, so make sure to check this blog post to learn how to get started using Calibre.
Adobe Digital Editions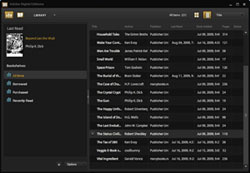 Adobe Digital Editions is a popular free ebook reader software that allows users to read EPUB and PDF files, as well as Adobe Flash (SWF).
In addition, it's compatible with most ebook readers except Kindle, and is required to transfer DRM-protected ebooks borrowed from libraeries and some ebook reader devices that don't have their own dedicated software.
The reading view consists of a navigation pane to view bookmarks, annotations, and a table of contents. You can hide the navigation menu and view the book in wide screen.
There are four levels of font size with EPUB ebooks and four different display types for PDF files, double-page, single page, fit-to-width view, and custom fit view from 87-919%.
Download Adobe Digital Editions
Kindle Apps For PC, Mac, Android, iPad, iPhone, Blackberry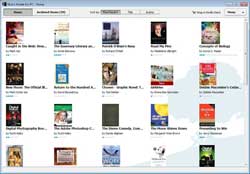 In an effort to keep on top of the ebook market, Amazon has released several Kindle apps for different devices that are free ebook reader programs that allows people in over 100 countries to download ebooks from the Kindle Store to read.
Kindle ebooks can now be read on all Kindle devices, iPad, iPhone, Android, iPod touch, Blackberry, PC and Mac. Kindle Apps synchronize bookmarks and the last page read across all these devices using Amazonís Whispersync technology. However, Kindle newspapers, magazines, and blogs are currently not available for all these free ebook reader programs.
Feature List
Provides access to the Kindle Book Store with up to 750,000 ebooks available for immediate download (book rights vary by country).
Read the beginning of any book for free before buying.
Add notes and highlights, and automatically syncs them across all devices registered.
Change background color to white, black, sepia.
Adjust brightness.
Full page view.
Download free ebooks.
Read books in full color including childrenís books, cookbooks, textbooks, graphic novels, etc.
10 adjustable font sizes.
Adjustable line width.
Add unprotected MOBI and PRC files to the folder to view.
Syncs last page read over all registered devices.
View notes and highlights marked from other devices.
Compatible with Windows 7. You can Zoom with a pinch of your fingers and turn pages by swiping a finger across the screen.
Sony Reader Library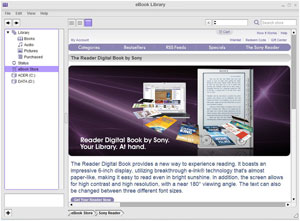 Sony's eBook Library software supports all the same files as Sony Readers: BBeB (.lrf and .lrx), PDF, EPUB, TXT, RTF, DOC (converts to RTF for transfer to Reader or memory card), MP3, AAC, JPEG, PNG, BMP, GIF.
Mac support is now available, and apps for iPhone and Android.
With the Sony Reader Library you can import files or download them directly from the online store. The eBook Store has over 150,000 titles for sale, with classics starting at $1.99 and new release and bestseller ebooks for $9.99. Sony also offers 1,000,000 free public domain books through Google. And there are some RSS feeds as well.
With Sony's free ebook reader software you can transfer and synchronize content to a Sony Reader by plugging in the device with a USB cable and dragging ebooks to the Reader in the menu pane or by saving the ebooks to a memory card. But most people prefer to use Calibre instead.
Download Sony Reader eBook Library
Barnes and Noble Nook Apps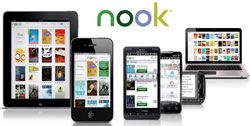 The Barnes and Noble Nook software is a free ebook reader application that works with the following devices: PC, Mac, iPad, iPhone, iPod touch, Android, Blackberry, and Nook. It also come installed on a number of 3rd-party ebook readers such as the Pandigital Novel.
The program grants access to B&N's online book store for downloading ebooks. After signing up an account with an email address and credit card, you can download free classics and purchase new ebooks. Bestsellers and new releases typically cost $9.99.
The software is required to read B&N's ebooks, and you can side-load other DRM-free EPUB ebooks.
Feature List
Access B&N's ebook store and download from a mobile device's browser.
Lend eBooks.
Read samples of ebooks before buying.
Download free ebooks.
Bookmark, note-taking, and highlighting features.
Adjustable font sizes and margins.
Portrait and landscape modes.
Mobile devices can look up words in the dictionary, Wikipedia, and Google.
Download Nook Apps
MobiPocket Reader

Mobipocket Reader supports MOBI and PRC ebooks, as well as unencrypted PDB files. The free ebook reader software is available on a variety of platforms: Windows PC, Blackberry, Windows Mobile, Palm OS, Symbian OS, and several dedicated ebook readers like BeBook, Cybook, and iLiad.
Mobipocket software allows users to manage and organize ebooks, RSS feeds, and self-published eDocs on their computer. You can also sync content to mobile reading devices. Owned by Amazon, Mobipocket has over 40,000 titles available for download.
Mobipocket offers several features. You can modify font size and type, change the reading view to paperback page size, full-width display, 2 or 3 column display, as well as optimal display. You can annotate, highlight, bookmark any part of any ebook and even create custom hyperlinks between different ebooks. There is also a dictionary look-up feature and a wide selection of electronic dictionaries to choose from.
MobiPocket Creator-
Conversion Software

There is a free Mobipocket Creator software called Home Edition that you can use to create and publish your own ebooks, personal databases, photo albums, and more from templates.
In addition, there's a more advance Mobipocket Creator called Publisher Edition that can import Microsoft Word and Text Files, as well as convert Adobe PDF files to MOBI format. This works well for people who own a Kindle 2; it allows the conversion of a PDF into a more user-friendly format, and can eliminate some issues with compatibility.
Microsoft Reader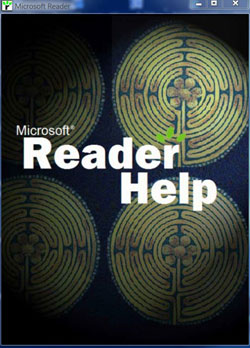 As you would expect, Microsoft's free ebook reader isn't particularly user-friendly. It only supports LIT format, and you can't import files; you have to register before you can view any ebooks, in fact. But you'd better use Internet Explorer or Netscape, because in typical Microsoft fashion, you cannot activate the reader with a Firefox browser or any other browser.
Despite these annoyances, Microsoft Reader has a lot of features. It supports four different font sizes, five clear type settings, full screen, an optional text-to-speech download, and offers highlighting, bookmarks, notes, and drawings.
Plus, you can view annotations and rename or erase them at any time. It also allows users to create LIT documents from Microsoft Word documents using an additional add-in. More features include Zoom for Pocket and Tablet PCs, as well as rotate and resize. There are search options and dictionary support too.
Microsoft boasts over 60,000 titles to choose from on their website, and there are some free ebooks too. The free ebook reader software is also available for Tablet PC and UMPC, as well as Pocket PC.
Download Microsoft Reader (software discontinued)
Stanza Desktop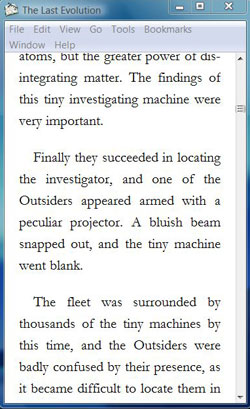 Stanza is a free ebook reader software to read ebooks on your PC or Mac and share with your iPhone, iPod Touch, and Kindle 2. It has a number of features like text-scrolling, multiple font sizes, advanced column layouts, and much more.
Stanza Desktop supports HTML, PDF, DOC, RTF, as well as unprotected Amazon Kindle (AZW), MOBI, LIT, Palm Doc (PDB), and EPUB.
The biggest thing about Stanza is the free iPhone application that makes it possible to read all your favorites ebooks anywhere on your iPhone or iPod Touch.
Stanza can export to MobiPocket, enabling the use of the MobiPocket Reader to read your exported ebooks on your Blackberry, Pocket PC, Palm OS, and many other mobile devices.
Stanza Desktop has a built-in export feature especially for the Amazon Kindle. PDFs, Word documents, and other ebooks can be exported to the Kindle's native format (AZW) and copied over to the device using a USB cable.
Download Stanza Desktop (dead link)
Plucker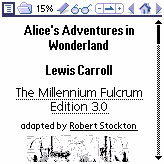 Plucker is a free ebook reader program for Palm OS based devices, Pocket PC, and other cellphones and PDAs. It is an open source offline HTML viewer.
Features include clickable images that can be zoomed, high-resolution fonts and nine different font types, gesture navigation, rotating display, configurable toolbars, and customizable interface, to name a few.
You can download ebooks for Plucker on the their website, as well as from several sites like Project Gutenberg and Manybooks.net. Links to these sites can be found on the free ebooks page.
Download Plucker (software no longer supported)