Hisense Sero 7 Pro Review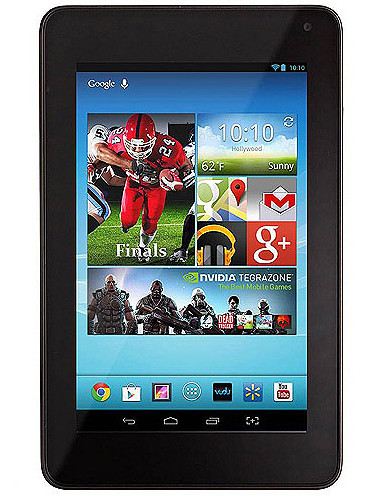 Review Date: June 2013 - Review unit purchased from Walmart
Overview
The Hisense Sero 7 Pro tablet is a 7-inch Android tablet that has the specs to rival any 7-inch tablet on the market as of this review. It also just happens to have one of the lowest prices for a tablet in its class at $149, undercutting the popular Google Nexus 7 and Kindle Fire HD by $50. It even manages to add some extra features that those tablets lack.
But unlike Amazon and Google, you've likely never heard of the brand name Hisense. They are based out of China and are mostly known for selling TVs and appliances. In fact the Sero 7 Pro marks their first entry into the tablet field, along with the Sero 7 Lite, which sells for $99, but it lacks the quad-core processor, Bluetooth, the rear camera, and high resolution screen that come with the Sero 7 Pro.
The big question is can Hisense's first set of tablets stand up to the likes of the Kindle Fire HD and Google Nexus 7? You might be surprised by the results...
Quick Review: Hisense Sero 7 Pro
Pros
The operating system (Android 4.2 Jelly Bean with Google certification) runs smooth and fast with the NVIDIA Tegra3 quad-core processor.
The 1280x800 IPS screen looks great; text is very crisp and clear even at sharp angles. The screen looks a little better than the Nexus 7's screen, in fact. Colors appear brighter, and less smoky when viewed at angles.
Surprisingly good build quality for a budget tablet, feels fairly solid.
Lots of features for the price: mini HDMI port, microSD card slot, front and rear cameras with rear Flash, GPS, Bluetooth, dual speakers, NFC chip.
Cons
Brightness levels could use refining, not much variation from low to high. A dimming app is needed for reading at night because the lowest setting is too bright.
Sold in Walmart stores only, can't buy online (at least not as of this review).
Battery life doesn't seem to be quite the 10 hours that they advertise. 7-8 is more likely.
Verdict
The Hisense Sero 7 Pro turned out to be a lot better than I was expecting for $149, especially considering it's made by a company I've never heard of before. I've experienced nothing but good things using this tablet. It runs just as smoothly as the Nexus 7, and all the extra ports and features work well too. Usually there are some compromises to be made when dealing with cheap tablets from China, but I haven't found any yet.
Perhaps the biggest problem with the Sero 7 Pro is that it comes at the end of the life cycle of the Google Nexus 7. Sure it is the better option now, but when Google comes out with a newer model in a few weeks the advantages of the Sero 7 Pro could be short-lived. Still, it's one heck of a nice tablet for the price.
Estimated Price: $149 at Walmart
Hisense Sero 7 Pro Video Review
Hardware and Design
The designers of the Hisense Sero 7 Pro clearly modeled the device after the Nexus 7. It uses a similar 1280x800 resolution screen (although I'd say it has better viewing angles and brighter colors) and the specs are generally the same with a 1.3GHz Tegra 3 quad-core processor, 1GB of RAM, GPS, Bluetooth, NFC chip, and front-facing camera.
But the Sero 7 Pro also comes with a few key features the Nexus 7 lacks.
For starters it comes with a much-needed microSD card slot and supports cards up to 32GB. There's also a mini HDMI port for watching movies and viewing other content on a TV. I tested it with Netflix and it works very well, and even goes fullscreen and gets rid of the black bars some tablets leave behind. You just need a cheap cable to connect to a TV, or a mini HDMI adaptor for a larger connector. Between the HDMI port and microSD card slot the Sero 7 makes for a good video playing tablet.
Another thing that this tablet has that the Nexus 7 doesn't is a rear-facing camera. There's even a LED Flash for snapping photos in low light. But I found that it's usefulness is quite limited. The Flash, that is, not the camera. Outside in bright light the 5MP rear camera takes decent pictures (there's an example in the set of pictures further down the page), but inside the house in a room with medium light the image is rather grainy and hard to make out. The Flash doesn't have much of a positive effect; my iPad 3 takes clearer indoor photos despite not having a Flash at all. I guess if it's really dark the Flash is better than nothing (you have to manually switch the camera to night mode before you can see anything on the screen, though).
The design of the device is pretty solid, but not quite as solid as the Nexus 7 with its metal frame. The plastic doesn't make creaking noises when twisting or handling. It does make sort of a clicking sound, which is slightly annoying, when you press the center of the back. The outer case seems to touch the inner casing there. The back of the device has a textured feel, with just enough of a rubbery coating to give it good grip. It has two speakers with average sound quality that are louder than most tablets.
As far as performance, the Hisense Sero 7 Pro is every bit as smooth and fast as the Nexus 7 and any other 7-inch Android tablet currently on the market. It tested with a Quadrant score of 4125 and an Anatutu benchmark of 10607. Pointless numbers aside, it runs smoothly playing games like Dead Trigger, Temple Run, and pretty much anything else you throw at it. But I was trying to play Nova 3 and it was lagging a bit. Not sure if it's the game or the device, but it lags on the Nexus 7 too.
Software and Apps
The Hisense Sero 7 Pro runs Android 4.2 Jelly Bean and comes with full Google certification. That means all the main Google apps come preloaded on the device—like Google Play, Gmail, Chrome, Google+, YouTube —and all the other Google apps can be found alive and well in the appstore. Additionally the software includes the always invasive and sometimes useful Google Now set of features.
For the most part it runs a straight up version of Android 4.2, which is good because there's less to go wrong. It does add a custom screenshot icon to the menu bar that is there all the time.
Aside from that, it's basically just like any other Android 4.2 tablet from a software perspective. Since it is a Walmart exclusive tablet, it comes preloaded with the Walmart and Sam's Club apps, along with VuDu for videos and a TV remote app. It also comes with Kingsoft Office for viewing and editing office files.
One helpful thing I noticed for beginners is that there's a really useful and in-depth user guide for the Sero Pro 7 (pdf) that you won't find available for most tablets. I was surprised to see Hisense put that much work and detail into a manual when most companies don't even bother with them anymore.
Hisense Sero 7 Pro as an eReader
One of the things I was glad to see with the Sero 7 Pro is that it does not suffer from the screen flickering issue that has always afflicted my Nexus 7. It makes for a much better reading device because of that. But the screen brightness levels aren't very reading friendly. There's bright and really bright, not much variation along the band of the brightness dial. I always have to use a dimming app to make the screen light less intense when reading at night.
Otherwise the device makes for a good reading tablet because of the high resolution screen and 7-inch form factor. It comes with Google's Play Books, which now supports sideloading your own collection of ePub ebooks, and it can install any other ereading app, including Kindle, Kobo, FBReader, Aldiko, Mantano, Adobe PDF, Overdrive, Comixology, Nook, and plenty of others—you'd never run out of reading material with all those.
Who Should Buy the Hisense Sero 7 Pro?
In my opinion, the Hisense Sero 7 Pro is the best 7-inch tablet on the market at this time (June 2013). Even if it were $50 more I would recommend it over anything else, including the Nexus 7 and Kindle Fire HD. It has all the bells and whistles, and runs just as smoothly as any high-end Android tablet. The screen isn't quite as high resolution as the Nook HD, so you might consider it if you primarily want an ereading device, but for everything else the Sero 7 Pro gets an easy win. For me personally this device has become my primary 7-inch tablet. At least until an equivalent device comes along with an even higher resolution screen.
Hisense Sero 7 Pro Specs
7-inch ISP screen
1280 x 800 pixel resolution (216 ppi)
Android 4.2 Jelly Bean
8GB internal memory with 1GB RAM
MicroSD card slot for cards up to 32GB
1.3 GHz NVIDIA Tegra 3 quad-core processor
2 Cameras: Rear 5MP with Flash; Front 2 MP
Wi-Fi 802.11 a/b/g/n (2.4 GHz & 5 GHz)
Stereo speaker, 3.5mm headphone jack
Micro USB port for charging and transferring data (it supports external keyboards)
Mini HDMI port
Bluetooth 3.0
GPS
NFC - Near Field Communications (Android Beam)
Battery life: 7-10 hours - 4000 mAh
Dimensions: 7.96 x 4.95 x 0.42 inches (199.8 x 125.8 x 10.8mm)
Weight: 12.7 ounces (360 grams)
Price: $149 at Walmart