Google Nexus 7 Review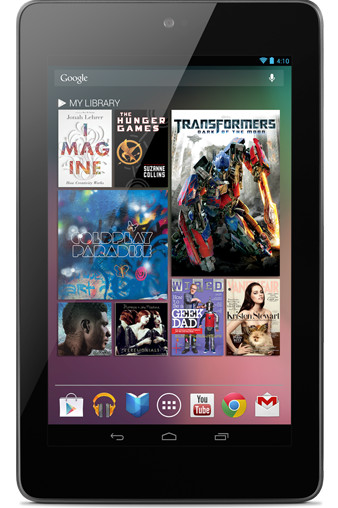 Review Date: July 2012 - Review unit purchased from
Google
Overview
The Nexus 7 is Google's first entrant into the crowded field of Android tablets. It's also the first tablet to ship with Google's latest mobile operating system, Android 4.1 Jelly Bean.
There are two variants of the Nexus 7. One has 8GB of storage space and sells for $199; the other has 16GB of storage space and costs $249. While it carries the Google name, the Nexus 7 is actually built and serviced by Asus, who is no stranger to Android tablets with their popular Transformer brand.
40 Tips and Tricks for Google Nexus 7 Tablet »
Nexus 7 Quick Review
Pros
Solid build quality and superior hardware for the price.
Great design. It's thin and lightweight, making it easily portable and very comfortable to hold. Plus the soft stippled texture on the back is a really nice touch.
Operating system is extremely smooth and zippy, not to mention open and highly customizable.
The 1280 x 800 IPS screen looks great, and is especially good for reading because text is super-clear and crisp, even really tiny text.
The free stuff: $25 gift card for Google Play, free Transformers Dark of the Moon movie, some free magazines and music (this appears to be a limited time offer, however).
Cons
Very limited amount of offline storage space. There's no question the lack of an SD card slot is the biggest con (a rooted Nexus 7 supports SD cards through a USB cable with StickMount installed).
Limited video playing capabilities. Between the lack of an HDMI port and the meager storage space, the Google Nexus 7 gets bested by cheap $90 Android tablets in the video player category. It's great for streaming video to the small 7" screen over WiFi but that's about it. Offline video takes up a ton of space and good luck finding an easy inexpensive way to stream to a TV.
It's the hottest 7" tablet on the market—literally. The lower left corner tends to get pretty warm even with the brightness turned down below 30%.
Annoying screen flicker with brightness below 30%; most noticeable with white background when reading or web browsing. This may be something that doesn't affect all tablets, but there are numerous reports. Until it gets fixed, it's a huge con for reading with lower brightness.
Verdict
The first couple of days after I got the Nexus 7 tablet I really wasn't very impressed. I liked the build quality and design and especially the high resolution screen, but having just flashed Android 4.1 onto my Kindle Fire a few days prior, I wasn't seeing much the Nexus 7 could do the Kindle couldn't. In fact, the Nexus 7 had a number of annoying limitations out of the box. Top on the list is the fact it forces you to use the phone interface for Android 4.1 instead of the tablet interface, and even more annoying is the fact the homescreen is locked in portrait mode.
But one of the great things about Android is that it is open and you can pretty much always find a way to change things you don't like. So after using the device more and getting used to it and finding workarounds for its quirks, it really started to grow on me. Aside from the high-end specs and the Jelly Bean operating system that make it run buttery smooth, the Google integration is really well done. It's nice having all of Google's resources easily at your fingertips instead of having to hack a different tablet to get them, which is often the case for tablets in the sub-$250 category.
At the end of the day the Google Nexus 7 has some limitations but that doesn't stop it from being the best 7" tablet you can buy as of this review. And it's always going to have an edge over other similar tablets with its direct Google tie-in for the latest new features and software upgrades, not to mention the low price. Other than Amazon, it's hard to imagine anyone else being able to release a similar 7" tablet of this quality at this price in the near future.
Estimated Price: $199 - $249 at Google - Adorama - Gamestop
Google Nexus 7 Video Review
Android 4.1 Jelly Bean
This isn't a review of Android 4.1 Jelly Bean so this section is going to be short. But I will say one of the best things about the Nexus 7 is the Android 4.1 operating system. It's not a big change from Android 4.0, but overall Google has done a great job optimizing and improving everything so that it's almost as smooth and stable and zippy as iOS on the iPad.
Granted Android isn't as intuitive as the iPad for beginners, but it's a heck of a lot more advanced and open to customization. Being able to use widgets, creating custom homescreens, having complete control of file management, and the whole notifications system is something you don't get on Apple's OS.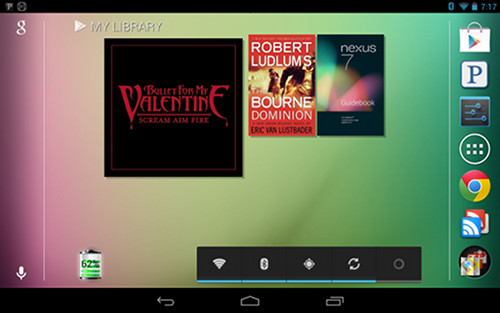 As you would expect from a Google tablet, a bunch of Google's Android apps come pre-installed on the Nexus 7—Google Play, Gmail, Calendar, Voice Search, Google Earth, Play Books, Google+, YouTube, and plenty more. They also updated Google Maps for Android 4.1 and it's a lot faster now and you can save maps for offline viewing, although only about 87MB or so.
One of the new features with Android 4.1 is something called Google Now. With this enabled Google Now uses all your information from Google's services, search history, and GPS to give you information about the local traffic, weather, news, popular nearby places, and interests. For instance, if you have an appointment with the doctor set on the calendar, Google Now will automatically popup before you leave and give you directions on how to get there, complete with traffic reports. It learns what sports teams you like and gives score updates, among other things. It's kind of creepy but it's kind of cool too.
Chrome
No matter what Android tablet I used before the Nexus 7, I would regularly freeze up or crash the web browser (the iPad as well actually). I have yet to have that problem once with the Nexus 7's optimized Chrome web browser. It's the smoothest and most reliable Android browser yet, although it doesn't have nearly as many features as some of the other browsers. In fact it doesn't even support Flash. But then again Flash doesn't support Android Jelly Bean. Flash still kind of works with other web browsers if you are desperate for a Flash fix.
Processor
The Google Nexus 7 is the first 7-inch tablet to come with a Tegra 3 quad-core processor, making it the fastest 7-inch tablet on the market (Android 4.1 Jelly Bean has a lot to do with that as well). The performance is most noticeable with the web browser and high-end games, but the truth is there's not a lot on Android to really make use of this faster processor.
The same high-end games play just fine on dual-core tablets like the Kindle Fire and original Asus Transformer—the graphics might not be quite as detailed and the game might not run quite as smooth but they still work.
Comparing the Kindle Fire running Android Jelly Bean with the Nexus 7 in a random test, oddly the Kindle Fire loaded pages in the Google Play store a split second faster every time, same with Google Reader. Loading ebooks, turning pages, launching Gmail, playing videos, switching between apps, and launching most apps takes about the same amount of time on both devices, give or take a split-second here and there.
The speed difference on the Nexus 7 is most noticeable when using the web browser, and things like pinch-zooming and scrolling large pages and loading large files. More speed is always good but it does have one downside in that the Nexus 7 tends to run warmer than other 7-inch tablets (that may have something to do with powering all the extra pixels too).
The iPad 3 has the same problem where it can get really warm, but that's generally only when the brightness is turned up. Below 50% it usually stays nice and cool. The Nexus 7, however, gets pretty warm just using the web browser with the brightness at 25% or less. The heat isn't much of an issue, really, but it isn't exactly comfortable either when it's a hot summer day. On the bright side I guess it'll keep your hands nice and warm when using it during the winter months :).
I like higher resolution screens and faster processors, sure, but I miss the days when tablets didn't even get warm when running them full throttle for several hours straight.
Screen
The Google Nexus 7 is the first 7-inch tablet to use a higher resolution 1280 x 800 screen. Most other 7-inch tablets use lower resolution 1024 x 600 or 800 x 480 screens. The higher resolution makes everything crisper and clearer, especially text. The difference is most apparent when comparing the same ebook and font on the Kindle Fire and Nexus 7. The Kindle's text looks more fuzzy and pale next to the Nexus 7. It's not a huge difference but it's noticeable, especially with small text and fine details.
The Nexus 7's screen also has a slight different aspect ratio at 16:10 than the Kindle Fire and most other 7-inch tablets with 16:9 ratio screens. The difference makes the Nexus 7's screen about an eight of an inch wider and shorter by comparison. With the same ebook and font size, it works out the Nexus 7 is able to fit a little extra text on the screen per page.
As good as the Nexus 7's screen is, it isn't quite as nice as the iPad 3's screen. The iPad has 48 more pixels per inch, giving it an edge for fine details. And comparing the two side-by-side, colors on the iPad are more striking and vibrant.
The Nexus 7 uses an ISP screen so it has exceptional viewing angles. It's pretty good for reading outside as long as the screen is clean and isn't in direct sunlight. Plus the screen is made of Gorilla Glass so it's strong and scratch-resistant. The 10-point capacitive touchscreen works very well too and is highly responsive.
The screen is definitely one of the Nexus 7's strongest points but it isn't without its issues. There are initial reports of screen separation and light bleeding problems for some folks. My Nexus 7 had neither of those problems. It just has one dead pixel that's hardly noticeable. The bigger problem is the screen flickers when the brightness is below 30% (it's probably flickering at higher levels too but it's just not visible to the eye). The flickering comes and goes and is mostly visible when the screen background is white. Having WiFi on seems to exacerbate the problem.
If it wasn't for this issue the Nexus 7 would be hands-down the best 7" tablet for ereading given its high resolution screen, the stable and zippy Chrome web browser, and the open Android operating system for access to all the ereading and news apps. Hopefully the problem gets resolved because it's the only thing stopping me from recommending the Nexus 7 as the best tablet to get for reading.
Battery Life
Google says the Nexus 7's battery life is 9 hours for HD video playback and 10 hours for web browsing and ereading. From my experience those numbers seem a bit inflated, especially since I mostly use 25% brightness or less. I haven't actually sat down with a stopwatch and timed battery life to get an exact number, but I'd say realistic battery life is more in the 8 hour range for most activities. You might be able to squeeze out 10 hours for ereading with WiFi, Bluetooth, and GPS turned off and the brightness turned down, but I highly doubt it can handle 10 solid hours of web browsing. The battery life is good but it's not that good.
One thing I always test with Android tablets is how much the battery drains while the device is in sleep mode. The Nexus 7 scores high in this regard. I tested it by leaving it overnight and the battery only went down 3%. That was with WiFi set to turn off in sleep mode or it probably would have been more.
Audio
The Nexus 7 has just one speaker and it is located on the back of the device toward the bottom. It is recessed slightly so it doesn't get as muffled as you'd expect; sound still projects well when sitting the tablet on a table.
Like most tablets, the speaker isn't very loud and the quality isn't great, but it can get the job done. There's also the usual headphone jack for plugging in headphones. But I always like to use Bluetooth headphones for everything because they are wireless. The bottom line is you're going to want headphones of some sort with any tablet.
Videos
As mentioned in the cons above, I feel the Google Nexus 7 tablet makes for a limited video player. Sure it can play Netflix, Google's Movies and TV shows, YouTube, and a plethora of various video formats via video player apps without a stutter or a hitch, but the fact remains without a memory card slot the Nexus 7 makes for a poor portable video player. It needs WiFi to stream video in most cases, and even mobile WiFi hotspots aren't going to cut it for video because they are too slow and have data limit caps.
If you spring for the 16GB Nexus 7 you might be able to fit a handful of movies on it, but the 8GB model is only going to be able to fit one or two videos offline before your memory runs out. I downloaded the Transformers movie that comes with the Nexus 7 and it took up 2.83GB of space. After system files, the 8GB Nexus 7 only has a total of 5.92GB usable space.
The lack of a mini HDMI port is a bummer too. Being able to buy or rent a movie from Google using the Nexus 7 and then being able to plug it into a large-screen TV so everyone can watch would be nice, but instead you're stuck watching the movie from the Nexus 7's 7-inch screen in the corner by yourself. There are workarounds for this, like anything, but the current options aren't cheap nor practical for most people.
Google Nexus 7 Specs
7" IPS display with scratch-resistant Gorilla Glass
10 point capacitive touchscreen
1280 x 800 pixel resolution (216 ppi)
8GB/16GB storage memory
1GB RAM
1.3 GHz Quad-core Tegra 3 processor
Built-in speaker, 3.5mm headphone jack
Front-facing 1.2MP camera
GPS (works offline)
Microphone
NFC (Android Beam)
Accelerometer
Magnetometer
Gyroscope
Bluetooth 3.0
Wi-Fi 802.11 b/g/n
Battery: 7 to 9 hours, 4325 mAh
Size: 198.5 x 120 x 10.45mm (4.7" x 7.7" x .4")
Weight: 340 grams (11.9 ounces)