iRex iLiad Book Edition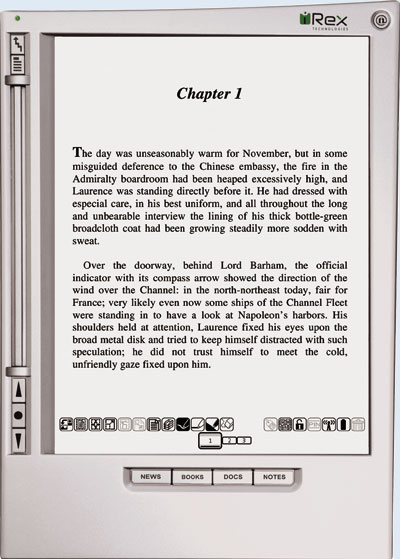 Overview
The Book Edition is the third-generation in the iLiad line, and has been out of stock on the iRex website for some time.
As the name would imply, this device is designed more for reading ebooks than the business-oriented Digital Reader series. You can use the MyScripts Note software to digitize written notes, but otherwise it's main purpose is that of an ebook reader.
Specifications and Features
Compared to Kindle 2 and Sony PRS-600, the Book Edition has a larger 8.1 inch screen, with 768 x 1024 pixel resolution. It supports 16 levels of gray scale, and uses the same electronic paper technology as other ereaders.
The exact dimensions of this unit are 217 x 155 x 16 mm (8.5" x 6.1" x .63"), and the weight is 435 grams (15.3 ounces).
The iLiad's main selling point is the touchscreen with an integrated Wacom sensor board, which gives the device a notepad-like feature. You can draw on it, tap to zoom, takes notes, and navigate pages.
Even though it has a touchscreen, the text is very crisp and clear in bright light; there isn't any glare like with a laptop of phone.
This does, however, make for a shorter battery life than other ebook readers, at about 15 hours. The unit charges via power adapter in about 3 hours.
As you can see in the images, the iLiad has a unique feature that runs down its left side. The Flipbar. A new approach for turning pages. It allows for quick and smooth navigation through pages.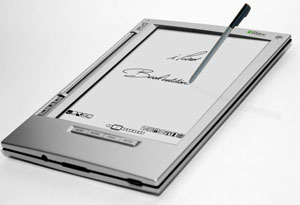 There are four shortcut buttons at the bottom of the reader—news, books, docs, and notes—along with a plethora of on-screen icon buttons for use with the stylus.
The three buttons below the Flipbar are up, down, and select. The two above it are menu buttons.
It comes with 128 MB of internal memory available to the user, but the memory is expandable to 8 GB with USB, MMC, or CF cards.
More features include: 16 font sizes; built-in speakers and headphone jack; firmware updates; supports five languages, Dutch, English, German, French, and Spanish. Unlike the 2nd Edition, it does not have Wi-Fi.
The iLiad Book Edition comes with a stylus, AC power adapter (including UK, European, and US plugs), USB 2.0 cable, travel hub, and quick start guide.
It also comes with 50 classic public domain titles installed.
Cons
The most common user complaints are:
The £449 ($599) price.
Although it's a touchscreen, you cannot use your fingers to interact with the screen; you must use the stylus.
No Wi-Fi.
Slow start-up, about 45 seconds.
Complex menu system with tons of icons and redundancies.
Limited format support.
eBooks and More for iLiad Book Edition
iRex does not have a dedicated store. If you want to download DRM protected ebooks, Mobipocket is your source. They have around 120,000 ebooks to choose from. You'll need to download their free software to purchase books, then transfer them to the iLiad with the USB cable.
iRex offers access to over 1020 newspaper from 81 countries with PressReader, including The Telegraph, The Wall Street Journal Europe, USA Today, Washington Post, and more.
There are also a number of websites you can download free ebooks from, such as Manybooks.net, Feedbooks, and Project Gutenberg.
Formats
Text: PDF, HTML, TXT, PRC (MOBI)
Images: JPG, BMP, PNG
New supported formats: EPUB, Adobe PDF