iPad 2 vs PlayBook Review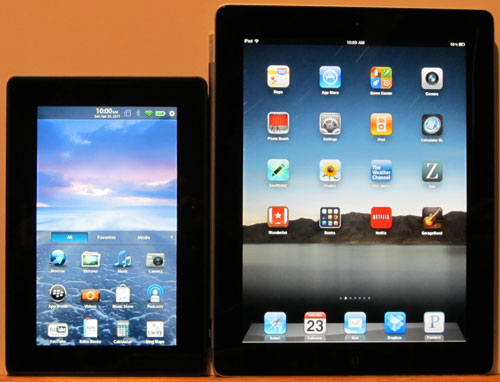 Overview
The Apple iPad 2 and BlackBerry PlayBook are two of this year's top tablets from two big-name companies in the mobile device industry. The iPad has had a full year to mature into the iPad 2, while the PlayBook is still in its infancy. This makes comparing the iPad 2 vs the PlayBook somewhat difficult at this point, but a comparison is still in order for those trying to choose between the two.
iPad 2 vs PlayBook Review: Specs
| | Apple iPad 2 | BlackBerry PlayBook |
| --- | --- | --- |
| Screen Size | 9.7-inch LED-backlit IPS | 7-inch LCD WSVGA |
| Resolution | 1024 x 768 | 1024 × 600 |
| Processor | 1GHz dual-core Apple A5 | 1GHz dual-core TI OMAP4430 |
| Operating System | iOS 4.3 | BlackBerry Tablet OS, QNX |
| Storage | 16GB/32GB/64GB, no memory card slots | 16GB/32GB/64GB, no memory card slots |
| Memory | 512MB | 1GB RAM |
| Wireless | WiFi, Bluetooth, 3G | WiFi, Bluetooth |
| Front Camera | VGA | 3 megapixel |
| Rear Camera | 0.7 megapixel, 720p video | 5 megapixel, 1080p video |
| Input/Output | 30-pin connector, 3.5mm headphone jack, 1 speaker, mic | mini-HDMI, mini-USB, dock, 3.5mm headphone jack, 2 speakers, 2 mics |
| Battery | 10 hours | 7-8 hours |
| Weight | 21.1 oz | 15 oz |
| Thickness | 0.34" | 0.40" |
| MSRP | $499-$829 | $499-$699 |
iPad 2 vs PlayBook Video Review
Apple iPad 2 Advantages
Apps, Apps, Apps—the iPad has way more apps and better quality apps.
Larger screen size.
Better battery life.
Options for 3G wireless (PlayBook won't get that option until later in the year).
Comes with email, calendar, and contacts apps (surprisingly the PlayBook has none of those at launch unless you have a BlackBerry phone to use with it).
More stable OS.
Can create folders for apps.
Can email images from the photo app.
VoiceOver and Zoom feature for the blind and visually impaired.
Available in more countries.
Long-press shows urls in web browser.
Thinner.
More accessories and connection options from keyboards to an adaptor to plug in a guitar for Garageband.
AirPrint. Print email, photos, web pages, documents, etc. from iPad over WiFi.
More Apps (yes, I said that already, but it is a huge advantage and the primary reason one gets a tablet).
Blackberry PlayBook Advantages
PlayBook's multitasking capabilities are more functional and fluid than iPad's.
Gesture-based navigation is really smooth, improves multitasking, and is efficient.
Higher resolution screen, greater pixel density; most noticeable with the sharpness of text.
Supports Adobe Flash.
Two front-facing speakers are situated for better sound than the iPad's one rear speaker.
Regular mini-HDMI out doesn't require a special $40 connector.
Video playback via HDMI out is better and has more options.
Both front and rear cameras are better than the iPad 2's (however, no video chat app yet).
Smaller design is more comfortable to hold and is more portable.
Comes loaded with Word, Sheet, and Slideshow to Go.
Better mic (there are two, in fact)
Android emulator app is supposed to be coming in the future to grant access to Android apps.
Tether to a BlackBerry phone for wireless, sync calendar, contacts, etc.
iPad 2 vs PlayBook Review: Conclusion
In the end there's no question that the iPad 2 wins in this head-to-head matchup. It has way more apps, better battery life, and more value for your buck. But that doesn't mean the BlackBerry PlayBook isn't a quality tablet. In fact it has a lot of potential. The operating system is extremely smooth and fun to use, the screen colors are bright and detailed, and the overall experience with the PlayBook is positive. It just needs more time to mature, for more apps to be developed. The iPad 2 on the other hand is ready for primetime off the shelf.
More Reviews and Comparisons