iRiver Story eBook Reader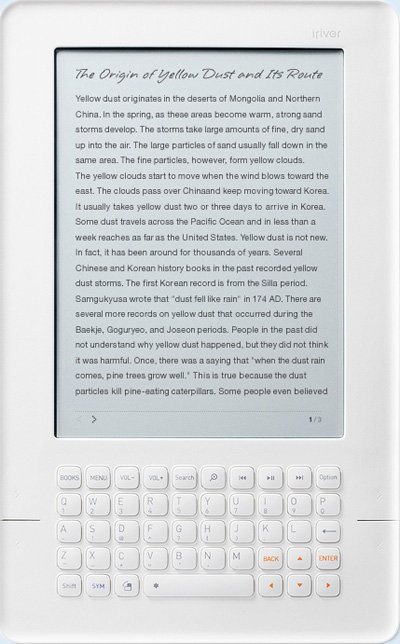 Update: Here's a hands-on review of the new iriver Story HD.
Overview
The iRiver Story is a new ebook reader on the market from a South Korean company called iriver, most known for their MP3 players and networking devices. Just recently, iRiver announced a new Wi-Fi model that will be coming to the UK through WHSmith and other major retailers.
Check this recent blog post for the details. There's also a new touchscreen iRiver ebook reader available in parts of Asia called the iRiver Cover Story.
The iRiver Story was first released in Asia last year, then eventually spread to Europe and the US in Fall of 2009. The Story has gained a greater presence in the UK of late, and its price has dropped considerably down to £149 from websites such as Play.com and WHSmith.
In the US, the iRiver Story doesn't have much of a presence at all; you can't find it in any major retail store. About the only places the it sells from is eBay and Amazon.com for around $240 - $300.
Specs and Features
The iRiver Story is a 6-inch ebook reader that many would consider a "Kindle clone". It looks a lot like a Kindle and shares many of its features, most notably the white design and QWERTY keyboard.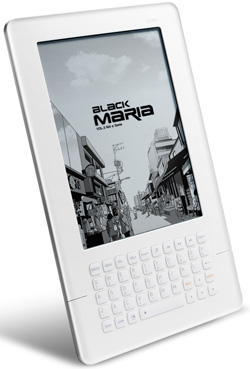 It measures 203.5 x 127 x 9.4 mm (8" x 5" x .4") and weighs 284 grams (10 ounces). Its pixel resolution is 800 x 600, with 8 levels of greyscale.
The iRiver Story supports Adobe DRM for PDF and EPUB ebooks. It also supports office documents such as DOC, PPT, and XLS. For images, comics, and graphic novels it supports ZIP, JPG, BMP, and GIF.
The Story has built-in speakers and a headphone jack for listening to music and audiobooks. Additionally, it has a voice recorder for recording notes, lectures, etc.
It has 2GB of internal memory, enough for about 1500 ebooks and documents, and has an SD card slot with support up to 32GB.
Like most E Ink ebook readers, the Story has an estimated battery-life of around 7,000 page-turns.
Some additional features include note-taking, editing text, running searches, portrait and landscape modes, increasing text size, and making personal schedules with calendar and diary features.
Because it's so new, there's not a lot of information on it yet (in English, anyway), but you can check out this review by Register Hardware for a little more insight about the Story and how it works.
Video Demonstration
Where To Find eBooks
Since the iRiver Story supports Adobe DRM for EPUB and PDF, there are a large number of websites that you can purchase ebooks from.
You can find these websites listed on our ebooks page.
And for free ebooks you can visit our free ebooks page for a comprehensive listing of websites that offer the formats compatible with the Story.
Supported Formats and Languages
Text: Adobe PDF and EPUB, TXT, DOC, PPT, XLS, and HWP
Comic Viewer/images: ZIP, JPG, BMP, and GIF
Audio: MP3, WMA, and OGG
Menu Language support: English, German, French, Russian, Spanish, Chinese, Dutch, Polish, Korean, Italian, Turkish, Japanese, Czech, and Swedish.