Kobo Aura H2O Review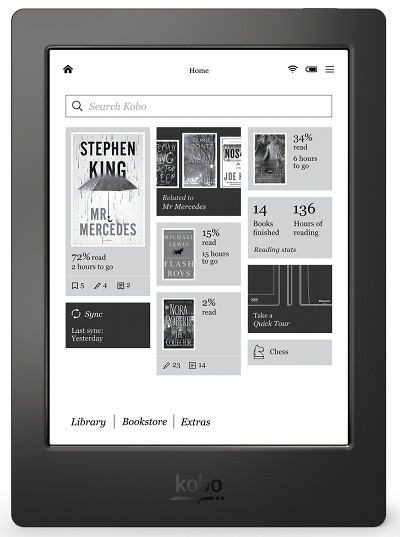 Review Date: October 2014 - Review unit purchased from Kobo.com
Overview
The Kobo Aura H2O is among the first ebook readers to be waterproof and dustproof. In fact it's officially IP67 certified to be waterproof in up to one meter of water for thirty minutes.
Waterproofing aside, the Kobo Aura H2O is essentially an updated version of the Aura HD from last year. It has an improved design and it uses newer screen technology from E Ink for the 6.8-inch display.
Quick Review: Kobo Aura H2O
Pros
The high resolution E Ink screen looks fantastic, and the newer Carta screen helps makes text appear darker.
It has an evenly distributed frontlight with a wide range of brightness settings, and brightness is easily adjusted by sliding a finger along the left edge of the screen.
The new design is a step up from the Aura HD, making it thinner and easier to hold, and it has a soft rubbery coating front and back instead of slick plastic.
One of the only waterproof and dustproof ebook readers.
Cons
No multitouch support, no pinch-zooming.
The frontlight is more yellow in tone than on other ebook readers, although frontlights can vary greatly from device to device.
No easy option to export notes and highlights.
Can't adjust line spacing with most sideloaded ePub ebooks, and text renders differently than Kobo ebooks.
Verdict
In my opinion the Kobo Aura H2O is the best Kobo ebook reader yet. It has one of the nicest screens in the industry and Kobo nailed the design elements. Kobo's software continues to get better, and the hardware is top of the line.
While most people are never going to need a waterproof ebook reader, the Kobo Aura H2O would be one of the best ebook readers without that distinction, so consider it more of a bonus feature. Too bad Kobo doesn't offer their ereaders in stores in the US, because you really need to see the screen in person to appreciate how much nicer it is than reading on an LCD screen.
Price: $179 at Indigo, Kobo, Argos
Kobo Aura H2O Video Review
Comparison Review: Kindle Paperwhite vs Kobo Aura H2O »
Hardware and Design
With most Kobo Aura H2O reviews, you'll find someone dunking it in a tub of water to prove that it's waterproof. Well, nothing of the sort is going to happen here. After breaking the frontlight on the so-called waterproof Waterfi Kindle Paperwhite by submerging it in water, I'd rather take Kobo's word on it than risk ruining a $179 device, especially mid-review.
You wouldn't really know the Aura H2O is waterproof just by looking at it. The only noticeable difference between it and other Kobo ereaders is the microSD card slot and USB port are tucked away under a cover on the bottom edge.
Aside from the waterproofing, the hardware on the Aura H2O is a lot like its predecessor, the Kobo Aura HD. It uses the same 1 GHz processor, the same infrared touchscreen, and it has the same 4GB of onboard storage space, so overall performance is virtually identical. Battery life is rated the same as well, at up to 2 months, which is totally unrealistic. 3-5 weeks is much more likely.
The main difference between the two is the overall design and the screen. Both have 6.8-inch screens, but the H2O uses the newer Carta screen tech. Blacks are a little bit darker and the background color is a little more cream-colored. Overall the difference isn't very significant, but it is noticeable.
To me the difference with the frontlights is more apparent. The H2O definitely has a warmer yellower tone to the frontlight than the HD and most other ereaders. I tend to like whiter frontlights better like on the Kindle Paperwhite, but it comes down to personal preference. At least the lighting on the H2O is fairly even across the screen. There's a subtle line of shadows at the bottom of the screen, and the top is slightly brighter, but that's pretty common—overall it's one of the better frontlights.
The design of the Kobo Aura H2O is the biggest improvement over the Aura HD in my option. It's a lot thinner and more comfortable to hold. The soft rubbery texture on the H2O gives it more grip than the slick plastic on the HD. And overall it just looks nicer and more appealing.
Software Features
All Kobo ereaders run basically the same exact software, so there really isn't anything new to say when it comes to software-related features. Looking back at the Kobo Aura HD review from 17 months ago, very little has changed, which is surprising. Kobo updates their firmware about every month or two, and it's amazing to see how little the software has changed with all the updates since then.
Many of the software-related complaints and bugs from the Aura HD still exist on the H2O, mainly all the wasted space on the screen with the header and footer that Kobo uses. I was disappointed to see the H2O suffer from these same issues at first, but then I found out there's a patch to get full screen reading mode. Then Kobo issued a new firmware update that adds the option to remove headers and footers from appearing, so the patch is no longer needed. Finally we can make use of the H2O's larger screen size. Now if they would just give us the option to display text with indented paragraphs instead of using spaces between paragraphs...
One of the unique aspects of Kobo ereaders is the homescreen. Instead of listing a few books, the homescreen shows all recent activity. It's kind of like a recent apps list that shows everything from recently read titles to extra features like the web browser and sketch pad. It also includes info like estimated reading times, the number of annotations added, recommendations, etc.
There's also a regular library view, and it's broken down into different sections for ebooks, periodicals, previews, collections, and web articles from Pocket. The library list offers cover view and list view, the latter shows more information, including percentage read, size and format. Sorting options include by recent, title, author, file size, and file type. Additionally, you can break it down further with the option to sort by all, reading, unread, and finished.
One of the main things that separate Kobo from other ereaders is the myriad of layout and font settings. Unlike the Kindle, you can sideload fonts, adjust the boldness of the text, and set text alignment to left or fully justified. There are lots of margin and line-spacing options, and 24 different font sizes.
I've found that the line-spacing settings rarely work on sideloaded ePubs, however, and fonts render differently because ePubs use a different rendering engine than ebooks purchased from Kobo, which are in Kobo's proprietary format, .kepub, not regular ePub.
Sideloaded ePubs also don't have all the same features as Kobo ePubs. The reading speed indicator and Beyond the Book features only work with Kobo books.
Kobo Reading Features
Notes and Highlights: Hold down on a word and drag to bring up the option to highlight and add text notes using the onscreen keyboard. There's an annotations list to view them. There's no official option for export, but they can be shared on Facebook, and there's a plugin for Calibre.
Bookmarks: When reading, tapping the upper right hand corner adds and removes bookmarks. They can be viewed, shared, and edited from the annotations list.
Font Choices: Kobo ereaders use TypeGenius and include 11 fonts and 24 font sizes. Font weight can be adjusted. You can also sideload your own TTF and OFT fonts by placing them in a "fonts" folder on the Kobo drive. Pre-installed font choices include: Amasis, Avenir Next, Caecilia, Georgia, Gill Sans, Kobo Nickel, Malabar, Gothic, Ryumin, Dyslexie, and OpenDyslexic.
Text Adjustment: All Kobo ereaders offer line spacing and margin adjustment for ebooks. There's also the option to choose full justification, left justification, and you can turn justification off.
Dictionary: Holding down on a word opens a dictionary window. From there you can choose different dictionaries and translation dictionaries. 19 different dictionaries are available in the settings menu.
Search: From the library and homescreen you can search Kobo and your Library by title, author or keyword. You can run searches within ebooks for specific terms. You can also highlight a word or phrase while reading and then choose to search Wikipedia or Google.
Navigation: There's table of contents for navigating through an ebook, along with a page dial to jump by pages and chapters.
Reading Stats: Kobo ereaders offer reading stats that provide information about how long it will take to finish an ebook and chapter based on your reading speed. It shows book progress, chapter progress, average minutes per reading session, average pages per minute, total hours reading, and the percentage of total library read. There's an indicator while reading that shows upcoming chapter length too.
Reading Awards: There's a section for reading awards. You can earn various badges for accomplishing certain tasks and goals.
Beyond the Book: Available on Kobo ebooks, this shows additional information about the author and key terms in a book, complete with references from Wikipedia. It also displays related titles.
Pocket Integration: Kobo ereaders work with Pocket, a service that can send web articles that you've tagged online to your Kobo device. Plus the articles get reformatted to display better on mobile devices.
Sharing: You can share highlighted sections and notes on Facebook.
Landscape Mode: Kobo ereaders offer landscape mode for PDFs and comics but not for ebooks.
Language Support: The following languages are available in the settings menu: English, French, Canadian French, Japanese, German, Dutch, Italian, Spanish, Portuguese, Brazilian Portuguese.
Partial Page Refresh: In the settings menu you can set E Ink page refresh from 1 to 6 pages.
Page Turns: In the settings menu there are different tap zones that you can set to page forward, back, and open settings.
Beta Features: From the settings menu there's a list of beta features that include a basic web browser, a sketch pad, and some games, including chess, sudoku, unblock it, solitaire, and word scramble.
Additional Kobo Aura H2O Reviews
The eBook Reader Comparison Table »
Kobo Aura H2O Specs
6.8" E Ink Carta display.
1430x1080 screen resolution (265 dpi).
Waterproof in up to 1 meter of water for 30 minutes; IP67 certified.
Neonode zForce infrared touchscreen with 1-point touch.
Built-in LED frontlight.
1 GHz Freescale processor.
4GB internal memory.
MicroSD card slot.
Wi-Fi 802.11 b/g/n.
Supported formats: Adobe DRM, EPUB, EPUB3, PDF, JPEG, GIF, PNG, TIFF, TXT, HTML, RFT, CBZ, CBR, MOBI (consider the last three experimental at best).
Battery Life: up to 2 months, according to Kobo (3-5 weeks is more likely).
Languages supported: English, French, German, Spanish, Dutch, Italian, Portuguese, Japanese.
Weight: 233 grams.
Dimensions: 179 x 129 x 9.7 mm.
Price: $179.