Kobo Aura HD Review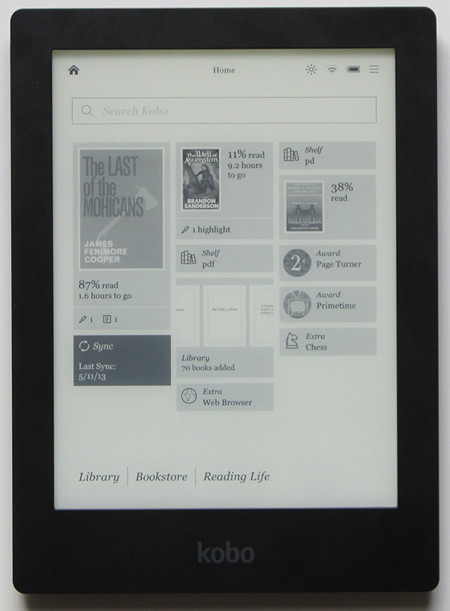 Review Date: May 2013 - Review unit purchased from Kobo.com
Overview
The Kobo Aura HD is the first and only (as of this review) ebook reader to use a new high resolution screen from E Ink that is slightly larger than usual. Instead of the typical 6-inch display, the Kobo Aura HD has a screen that measures 6.8-inches diagonally.
The Aura HD is being labeled as a "limited edition" ereader. What that means exactly is unclear, but it does give Kobo a nice variety of sizes to offer along with the 5-inch Kobo Mini and 6-inch Kobo Glo and Kobo Touch.
Quick Review: Kobo Aura HD
Pros
The high resolution 265 dpi screen is absolutely gorgeous, text is very clear and readable, especially small text.
The frontlighting is evenly distributed and has a nice whitish tone.
Like Kobo's other ebook readers there are plenty of customizable font and layout settings.
MicroSD card slot for expansion.
Cons
The same major complaint as with the Kobo Mini and Kobo Glo: There's too much wasted space at the bottom and the top of the screen when reading, which negates many of the benefits of the larger screen. An option for fullscreen mode and removal of spaces between paragraphs would be preferable for many readers.
Because of the contoured back the device is noticeably thicker than other ereaders, and heavier too.
It doesn't have the textured coating or quilted back like Kobo's other ebook readers; consequently it feels more plasticky and a lot more slick.
Despite the larger screen size, it does not make for a good PDF reader.
Verdict
I know that some people won't agree with this, but if I'm being completely honest with this review I could sum up my experience with the Kobo Aura HD in one sentence: The screen and frontlight are exceptional and offer a truly great reading experience, but Kobo's software and design gets in the way of enjoying it.
Don't get me wrong, the Kobo Aura HD is a nice ebook reader that offers a lot of features and is a good buy for many people for several reasons, but I personally can't help but be disappointed with all of the inconsistencies in ebook formatting and what feels like a step down from earlier generations with the bulky design and slick plastic exterior. Other than the screen, there isn't anything special that separates the Kobo Aura HD from Kobo's other ereaders. All things considered, I don't see the slight increase in screen size and resolution alone being enough to convince buyers to pay a premium price.
Price: $169 at Indigo, Kobo.com, WHSmith, FNAC, Mondadori, Bookworld
Kobo Aura HD Video Review
Comparison Review: Kindle Paperwhite vs Kobo Aura HD »
The Screen
The best thing that can be said about the Kobo Aura HD's hardware is the unique screen. Both the frontlight and high resolution screen are tops in the ebook reader industry. The frontlighting is very uniform and gives the screen a nice whitish paper-like appearance. The frontlight is slightly different than the Kobo Glo's. The Aura HD's light is less bright and doesn't seem to wash out the appearance of the text as much, but the Glo's light makes the screen appear whiter.
The one complaint I can make about the frontlight is that the top of the screen is slightly yellower than the bottom, which is more white. The transition is very subtle, though, and isn't distracting like the weird discolored blotches that plague the Kindle Paperwhite.
Last year ebook readers like the Kobo Glo and Kindle Paperwhite started using new "HD" E Ink screens with 1024 x 758 resolutions. On a 6-inch screen that equates to 212 pixels per inch. The Kobo Aura HD ups the ante by 53 pixels per inch with its 6.8-inch 1440 x 1080 resolution screen. In fact it has about the same amount of ppi (265) as the "Retina" quality iPad 3 and 4 (264).
While the perceivable difference is less with E Ink than LCD in terms of higher pixel density screens, the boost in resolution is enough to make text appear sharper and clearer. When comparing the Kobo Aura HD and Kobo Glo side-by-side, text is noticeably clearer and easier to read on the Aura HD. Plus it fits an extra couple of lines per page with the larger screen than the Kobo Glo.
However, the larger screen area doesn't necessarily equate to more text-per-page when comparing the Aura HD to other ebook readers. Because of the way Kobo's software formats ebooks, there's about 3/8" of dead space at the top for a bar to display the title of the book and 1/2" of wasted space at the bottom of the screen to display the page numbers, and depending on the particular book's formatting and font choice it can be up to 2" at the bottom.
I was surprised to discover that the Kindle Paperwhite with its smaller screen can actually display more characters on the screen at once than the Kobo Aura HD when comparing the exact same ebook with the exact same font. Here's a picture that demonstrates this (click for big):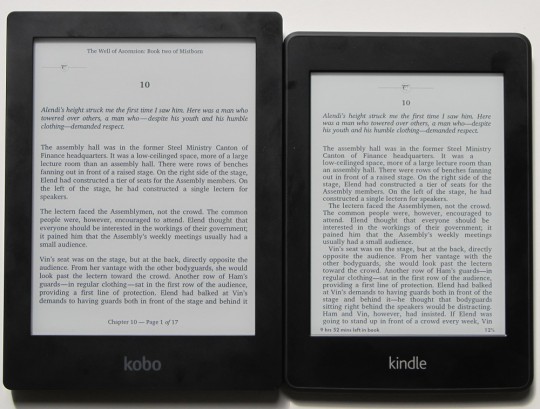 It should be noted that both devices had line-spacing and margins set to a minimum in this picture. In fact the Aura HD has smaller margins and still manages to display three and a half lines less.
Hardware and Design
In addition to the larger screen size, the Aura HD packs more battery power for longer estimated battery life than the Kobo Glo, and it also has double the storage space, with 4GB onboard. It uses the same 1Ghz processor, though, and includes a microSD card slot, Wi-Fi, and micro USB port
The design of the Kobo Aura HD is quite a bit different than earlier generation Kobo ereaders. The back doesn't have the usual quilted pattern, and the soft textured coating is missing, which gives the device a slick plastic feel. Instead of a rounded back, the device has an asymmetrical ridged back, which takes some getting used to at first but starts to grow on you after awhile. The raised peaks make the Aura HD needlessly thick, however. In fact it's the thickest ebook reader I can recall ever handling. Holding it from the bottom is rather comfortable too, but I can't help but wish it were a little thinner because the casing makes it feel bulky.
Software Features
When it comes to software, the Kobo Aura HD is almost exactly the same as the Kobo Glo. The Aura HD has a new homescreen layout, there are a couple more games in the Extras section, and there are a few subtle menu differences. Otherwise all the reading and software features are identical. The same goes for the Kobo Mini and Kobo Touch.
The Kobo Aura HD's new homescreen look is something that I really like. Instead of just showing the last five books read like Kobo's other ereaders, the Aura HD shows all your recent activity. This means that shelves can be accessed directly from the homescreen, so can games, and the web browser. Another interesting new detail is that it shows the number of notes and highlights under a book, along with the percentage read and an estimate for finishing the book.
One of the key aspects with Kobo's software is that it offers more layout and font settings than most other ebook readers. You can adjust the boldness and sharpness of fonts, along with margins and line-spacing, and you can also load in additional fonts of your choice to go along with the 10 font styles pre-loaded (my new favorite font is a modified version of Charis SIL). There's also justification settings if you prefer left alignment to fully justified.
But the catch is that not all the layout setting always work, especially with sideloaded ebooks. A lot of times it's hit or miss when adjusting margins and line spacing and font type, and you can't fine-tune the boldness and sharpness of sideloaded fonts, only Kobo fonts.
I noticed an annoying issue with Kobo fonts that I didn't notice with the earlier models because I usually use my own fonts. Some of the pre-loaded fonts, like Kobo Nickel, make the formatting of ebooks go haywire. Sometimes you get extra breaks between paragraphs or 2" of wasted space at the bottom of pages. I don't know how people tolerate this nonsense from an ebook reader; I've never seen anything like it before with other brands of ereading devices or apps.
I've been told that Kobo ereaders have problems with "orphans and widows", whatever that means. It doesn't make sense to me that it only happens with certain fonts and not others. You can use Calibre to tweak a book's CSS file to fix the issue, but I think it's ridiculous that people should have to go through the trouble of formatting their own ebook library just to accommodate a bug with Kobo's software. The issue occurs a lot with sideloaded ebooks, no matter what font is used, and Kobo's ebooks aren't immune either.
As far as reading features are concerned, there's the usual suspects: notes, highlights, bookmarks, and Facebook sharing. Kobo has a reading stats feature that estimates how long it will take you to finish an ebook/chapter. There are reading awards, partial page refresh, search, and table of contents support (a single level list). There's a page slider and you can jump back and forth between chapters. There are dictionaries and translation dictionaries too.
Aside from the homescreen, the Kobo Aura HD breaks your library down into four sections for books, news and magazines, previews, and shelves. You can view ebooks as book covers or a list. Sorting options are by title, author, file type, file size, and recently read. With shelves you can create different lists of your ebooks to organize them.
PDF Review
Even though the Kobo Aura HD has a larger screen than most typical ebook readers, that doesn't mean that it is any better for PDF reading. In fact it is worse than some 6-inch models. This is because Kobo's software offers very few features for PDFs. There's a zoom dial for zooming in and out of PDFs, and the only presets are fit to width and fit to height. There's the option for landscape mode, but there's no text reflow or pinch-zooming.. None of the usual on-screen features work either. So there's no way to add notes, or highlights, and the only way to reference the dictionary is to type the word in manually.
Extras
Like Kobo's other ebook readers, there's an Extras section in the settings menu for some extra features. The only difference is the Kobo Aura HD offers two additional games, solitaire and word scramble. The other extras include Sudoku, chess, a sketch pad for freehand drawings, and there's a web browser for online reading and downloading ebooks.
Who Should Buy a Kobo Aura HD?
The Kobo Aura HD is the perfect ebook reader for someone who wants the latest and greatest screen tech from E Ink, and doesn't mind paying a premium to get it. The screen and frontlighting are the strong points of this device and are better than anything else out there right now. But the slightly larger screen size doesn't necessarily lead to a better reading experience, and the added weight and thickness of the device is a concern.
Ultimately I think the Kobo Aura HD is more suited for ereader/E Ink aficionados rather than casual readers just getting into ereading for the first time. For one, users need to be familiar with converting ePubs and tweaking CSS settings with Calibre in order to avoid 2" of wasted space at the bottom of pages with most sideloaded ePubs.
Kobo Aura HD Specs
6.8" E Ink Pearl display.
1440x1080 screen resolution (265 dpi).
Neonode zForce infrared touchscreen.
Built-in LED frontlight system for reading at night.
1 GHz Freescale processor.
4GB internal memory.
MicroSD card slot.
Wi-Fi 802.11 b/g/n.
Colors: Espresso, Ivory, and Onyx.
Supported formats: Adobe DRM, EPUB, PDF, JPEG, GIF, PNG, TIFF, TXT, HTML, RFT, CBZ, CBR, MOBI (consider the last three experimental at best).
Battery Life: up to 2 months, according to Kobo (3-5 weeks is more likely).
Languages supported: English, French, German, Spanish, Dutch, Italian, Brazilian Portuguese, Portuguese, Japanese.
Weight: 8.5 oz – 240 grams.
Dimensions: 6.9" x 5.05" x 0.46" — 175.7 x 128.3 x 11.7 mm.
Price: $169.