Kobo Touch Edition Review Page 2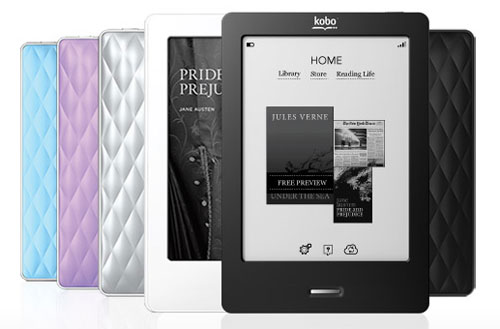 Online Store and Content Selection
Shopping for ebooks directly from the Kobo has its pluses and minuses. There are the usual categories and sub-categories, and list for bestsellers, bargain reads, new releases, etc. The section for free ebooks is easy to find. There are various sorting options and everything loads relatively fast, but not quite as fast as other ebook readers. It doesn't show reviews or related titles either.
One of the nice things about the Kobo Touch is that it supports ebooks from sources other than Kobo. Any website that has ebooks with Adobe DRM will work on the Kobo Touch. That's the most widely used format, so there are plenty of choices, including ebooks from libraries.
Web Browser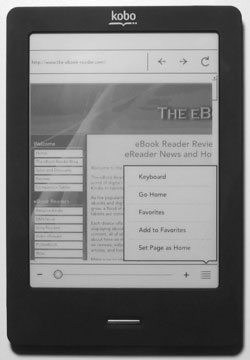 One feature that didn't get any attention in the pre-release details is that the Kobo Touch comes with a basic web browser. It doesn't have many features, and sometimes getting hyperlinks to react is difficult, but overall it works well enough to be useful for downloading ebooks and reading articles online.
To launch the browser, go to settings, then wireless connection, then tap launch browser. It is set to Google Canada by default (Kobo is based in Canada after all) but you can switch to regular Google and then set that as the home. There's not many features, just forward, back, refresh, launch the on-screen keyboard, go home, add to favorites, and the favorites list. There's a zoom dial at the bottom of the screen and scrolling around the page with the touchscreen works surprisingly well.
Kobo Touch PDF Review
When it comes to PDF files, the Kobo Touch does a serviceable job, but is rather basic. You can view a PDF in portrait and landscape mode. Double tap to zoom in, or use the zoom dial. Navigate by using the page slider and table of contents. No re-flow, highlights, or dictionary with PDF files.
Additional eBook Formats
Aside from ebooks downloaded from Kobo in EPUB and sometimes PDF format, the Touch supports some additional formats: Adobe DRM and DRM-free EPUB and PDF, HTML, TXT, RTF, CBZ, CBR, and MOBI, PRC. The latter two I would consider experimental support at best.
All the MOBI and PRC files I tried were ripe with coding errors and there's only one small text size. CBZ and CBR files display well enough, but there isn't any zoom or landscape mode so unless the text is very large they will generally be difficult to read. The other formats display well; the only caveat is that there's no dictionary or highlighting with non-Kobo ebooks.
Newspapers and Magazines
One truly bizarre omission is the fact that the ebook store on the Kobo Touch doesn't have a section for newspaper and magazine subscriptions. There's a section in the library for "News & Mags", but all it says it to visit Kobo.com to get a free trial subscription. Why this isn't implemented into the device itself is anyone's guess. The Nook, Kindle, and Sony Daily Edition all offer periodical subscriptions directly from the devices themselves.
Once setting up a subscription at Kobo.com—at present they have 37 publications available—issues get delivered automatically to the Touch each day or whenever the subscriptions are set for delivery. A second option is to setup Calibre to fetch news feeds for free. Here's a video for a closer look, and here's the link to the full Kobo Touch Newspaper Review.
Sudoku and Kobo Sketch
There's a hidden game in the "About Kobo Touch" menu in the settings. Scroll all the way to the last page and tap on the name that is smaller than the rest. Also, in the settings menu, there is a basic drawing app called Kobo Sketch.
Kobo Touch Conclusion
Overall the Kobo Touch is a quality low-cost ebook reader, and is a big step forward for Kobo's ereaders overall with the added touchscreen, web browser, higher contrast display, and faster processor.
The touchscreen works well and is faster and more intuitive than using a cursor and button for everything. However, the Kobo Touch does lack some features that similar devices offer, such as landscape mode, notes, and bookmarks—all of which can be added with firmware updates, so here's hoping.
Kobo Touch Specs and Features
6" E Ink Pearl screen with 16 levels of grayscale
Neonode zForce infrared touchscreen
800 MHz Freescale 508 Processor
2GB internal memory,1GB user accessible, with a microSD card slot for cards up to 32GB
WiFi for downloading ebooks, newspapers, and magazines
Web browser
Supports EPUB and PDF formats, including Adobe DRM, as well as MOBI, TXT, HTML, RTF, CBR, CBZ
Kobo Reading Life, track reading stats and earn awards for reading
Highlighting, dictionary, search, toc
2 font styles, serif and sans serif, and 15 font sizes
Set full-page refresh for 1-6 pages.
Virtual keyboard
Sync last page read across other Kobo apps and devices
200% PDF zoom, PDF panning, rotate to landscape/portrait
Battery Life: 10-14 days, 10,000 page-turns
Weight: 7.1 oz – 200 grams
Dimensions: 6.5" x 4.5" x 0.4" – 114 x 165 x 10mm
Price: $129