Novo 7 Paladin Review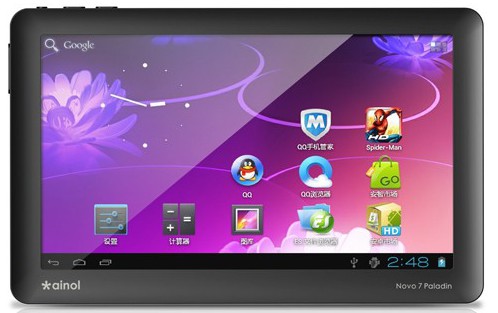 Overview
The Ainol line of tablets, including the Novo 7 Paladin, are cheap tablets out of China that run Android 4.0 Ice Cream Sandwich, the latest and best version of Android.
The Ainol Novo 7 Paladin is marketed as an $89 Android 4.0 tablet. And it can be had for that price (or close to it) from Chinese wholesale websites. But I decided to buy one off of Amazon for about $125 instead (as of this review it is $114).
Usually I'm all about saving as much as possible when buying online, but I figured having to deal with an unfamiliar Chinese retailer wouldn't be pleasant if the tablet arrived dead or stopped working within the first couple of weeks (you never know with a cheap Android tablet). Shipping only took three days from Amazon so it arrived much quicker than it would have coming from China anyway.
That being said, the Novo 7 Paladin tablet isn't half bad for $89, but $125 is pushing it...
Quick Review: Novo 7 Paladin
Pros
Low price.
Android 4.0 operating system runs relatively smooth and is a definite step up from older versions of Android.
The device is compact and feels pretty sturdy for a cheap tablet, but does make creaking noises when twisting the frame.
Hardware buttons for volume control, with additional buttons for menu, back, and power.
Sleep mode is efficient and drains very little battery (budget tablets often miss on that mark).
Cons
Because of the processor it uses, app compatibility isn't very good. Installing the Magic Code app increases the number of apps that will work, but still not all apps will install or run properly.
Poor viewing angles and average screen quality.
The Novo 7 Paladin came with Android 4.0.1 and had the Android Market pre-installed but very few apps showed up. After installing the 4.0.3 update the Google apps disappeared entirely.
Sometimes the touchscreen isn't as sensitive as it could be, although it seems to have improved with the 4.0.3 update.
Can sometimes bog down and become slow to respond and react.
Verdict
The Novo 7 Paladin isn't a bad tablet for the price but because of the app incompatibility issues it is probably more suited for someone already familiar with Android tablets or someone that's not afraid of trial and error. Sometimes one version of an app won't work but you can find an older version that does work or a similar app that does the same thing. It takes some work to get setup.
On the plus side, the Android 4.0 operating system has a wide range of features, Wi-Fi connects well, video playback is smooth, and the included games work well (and so does Angry Birds Space). It makes for an okay ereader—it's fairly compact and portable—but the screen quality isn't that great for reading.
Despite its shortcomings, I kind of like the Paladin and I'm not entirely sure why. Maybe it's because the cheap price managed to lower my expectations enough not to dislike it too much.
Price: $89 - $119
Novo 7 Paladin Video Review
Hardware
The Novo 7 Paladin is a 7" tablet that comes with 8GB of internal flash storage, 512 MB RAM, and a microSD card slot for cards up to 32GB. It has a 3.5mm headphone jack, one built-in speaker that is surprisingly loud, a microphone, mini-USB port, and accelerometer.
It even has one of those things that makes it vibrate slightly when using the keyboard and making selections. It's the first time I've seen this feature on a tablet. It's rather annoying. There's an option to turn it off in settings but it still does it sometimes regardless.
The Paladin has Wi-Fi and also supports some kind of external 3G modems, but I couldn't find any information about them. Might be a region-specific thing.
Screen
The Paladin's screen is pretty much what you'd expect from a budget tablet. The viewing angles aren't very good. It's okay in landscape mode but in portrait mode just slightly tilting it one way or the other makes the lighting look odd. And one edge of the screen is slightly brighter than the rest.
The screen measures 7" inches diagonally with a resolution of 800 x 480. It has a two-point capacitive touchscreen that works fairly well but it doesn't always respond to the first press.
Battery
Battery life is always hard to estimate since there are so many factors involved. Playing games, web browsing, the average seems to be around 6-7 hours. Not great, but typical for a tablet that size.
Sleep mode drains surprisingly little battery power so that's a definite plus. I left the Paladin sitting in sleep mode untouched for a solid week and it still had over 75% battery power when I turned it back on.
Processor
The Novo 7 Paladin comes equipped with an Xburst 1GHz Ingenic JZ4770 MIPS processor. The vast majority of tablets use ARM processors, and Android apps are designed to work with them. So that means a lot of apps aren't going to work on the Paladin.
Developers have put together something called the Magic Code app that makes it possible to run ARM-based apps on a MIPS device. After installing Magic Code, you simply open the app and turn it on to activate it. It definitely helps make more apps install and run, but it's not a going to work for everything. Some apps may install but they won't work right.
Software
The Novo 7 Paladin comes with Android 4.0.1, the initial release of Ice Cream Sandwich. For the first two weeks it was running that and then as I started to write this review I discovered the Ainovo website has a download for Android 4.0.3, the newer version of ICS.
So I downloaded and installed it and the Paladin is running even smoother now, but the update removed the Android Market app and Gmail, along with all the apps I had added, and wiped cache and data, so all apps and everything reset back to square one. Then I pretty much had to start all over again with this review since it changed everything. D'oh!
Here's how to update the firmware on the Novo 7 Paladin:
Download the update package from the Ainovo website.
Place the update.zip file on a microSD card and insert in into the tablet.
Power off the tablet. Then hold down the power button and volume + key to turn the device on. As soon as the Android logo appears, release the power and volume buttons. A big Android character will appear with a progress indicator below it. The update will apply and the device will reboot, and rebooting takes a long time the first time.
Aside from the official firmware, there is a custom ROM available for the Novo 7 Paladin as well. Here's the link to my review of the custom ROM for the Novo 7 Paladin. It comes with the Google Play store for access to Google's Android apps and includes other feature enhancements and tweaks as well.
Android Apps
As mentioned above, the biggest problem with the Novo 7 Paladin is that a good share of Android apps won't work on it, even with the Magic Code app installed. The Paladin comes with the Android Market on the original 4.0.1 firmware but the selection is so slim you're lucky to find anything you are looking for.
Luckily the Amazon appstore works, and so do some of the other alternate appstores. But it's hit or miss if the apps will install and work properly.
A few that I tried installed okay but won't run properly. EZ PDF acts like it's going to work but then never loads the PDF file. 3D Mini Golf works fine all except for the fact the golf tracks are missing (they are the same color as the background). The newest version of the Kindle app won't open, but the older version works fine.
The Novo 7 Paladin comes with a few decent games. Spider Man Total Mayhem is one. The touchscreen makes it a little more difficult than it should be but it's still fun. TurboFly 3D is an entertaining racing game. Wow Fish HD and Angry Birds are also included games. So is Fruit Slice, the Last Defender, and a card game, but these three apps are in Chinese...and two of them disappeared after the update.
Videos
The Novo Paladin comes with a couple of test videos and I tried a few of my own MP4 test videos and they all ran smoothly. YouTube videos also work well using the YouTube app, even HD.
Flash is installed but Flash video in the browser does not work. At least not with the stock Android browser. Update: Flash is turned off by default, and you have to open settings to turn it on every time you want to use it.
As for Netflix, the app installs all right but I don't know if it works because I recently canceled my subscription. It didn't work with the 4.0.1 firmware; I don't know about the new firmware or the ROM.
Should I Get a Novo 7 Paladin?
The only reason to get the Novo 7 Paladin is to save money. Other 7" tablets like the Kindle Fire, Nook Tablet, and even the Kobo Vox are better devices, but they also cost about twice as much. As far as really cheap tablets go, the Paladin is an okay choice if you can get along with the app incompatibility issues.
There are also other variations of the Novo 7 tablets. There's the Novo 7 Basic that appears to be about the same as the Paladin but it has front and rear facing cameras and an HDMI port. There's also the Novo 7 Elf and Novo 7 Aurora, among others. They have better screens and faster processors, but appear to be very similar otherwise. I would steer clear of them because the US prices are too high compared to better tablets. An Android tablet with a MIPS processor isn't worth as much because it has too many problems running apps.
Novo 7 Paladin Specs
7" LCD display
Capacitive touchscreen with multitouch (2 point)
800 x 480 pixel resolution
8GB storage memory
512MB RAM
MicroSD cards up to 32GB
1 GHz Xburst processor (MIPS)
Speaker, 3.5mm headphone jack.
Wi-Fi 802.11 a/b/g/n
External 3G (CDMA/WCDMA)
Battery: 6 hours for gaming, 7 hours web browsing, 8 hours video playback
Size: 110 x 176 x 13.2mm
Weight: 14.8 ounces (420 grams)
Colors: White and Black.
Price: $89 - $119