Onyx Boox 60 eBook Reader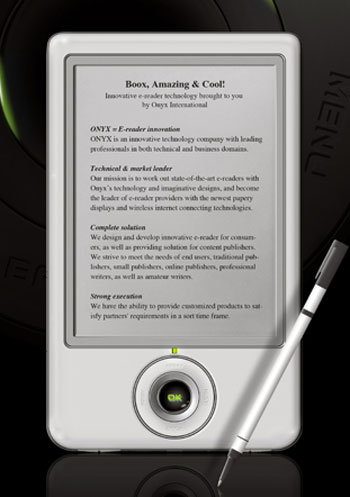 Overview
The Onyx Boox 60 has been out for a while in several Chinese and European markets, and is now also available in the United States for about $299.
Onyx is an OEM manufacturer based in China. Rebranded versions of the Boox 60 include the BeBook Neo and DittoBook—likely other regional brands too. Two additional Onyx models, an 8-inch and a 9.7-inch, are due to launch in mid-to-late 2010.
Update: Here's a video and specs of the new Onyx Boox X60.
Specifications
The Onyx Boox 60 is a 6-inch ebook reader with a Wacom touchscreen and Wi-Fi that includes a Webkit Browser for searching and downloading from the internet.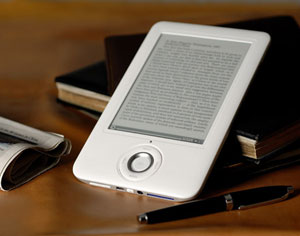 It measures 7.4-inches tall by 4.7-inches wide (196 x 121 mm), and weighs 10.5 ounces (298 grams). Its pixel resolution is 800 x 600, with 16 levels of greyscale.
The Boox supports Adobe DRM for PDF and EPUB ebooks, as well as several non-DRM formats.
It has 512 MB of internal memory, enough for about 350 ebooks and documents, and supports SD and SDHC memory cards up to 32GB.
Like most E Ink ebook readers, the Boox has an estimated battery-life of around 8,000 page-turns. When using Wi-Fi the battery lasts a few days or so.
Some additional features include note-taking, audio player, running text searches, portrait and landscape modes, five adjustable text sizes, dictionary support, and some additional apps.
Wacom Touchscreen
There are several ebook readers that have Wacom Penabled touchscreens these days, and the Onyx Boox is one of them. Wacom screens utilize a sensor board that detects the stylus's movement using electromagnetic technology. The sensor board is placed behind the E Ink screen so as not to affect the clarity of the text like other touchscreens that place a layer over the top of the epaper.
The only downside with these particular screens is that you must use the stylus for the sensor board to detect input; nothing else will work.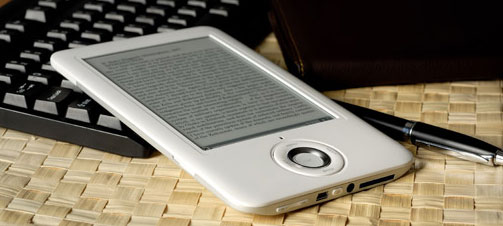 PDF Capabilities
The Boox has decent PDF functions as far as 6-inch readers go. It can zoom in, crop margins, has active hyperlinks, pdf reflow, landscape mode, and can run text searches, annotate, draw, etc.
Video Demonstration (Russian)
Where To Find eBooks
Since the Onyx Boox supports Adobe DRM for EPUB and PDF, there are a large number of websites that you can purchase ebooks from.
You can find these websites listed on our ebooks page.
And for free ebooks you can visit our free ebooks page for a comprehensive listing of websites that offer formats compatible with this particular ebook reader.
Supported Formats
Text: Adobe PDF and EPUB (DRM), TXT, HTML, CHM, DJVU, PDB, MOBI, and FB2
Images: JPEG, BMP, PNG, and TIFF
Audio: MP3 and WAV
Language support: English, German, Spanish, Simple and Traditional Chinese, Arabic, and Japanese