Pandigital Novel Personal eReader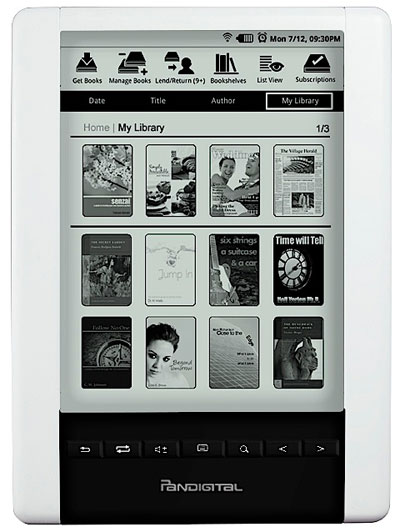 Overview
The Pandigital Novel Personal eReader is Pandigital's second ebook reader, and is their first attempt at an electronic paper ereader. Their other device was released back in June, the Pandigital Novel Tablet, a 7-inch multipurpose ereader with a color LCD touchscreen and an Android operating system.
The Pandigital Personal eReader is unique in that it is the first ebook reader in the US to use a SiPix display, as opposed to the more widely used E Ink panels that are popular on the Kindle, Sony, Nook, etc. And it looks like there's good reason for that . . .
The SiPix Touchscreen Display
There's one thing that jumps out about the Novel's 6-inch SiPix display. The text is noticeably grayer than with Vizplex and Pearl screens from E Ink. The background color also has more of a grayer, darker tone than E Ink. Here's a close-up picture comparing the Novel's screen to the Kindle 3's screen.
Seeing as how this is the first SiPix display that I've seen, it's unclear if the gray text is common among all SiPix screens or if it's because of this particular device. It seems like it could benefit quite a lot by simply using bolder fonts instead of the default.
The touchscreen works pretty well, but isn't nearly as good or as capable as Sony's new touchscreen ereaders. The responsiveness and accuracy is decent, sometimes page-turns don't always work the first time and some of the icons are pretty small, but overall it gets the job done. The touch works with fingers, not a stylus.
On-screen functions include being able to tap to make selections, turn pages, scroll (with the web browser and PDFs), and swipe to turn pages. There aren't any on-screen note-taking or highlighting features.
Features and Functions
The Pandigital Novel Personal eReader comes with WiFi for browsing the web with its basic web browser and for downloading ebooks, newspapers, and magazines from the Barnes and Noble ebook store.
In addition to supporting B&N's ebook DRM, the Novel supports Adobe DRM for ebooks purchased from a wide number of websites as well as library ebooks.
It has 2GB of internal memory and a microSD card slot for cards up to 32GB. It comes with a built-in email application, audio player, photo viewer, alarm clock, calendar, sudoku, and a dictionary.
For hardware, the Pandigital Novel Personal eReader has a plastic outer casing that feels kind of cheap but is pretty solid. There's an orientation sensor that can be turned on and off, mini USB port, built-in speaker, headphone jack, and a Lithium Ion battery that is rated at 6000 page-turns per charge.
Pandigital Novel Video Review
B&N's eBooks Store
There's a Bookstore app on the Novel's homepage that brings up all the bestsellers, new releases, and periodicals available at B&N.
As with the original Pandigital Novel, the actual shopping experience from the app isn't very well thought out. You can browse by book covers or in list mode, which shows book covers along with title, author, and publisher.
Since it only shows the bestsellers, new releases, and periodicals in the app, you have to use the browser to search the rest of B&N's ebook store. The problem is that it's not optimized for a mobile browser or a 6-inch screen so it takes long to load and requires patience to run searches and constantly scroll through pages. Worst of all, the text is very light and hard to read in the browser.
Once you buy an ebook it doesn't automatically go to your library. You have go in to the "library app" of the Novel and then sign in again to B&N and select the ebook from the list and then download it from there.
EPUBs and PDFs
The Pandigital Novel supports Adobe DRM and Barnes and Noble's DRM for EPUB and PDF ebooks, as well non-DRM EPUB, PDF, and TXT ebooks.
The Novel uses Adobe Mobile Reader. There aren't very many option for customizing the appearance of text. There are 5 different font sizes and just one font type. There are no adjustments aside from switching to landscape mode.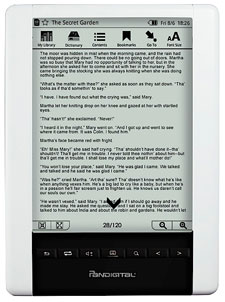 The features available in the menu are a dictionary, table of contents, bookmarks, and go to page. There aren't any notes or highlighting features. Hyperlinks in ebooks work if pressed.
PDF support is basic. The same menu features are present as listed above. There is no re-flow. The are 5 levels of zoom. When zoomed in on a page, there are on-screen arrows that you tap to scroll around the page. If the PDF has light fonts, as they so often do, then they will be hard to read on the Novel's SiPix screen.
Web Browser
As you would expect with an epaper ereader, the web browser is very basic. Options include bookmarking pages, there's a forward and back button, refresh, stop, and a few zoom settings. Tap on the URL box to type in a URL using the on-screen keyboard, which works pretty good.
Swipe the touchscreen or scroll bars to navigate around the page. The amount it scrolls can be unpredictable. Tap on a link to open a new page. The accuracy of the touchscreen is pretty good when trying to hit small links.
The browser can download EPUB and PDF ebooks from free ebook websites like Feedbooks and Manybooks.
Overall, the browser works about as you'd expect on an ereader. It isn't blazing fast and works best on text-based and mobile sites. One drawback with this particular device is that some sites have really light text—including B&N's, so browsing for ebooks is not very easy.
Conclusion
Compared to other ebook readers on the current market, the Pandigital Novel Personal eReader has a fairly extensive list of features for the price: WiFi, touchscreen, web browser that can download ebooks, audio player, speaker, g-sensor, and some apps like email and sudoku.
Most of those features work pretty well, but there's one main drawback with the Pandigital Novel eReader. The SiPix display is not as crisp as most other ereaders, especially the Kindle 3 and new Sony Readers with the Pearl screens. There's nothing wrong with it per se—you can read on it just fine for the most part—but in a direct comparison with the Kindle and Sony screens the Novel's screen is clearly inferior.
Pandigital Novel Personal eReader Specs
6-inch SiPix touchscreen with 16 shades of gray.
800 x 600 pixel resolution.
Linux operating system.
Supported formats: PDF, EPUB, TXT, MP3, JPEG, BMP, PNG.
2 GB memory; microSD cards up to 32GB.
Built-in web browser, calendar, dictionary, email, alarm clock, sudoku, audio player, and bookstore.
Wi-Fi 802.11 b/g.
Dimensions: 4.8 x 7 x .5 inches.
Weight: 8 ounces.
Battery: 6,000 page-turns.
Audio: 3.5mm headphone jack, speaker.