Plastic Logic's QUE proReader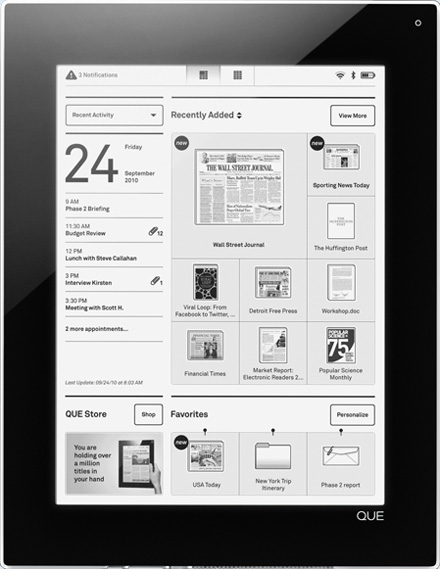 Overview
Plastic Logic officially unveiled their new business-oriented ereader, the QUE proReader, on January 7th at the Consumer Electronics Show. The Que's anticipated released date is in mid April, and it is currently available for pre-order on the QUE proReader website.
Update: The QUE proReader has officially been cancelled.
On March 11th, people who pre-ordered a QUE received an email from the CEO of Plastic Logic, Richard Archuleta, that stated the postponement of the QUE proReader until Summer "in order to fine-tune the features and enhance the overall product experience." And now it has been finished off for good.
There are two different models. One sells for $649. It has Wi-Fi and 4GB of memory. The second model has Wi-Fi and 3G wireless, with 8GB of memory, and sells for $799. Both have Bluetooth, but neither have memory card slots.
The Que will sell from Barnes and Noble's retail stores later in 2010.
Preliminary Details
Designed by scientists at Cambridge University's Cavendish Laboratory, Plastic Logic utilizes flexible plastic technology that has been in development for 10 years.
Marketed as a paperless briefcase, the Que is one of the largest ereaders on the market. It is 8.5" wide by 11" tall, but it less than 1/3" thick. It weighs 17.2 ounces. The screen measures 10.7" diagonally, with a display resolution of 960 x 1280 at 150 ppi. Oddly, it only supports 8 levels of grayscale, whereas many newer ebook readers support 16.
It features a gesture-based captive touchscreen for navigation, and a virtual keyboard for taking notes. Also, Plastic Logic claims the screen is shatterproof.
Plastic Logic's strategy is to aim its product at business professionals, given the large screen and support for Excel, Word, PowerPoint, and PDF.
Like the Kindle DX, it's designed for reading newspapers, periodicals, business documents, textbooks, and PDF files, as well as ebooks and text files. AT&T will give the device both 3G and Wi-Fi capabilities, depending on which model you choose, and AT&T works with carriers in other countries, so opportunity for expansion is there, but for now it is a US-only product.
Video Preview
Que Email and Calendar Service
In a recent press release, Plastic Logic revealed plans to offer an email and calendar service for the Que in Fall 2010 through a partnership with Good Technology.
From the press release:
By integrating with Good for You, the planned QUE Mail and QUE Calendar services enable mobile professionals to have email and calendar updates from a broad range of popular email and calendaring services, including Yahoo!, Google, Windows Live, and Microsoft Exchange, automatically pushed directly to their QUE devices over WiFi and 3G networks.

"We are extremely pleased to be working with Good Technology, a leader in mobile device services, to accelerate development of a world-class email and calendar service and experience for the QUE proReader," said Plastic Logic CEO Richard Archuleta. "Good is a trusted brand for mobile professionals and gives us a strong foundation for expansion into the enterprise, government and other verticals."

Content Partners
In addition to having access to Barnes and Noble's library of ebooks through the Que store, Plastic Logic has partnered with a number of leading business, news, and sports publishers to provide more content for the Que. Some are listed below.
USA TODAY, Wall Street Journal, The Los Angeles Times, Chicago Tribune, Baltimore Sun, the San Jose Mercury News, the Contra Costa Times, the Detroit Free Press, The Detroit News, the Oakland Tribune, the Huffington Post, The Sporting News Today, along with magazines from Barron's, Fast Company, Forbes, MIT's Technology Review, Popular Science, and IDG publication titles, including Macworld, PC World, CIO, Network World, and Computerworld.
Olive Software
Another content partner is Olive Software, a well-known digital publishing company with some 400 organizations using their software to publish on the internet, including newspaper and magazine publishers, major libraries and universities, and even government institutions. Some are listed below.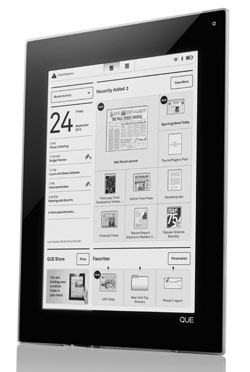 Newspapers: Denver Post, Dallas Morning News, Daily Mail (UK), London Daily-Telegraph (UK), Sydney Morning Herald (AUS), and dozens more.
Magazines: Time, Colorado Springs Independent, Haymarket Publishing, LNG Publishing, and more.
Libraries: Brooklyn Public Library, Colorado State Library, Israel National Library, and more.
Universities: Ithaca College, Oxford University, Penn State University, Princeton University, and several others.
Enterprises: Microsoft, Canon, Kidney Cancer Association, Merrill Lynch, T. Rowe Price, and others.
Government: United States Government-Department of Defense, Israel Air Force, and more.
Supported Formats
Text: EPUB, PDF, HTML, Visio, RTF, DOC, DOCX, TXT, PPT, PPTX, XLS, XLSX
Images: JPEG, PNG, BMP, GIF