Graphite Kindle DX Review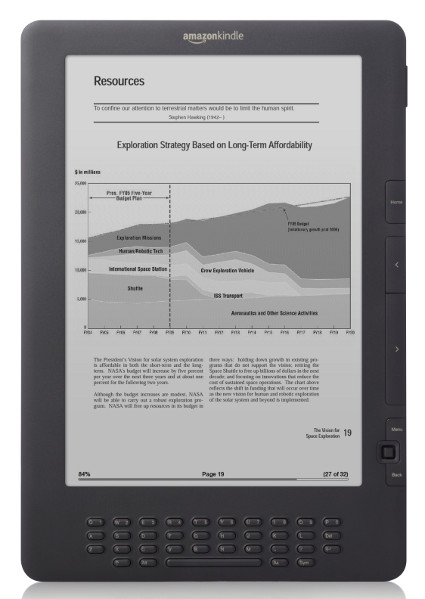 Overview
Update: On July 1st, Amazon introduced a new graphite Kindle DX with 50% improved contrast for $379! Check out the new higher-contrast screen in the video review below.
And here's a bunch of pictures and another video on our new Kindle DX PDF review page.
The Kindle DX was first introduced in May 2009, a few months after Kindle 2 supplanted the original. With the larger 9.7 inch screen, the DX was made for reading newspapers, magazines, PDF documents, and textbooks more easily than the smaller Kindle 2.
The DX is also available internationally. For information specific to your country, such as wireless coverage area and ebook selection, you can visit our Kindle International page.
50% Improved Contrast, 22% Lower Price
The biggest story about the Graphite Kindle DX is that it's the first ebook reader to use the new Pearl displays that have 50% improved contrast over the previous Vizplex screens. With a 10:1 contrast ratio, the text is noticeably darker, more defined, and easier to read in lower light.
The screen background isn't necessarily a whole lot whiter than the original E Ink screens—they'd probably be too bright in direct sunlight being any whiter—but the difference is definitely noticeable, especially in lower lighting environments and side-by-side with the older screens.
The second biggest story is that the price of the Kindle DX went from $489 to $379. The older white DX still sells from Amazon, but does not come with the new screen, so don't think you are getting a better deal with the $20 lower price. The new screen is definitely worth the upgrade.
Video Review Outside in Direct Sunlight
Features and Perks List
The Kindle DX comes with free Global 3G wireless for downloading ebooks all over the world. The basic browser is somewhat slow to use and works best with sites set up for mobile browsers.
As of this writing, Amazon's ebook library now lists over 635,000 ebooks, 136 Newspapers, 63 magazines, and 9,500 blogs.
You can download and read the first chapter of a book before you decide to buy.
All newspaper, magazine, and blog subscriptions come with a 14-day free trial.
With everything but PDFs, you can bookmark, highlight, and search for synonyms and definitions right on the page. Pages can be noted upon and saved as clippings and text files. All clippings are added to a single file that can be downloaded over a USB cable to a computer.
The Amazon Kindle DX remembers the last page read for each book.
It has built in Adobe PDF support.
Ideal for people with poor vision, the DX has a Zoom feature and eight levels of text size, up to nearly a 1/2" letters.
The Kindle DX has a controversial text-to-speech feature (the Authors Guild claims this violates copyright laws). The voice is computer generated and actually sounds fairly decent. The are 3 speed settings and the choice of a male or female voice. Authors and publishers now determine if this feature is active or not for a specific book.
It also supports MP3 playback, as well as audiobooks from Audible.com. You can listen with the built-in speakers or plug into the headphone jack.

Amazon offers several different reading apps to sync Kindle books with an iPad, iPhone, Blackberry, Android, and iPod touch, as well as the new Kindle for PC and Mac software, allowing for quick and easy transfer of books. It even saves what page you were on so that whichever device you use, you'll be right where you left off when you finished reading the last time.
All your books are automatically backed up by Amazon, but personal files and side-loaded files aren't.
Works with both Windows and Mac computers.
Appearance and Specifications
The Kindle DX is 10.4" x 7.2" x 0.4", slightly smaller than an opened DVD case, and weighs 18.9 ounces. It has a 1200 x 824 pixel display that supports sixteen shades of gray, and you can switch between landscape and portrait modes simply by rotating the device. The DX doesn't have any external memory slots, but it comes with 4GB of internal memory that can hold up to 3500 books.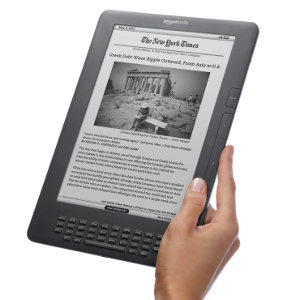 As mentioned above, the Kindle DX incorporates the latest screen technology from E Ink that simulates the look of ink on paper better than any technology to date, with bolder text, a lighter background, and more contrast than ever before.
The new screen still uses the same technology as the older ones. When you turn a page, millions of E Ink micro-capsules rearrange to either white or black to display the text on the epaper screen.
This causes the screen to refresh as you turn each page, making it to blink for a split second. The new Kindle DX is faster at this than the previous white model.
The battery life for the Kindle DX is rated at 7500 page-turns with a single charge. This equates to about 2 weeks of use, or 4-7 days if you're doing a lot of wireless navigation.
Cons
No native EPUB support; you have to convert them to MOBI with Calibre. How To »
No notes, highlights, dictionary, text-to-speech, hyperlinks, or TOC with PDF files.
eBooks and other digital content cost more outside the US.
Publishers don't allow for the same selection of ebooks outside the US. It's best to check ebook selection before you buy.
It doesn't come with a cover and one is definitely needed to keep it clean and the screen in one piece.
The mini keyboard is unneeded 90% of the time and is hard to hold the device and use the keyboard at the same time because of the awkward button layout.
No external memory card slots.
Limited format capabilities and proprietary DRM. Picking up the bill for the wireless service, Amazon wants users to download ebooks exclusively from them. There are exceptions (see ebooks link below).
eBooks and More for Kindle DX

Visit our dedicated Kindle eBooks and More page for a comprehensive listing of available content, including free ebooks, newspapers, magazines, and RSS news feeds. You'll also find a search box on that page if you want to see if Amazon has books from your favorite authors.
Kindle DX Accessories

If you are looking for covers, skins, screen protectors, lights, or power adaptors for your Kindle, you can visit our Accessories Page for more information about them. Skins are a good way to customize, like the one shown to the left. And there are hundreds of varieties.
Supported Formats
Text: Amazon's proprietary
format
AZW, PDF, TXT, unprotected MOBI/PRC.
Audio: AAX, AA, MP3.
Amazon converts PDF, HTML, DOC (Word), RTF, JPEG, GIF, PNG, BMP, MOBI, PRC to their AZW format.
Page 2: Kindle DX PDF Review »