PocketBook 902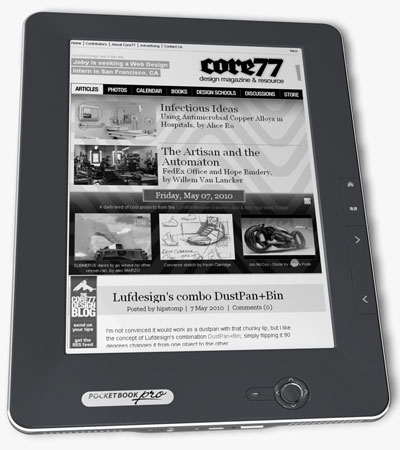 Overview
The PocketBook 902 is a 9.7-inch ebook reader that is set to take on the Kindle DX with its lower price and appealing set of features.
To be fair the Kindle DX has it beat in a few key areas—the higher contrast Pearl screen and 3G connection to Amazon's vast library of ebooks are the two most obvious.
Other than those two things, the PocketBook 902 has a lot of features that the Kindle DX does not: WiFi and Bluetooth for connectivity; reflow, notes, highlights, dictionary, custom zoom, and active hyperlinks for PDFs; support for Adobe DRM; and support for a wide number of languages and formats, just to name a few.
PocketBook 902
PocketBook 902 Specs
9.7-inch E Ink Vizplex screen, 1200 x 825 resolution
CPU: 533 mHz, 256 MB Ram
Wireless: WiFi (802.11 b/g) + BlueTooth
2GB of internal memory, microSD card slot for cards up to 32GB
Widget apps: games, RSS news reader, calculator, calendar, etc
Notes, highlighting, bookmarks, dictionaries, search
Text to speech
Built-in speakers and 3.5mm headphone jack
MP3 player
G-sensor automatically rotates screen orientation
Battery Life: 7,000 page-turns
Dimensions: 263 x 192 x 11.5 mm
Weight: 18.6 ounces (530 grams)
Image formats: JPEG, BMP, PNG, and TIFF
Supported ebook formats: Adobe DRM, EPUB, PDF, HTML, DJVU, RTF, TXT, PRC, CHM, DOC, TCR, FB2, and FB2.ZIP
Research PocketBook's Other eBook Readers »