PRS-650 PDF Review
For this Sony PRS-650 PDF review, I will show how the device handles various types of PDF files, from regular single page PDFs with only text, to more complex PDFs with multiple columns, graphs, tables, and large images.
This PDF review is pretty much identical to the PRS-350 PDF review. They both have the same exact features for PDF viewing, however the PRS-650 has a screen size 1-inch larger. That may not sound like much, but it makes a big difference in text size and overall readability.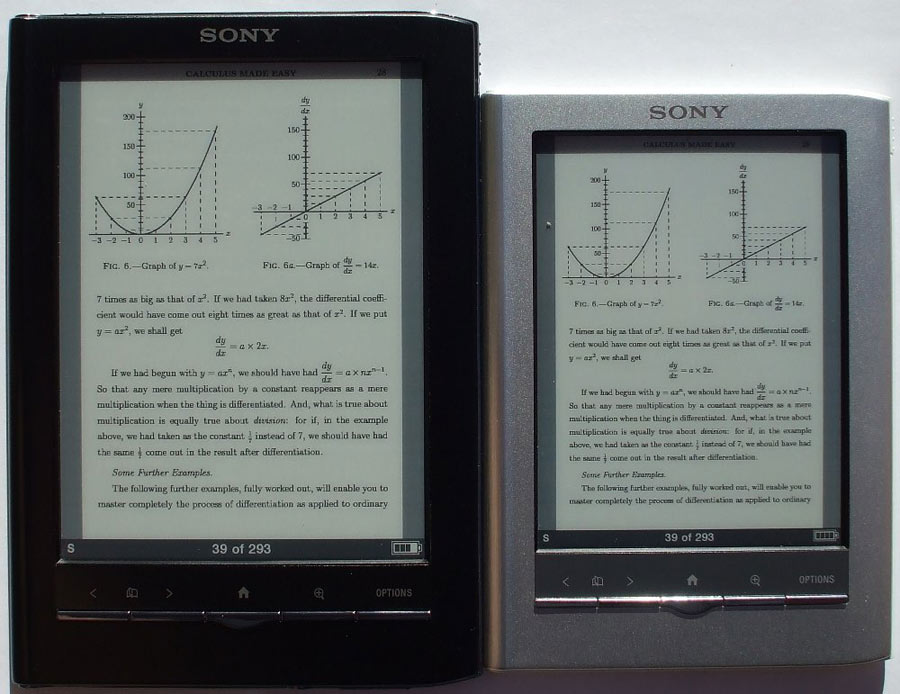 PRS-650 PDF Features and Functions
Add freehand notes and drawings.
Type notes and memos with an on-screen keyboard.
Add bookmarks and highlights.
5 reflow text sizes (works best for simple text-base PDFs).
Active hyperlinks.
History feature goes back to all previously visited pages, much like a web browser's back button.
Table of contents support for multiple levels.
Custom Zoom dial.
Zoom lock.
2 and 3 column view.
Cut margins setting.
Landscape mode.
Dictionaries works with PDFs, 2 English, 10 translation.
Jump to page.
Run Searches.
Adjust contrast (works great for PDFs with light-colored text).
PRS-650 PDF Video Review
PRS-650 PDF Default View
The first picture below is an example of a text-based single column PDF. On the small font setting, the original formatting of a PDF is preserved and sized to fit the screen.
Readability greatly depends on how the PDF is formatted. This particular PDF is readable on the default setting if you have good eyesight. This picture below shows the contrast on its default, original setting. The next image below it shows it with the contrast adjusted to make the text appear darker. Also note that the pictures were taken at different times during the day so the color differs slightly.
Note: Make sure to click the images below for close-ups.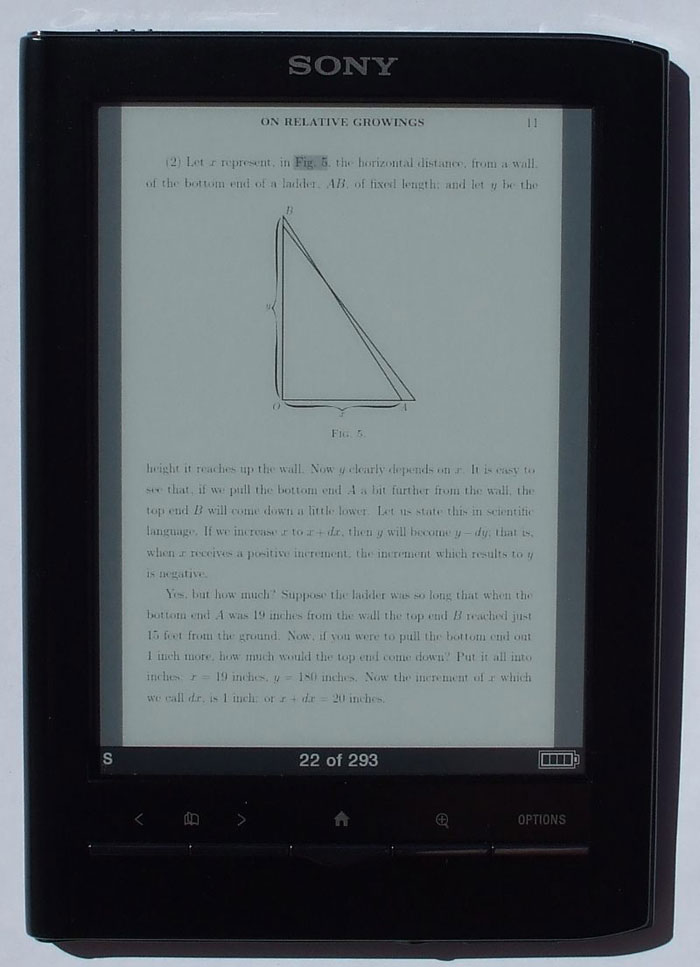 Default PDF Layout - Portrait
2 and 3 Column PDFs
Sony PRS-650 PDF Review: Comics
Mangas and comics aren't exactly ideal for a small reader with a 5 or 6-inch screen, but some display well enough. It all depends on how the original is formatted and how much work you are willing to put in to making it look good if it isn't sized optimally for an ebook reader.
This particular comic below isn't for an ereader specifically, so the text isn't very readable in portrait mode, although if you have really good eyes you can get by. The text balloons are much easier to read in landscape mode.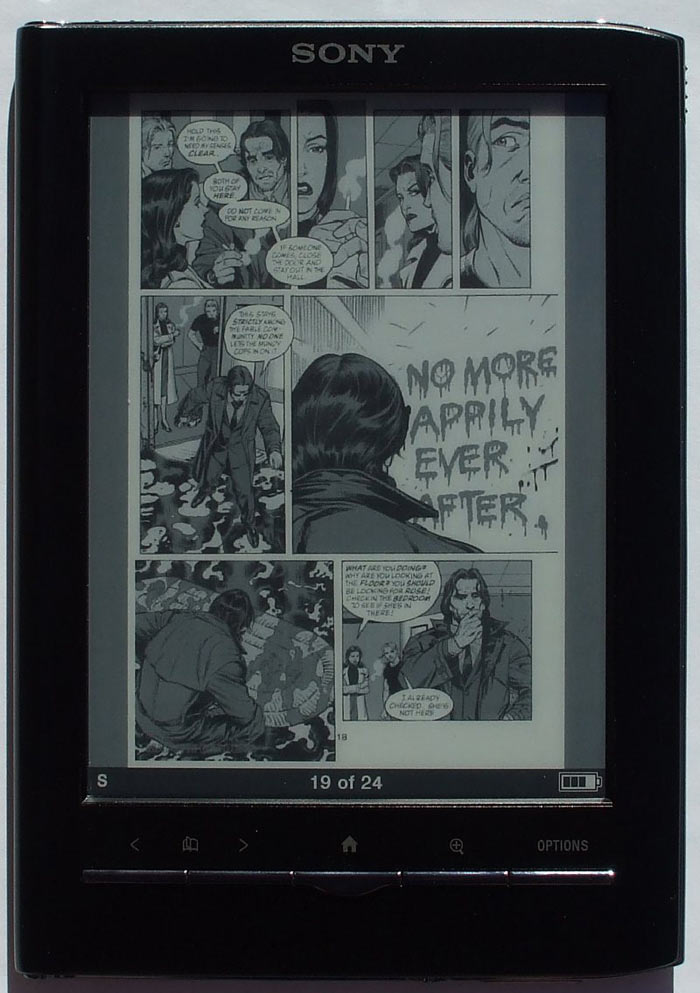 Default Comic Layout - Portrait
Conclusion
The Sony PRS-650 has some advanced PDF features, but isn't something you would want to use solely for PDFs. The 6-inch screen is better than the Pocket Edition's 5-inch screen, but what it comes down to is PDFs are designed to be read on a larger screen, as simple as that.
For single-column text-based PDFs the reflow does a decent job, but butchers anything slightly complex. For larger, image-based and multi-column PDFs the PRS-650 is pretty good, especially compared to other 6-inch ebook readers, but it does requires patience for adjusting the zoom and panning around the screen and manually setting the contrast to be darker.
More PDF Review Pages