PRS-900 PDF and Comic/Manga Review
The PRS-900 is capable of displaying both DRM protected and unprotected PDF files. For the most part, all the same features apply to PDFs as with regular EPUB ebooks: you can search keywords, add notes, highlight, change orientation, crop margins, increase text size, zoom, access the table of contents, quickly jump to a specified page, access the dictionary, and so on.
If the PDF has hyperlinks on the page, you can tap on them to move within the document. The hyperlinks are highlighted in gray. And you can go back to the previous page by tapping history in the options menu. History will take you back to all the previous pages visited in a document as well, even after you leave it and then come back later after reading other ebooks.
Sony PRS-900 PDF and Comic Video Review
PRS-900 PDF Capabilities
The Sony PRS-900 can display PDF files in a number of different modes. In portrait mode, the original formatting of a PDF is preserved in the Reader's small font size setting. The text is very small but quite readable, as shown in the picture below (in person the text is more defined). Cropping the margins also helps to increase the text size in this mode, though the amount of area cropped seems to vary from PDF to PDF.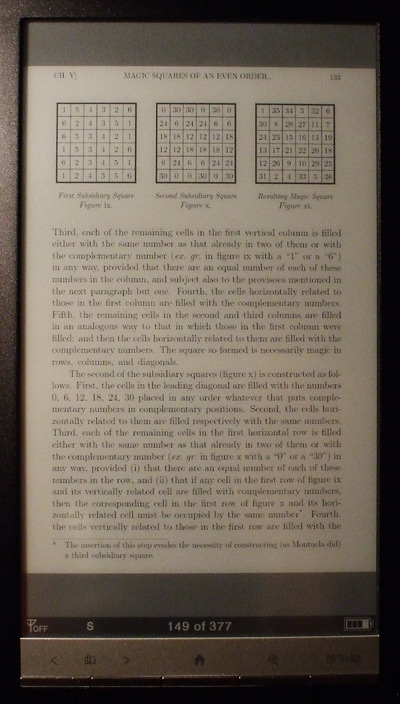 Default PDF Layout - Portrait
Another way to view a PDF file is to change the orientation. This too preserves the PDF's original formatting on the small font setting. It breaks the page down into 3 sections (if the page is longer it continues to break it up into sections). In this mode the font size is much larger than in portrait mode, but requires a lot more page turning.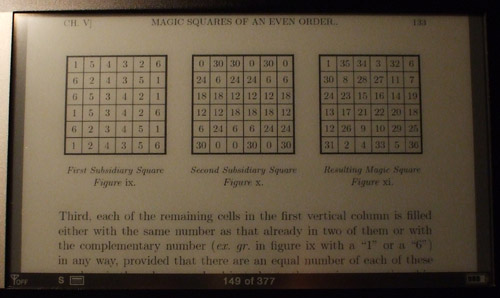 Default PDF Layout - Landscape
You can also choose to view two pages at a time in landscape orientation. However, the text is barely readable in this mode; its primary purpose is for scanning through a number of pages quickly.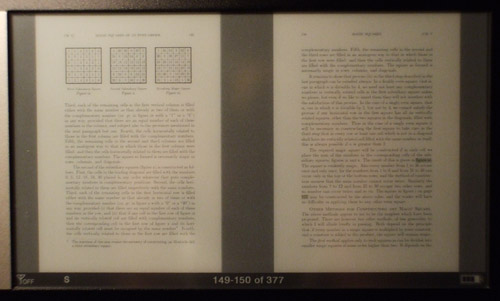 2 Page PDF View
The custom zoom dial is another way to view a PDF. Once zoomed in, you can pan around the page by tapping and dragging, or you can use the on-screen arrows to navigate around the page. One thing to note, with the zoom feature active, you cannot add notes, highlight, or access the dictionary. And when you turn pages the zoom feature deactivates.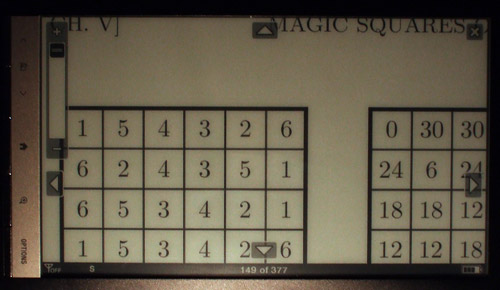 PDF Custom Zoom
More options for displaying PDfs is to re-flow them in the 5 other text sizes. This works great for PDFs that are primarily text, but it can do unpredictable things to more complex PDFs that have a lot of images and tables; sometimes the images and tables are preserved, sometimes they increase in size too, and other times they disappear entirely.
When viewing a PDF in a re-flowed manner, you can use the 2 page layout to view two columns at once like with a non-PDF file. This picture is of a PDF ebook set to medium font setting.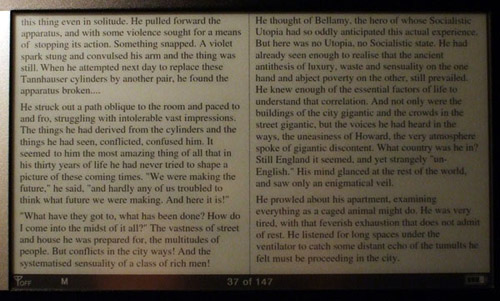 Re-Flowed PDF Medium Font
Comics, Mangas, and Graphic Novels
The PRS-900 will display many forms of comics in PDF format. The main thing that determines how well a comic displays on the Daily Edition is how the original is made. Some have smaller text balloons than others that can make them harder to read. The one pictured below is easily readable in the standard default layout, and others need to be switched to landscape mode or zoomed in to read comfortably.
The comics shown in these pictures can be downloaded for free at DC Comics.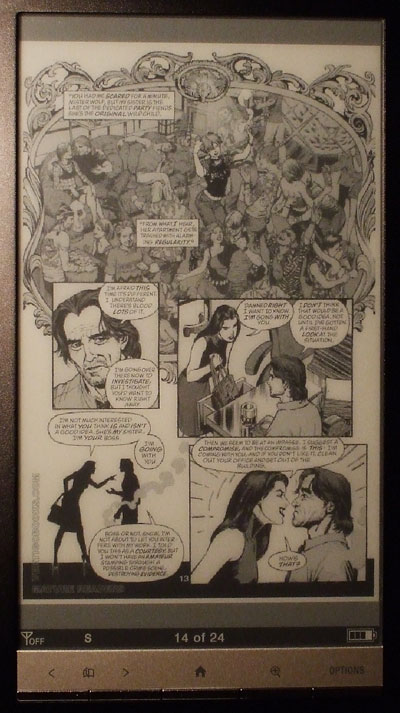 Default Comic Layout - Portrait
When viewing a comic in landscape mode, each standard page is broken down into three sections. This makes the text balloons larger and easier to read, and each section slightly overlaps the others so nothing is ever missing.

Default Comic Layout - Landscape
The below image is of a graphic novel. The text is harder to read on this particular title in portrait mode, but the text is readable when viewed like this. If you'd prefer to read in portrait mode you can still use the custom zoom dial to zoom in on the text like any other PDF, but that can be quite time-consuming since it resets with each page.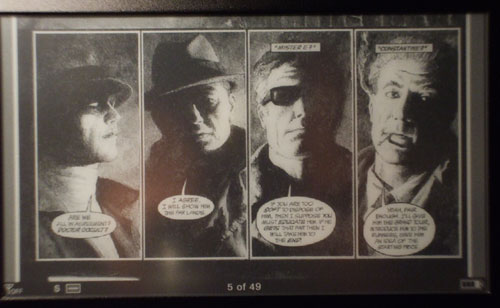 Graphic Novel
Some Notes About the PRS-900 and PDF Files
The main thing with PDFs is this: readability and formatting of all ebooks, and PDFs especially, greatly depends on where you download them from and how the original is formatted.
If the PDFs don't have any DRM, you can try converting them to another format with free software like Calibre. This works well for text-based files but can be more difficult if the PDF contains a lot of complicated formatting.
When given the option to download DRM protected ebooks in either PDF or EPUB format, choose EPUB. The PRS-900 is optimized for EPUB ebooks, and they generally have better formatting and layout than PDFs. This is just personal preference, of course. You may prefer how PDFs display. But generally EPUBs are easier to deal with on a dedicated reader like the PRS-900.