Sony PRS-300 Pocket Edition Review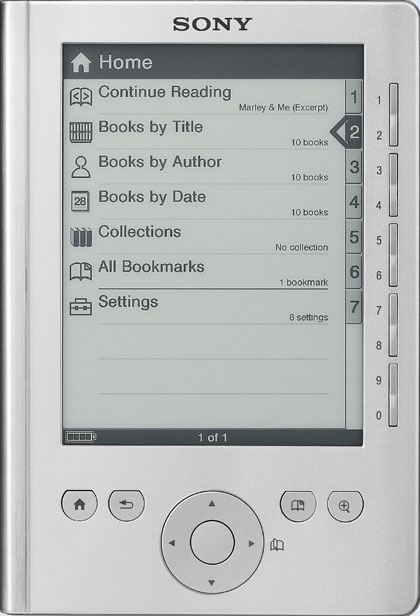 Update: On September 1st, Sony announced upgraded versions of all 3 of their ereaders! Check the main Sony Reader reviews page for all the details.
Overview
The Sony PRS-300 is one a few new ebook readers to feature a smaller 5-inch screen, and is the lowest priced E Ink ereader on the market.
The PRS-300 is marketed as an ebook reader that can fit in your pocket. The above image, in fact, is almost the exact size of an actual PRS-300 (provided your browser is set to default and isn't zoomed in). It is roughly as thin as a CD case and is a lightweight 7.76 ounces (220 grams).
Reading Experience
At first it's hard to take a five-inch ebook reader that has a minimum of features seriously. Unlike the PRS-600, the PRS-300 doesn't have a touchscreen, memory card slots, audio or image support, built-in dictionary, on-screen keyboard, or any way to add notes or drawings to a document or ebook. The Pocket Edition is slower to load and turn pages, and doesn't offer as many settings or options to choose from.
All that aside, the Sony PRS-300 is an ebook reader designed specifically to read ebooks. And at that it does its job quite well. The small ereader seems to fit perfectly between your thumb and forefinger, and your thumb naturally sits over the navigation wheel for easy page-turning with either hand.
After you start to read, the Sony PRS-300 is good at becoming invisible. The balance is just right in your hand, and the device disappears as you get into the flow of a story; you forget you're not reading a real book. Just tighten your thumb to turn the page. The buttons have just the right firmness too, and the lag between pages isn't an issue at all, although it is slower than the PRS-600.
Features
The Sony PRS-300 has three font sizes, and allows for viewing in both portrait and landscape modes. Holding down the Zoom button will change orientation. You can bookmark pages and then access them in the options menu.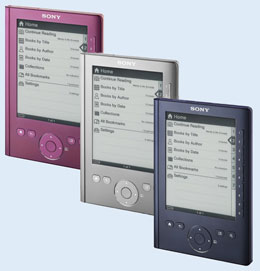 For quicker navigation you can view a book's table of contents or quickly jump to other pages by using the side buttons. Books are sorted by title, author, and date, as well as customizable collections.
For text files it supports Adobe EPUB and PDF, giving the 300 a wide range of options for ebooks, including your local libraries. It also supports TXT, RTF, and Word files (DOC and DOCX).
It has 512 MB of internal memory, enough for 350 or so ebooks, but no expansion slot The battery-life is rated at 6,800 page-flips for EPUB ebooks, or about 2 weeks. But from my personal experience with the Sony PRS-300 the battery seems to last for about 3 weeks, which is considerably better than the PRS-600 because the 600's extra features drain the charge faster.
Hands-on Sony PRS-300 Video Review
Size Comparisons
Being accustomed to 6-inch ebook readers, the thought of a smaller 5-inch screen didn't appeal to me at first. But I've found myself using the Sony PRS-300 more than either of my 6-inch devices lately; it's light and comfortable to hold while reading in bed or lounging in a recliner. Sure, there's more pages to turn with the smaller screen, but it's not something you think about once you're off in some reading adventure.
Here's an example of page length differences: a paperback novel that is 576 pages long equates to about 628 pages on a 6-inch reader and roughly 933 pages on a 5-inch reader, with both on the smallest font setting.
Here's a look at the size difference between the Pocket Edition and the Touch Edition.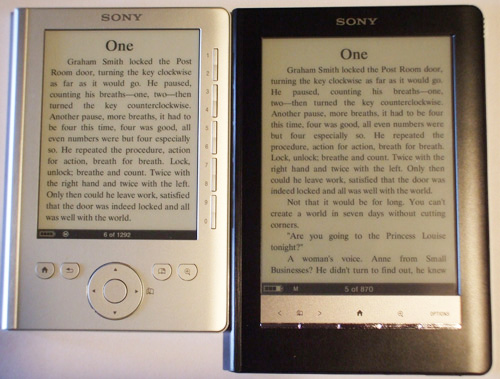 High Contrast Screen
As with all Sony Readers, the Pocket Editions have E Ink screens for easy readability. E Ink is designed to mimic the look of ink on paper. And the PRS-300 goes past that with its ultra rich text; the contrast is so defined the words almost seem to float off the background. It's like high-definition for books.
In reviewing the PRS-600, the text is noticeably darker and crisper on the 300's screen, and is easier to read in lower lighting conditions.
The Sony PRS-300 has a 5-inch E Ink screen that supports 8 levels of grayscale, with a pixel resolution of 600 x 800.
Will The Sony PRS-300 Display PDF files?
The Pocket Edition works perfectly well for PDF files, both secured and unsecured, provided they are text-based and aren't full of complicated graphs and images. A device this size shouldn't be used as a hardcore PDF viewer, larger ebook readers such as the Kindle DX and iRex ereaders are much better for that.
The Sony PRS-300 is an ebook reader at heart, so if your PDFs are basically ebooks they should be perfectly readable on medium Zoom. All the PDF ebooks that I've tried work well, with the exception of one that ended up having text that wasn't very dark. I converted this one to EPUB with Calibre and that corrected the problem.
I also tried a few graphic novels with mixed success; some displayed great and others were too small to read.
The readability and formatting of all ebooks, and PDFs especially, greatly depends on where you download them from and how the original is formatted, so results will vary from ebook to ebook.
In The Box
Unless you buy a bundle package, the PRS-300 doesn't come with a cover. Supplied accessories include a USB 2.0 cable, soft protective sleeve, and quick start guide, along with a one year warranty.
Cons
Where the Sony PRS-300 becomes visible again—as an electronic device and not a book—is during navigation. Moving the cursor is slow work; using the side buttons is a must.
Without a touchscreen the menu system requires more navigation to maneuver around to different selections or settings. If you are reading one book, you have to hit a sequence of four buttons and go through three menus to get into another ebook.
There's no dictionary.
No memory card slots.
No audio or image support.
Large PDF files can take longer to load, but a device this size shouldn't be used as a hardcore PDF viewer anyway, it's a nice feature to have if you really need it, but the Sony PRS-300 is an ebook reader at heart. Besides, you can always convert PDF files with Calibre to increase readability on all Sony Readers, but that is an extra step.
Sony's desktop software is glitchy (use Calibre instead).
Sony's online ebook store is only available to the US and Canada.