Velocity Micro Cruz
One of the latest companies to join the ereader war is Velocity Micro, with their expanding line of Android ereaders and tablets.
Velocity Micro is a US-based company that specializes in high-performance computers, gaming systems, desktop and notebook computers, home-theater media centers, and other electronics in addition to ereaders and tablets.
Velocity Micro Cruz Tablet (T301)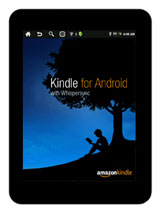 The 7" Cruz Tablet, model T301, is the updated version of the original Cruz Reader R101 shown below.
The Cruz Tablet comes with a capacitive touchscreen, the Kindle e-reading app, Android 2.0, and is open to install 3rd party Android apps from the Cruz Market and various other app markets.
Velocity Micro Cruz Reader (R101)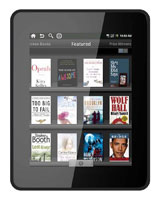 The Cruz Reader is very similar to the Pandigital Novel and PocketBook IQ from a hardware standpoint.
It has a 7-inch TFT resistive touchscreen and Google Android 2.0 Operating system. It is one of the most inexpensive Android tablets on the market as it looks to be phased out for the newer models.
Velocity Micro Cruz Tablet (T103)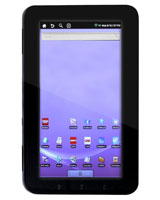 Powered by Google's Android 2.0, the Cruz Tablet T103 is the original Cruz Tablet from Velocity Micro.
The T103 has a 7" capacitive touchscreen with a 16:9 ratio and 800 x 480 pixel resolution, unlike the Cruz Reader and new Cruz Tablet which have 4:3 ratios with 800 x 600 resolutions.
Cruz Tablet Reviews at Amazon »
New Velocity Micro Cruz Tablets
At CES 2011, Velocity Micro unveiled three new Cruz Tablets. They come with the Kindle Android app, Android 2.2/2.3, and have options for 3G wireless, HDMI out ports, and front and rear facing cameras. We're still waiting on pictures, a release date, and the finer details, but here's what we've got so far.
Cruz Tablet L510
10.1" 1366 x 768 capacitive touchscreen
NVIDIA Tegra 250 Chipset
1GHz dual core CPU
Front and rear facing cameras
3G data options
Bluetooth 2.1
GPS and eCompass
HDMI out
Android 2.2/2.3
Amazon Kindle application pre-installed
Cruz Tablet P38
8" 1024 x 768 capacitive touchscreen
802.11n wifi
4GB Internal memory
Front and rear facing cameras
Bluetooth 2.1
HDMI out
Android 2.2/2.3
Amazon Kindle application pre-installed
Cruz Tablet L37
7" 1024 x 600 capacitive touchscreen
802.11n wifi
4GB Internal memory
Front and rear facing cameras
3G data options
GPS and ecompass
Bluetooth 2.1
micro HDMI out
Android 2.2/2.3
Amazon Kindle application pre-installed