Cruz Reader/Tablet Review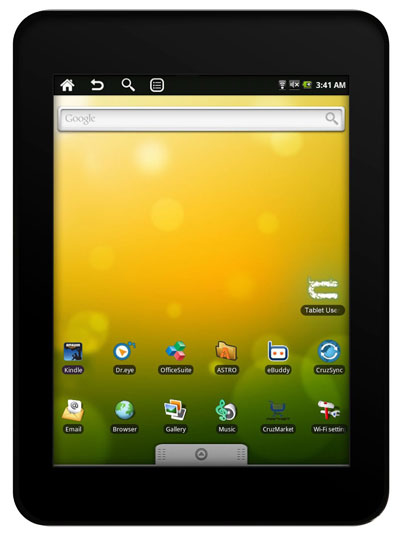 Overview
This Cruz Reader review is based on the 2nd generation Cruz Tablet, model number T301. The first gen model has a resistive touchscreen and comes pre-installed with the Borders ereading app while this T301 model has a capacitive touchscreen, comes with the Kindle ereading app, and includes other upgrades over the previous model.
It was initially called the "Cruz Reader" but then they changed it to "Cruz Tablet", so it goes by both names thoughout this review.
Look and Feel
With the glass screen taking up the entire front surface, the Cruz Tablet looks like a mini iPad minus the home key. The home button is instead a soft button on-screen in the upper left corner, along with the search, back, and menu buttons.
These take some getting used to because of their placement; you either have to reach across the screen with your right hand all the time or get used to using your left hand for a good share of navigation.
The only hardware buttons are up and down volume keys and the power button. Along the edges there's a headphone jack, SD card slot, AC charger port, two speakers on the bottom edge, and a mini USB port, although it doesn't come with a USB cable.
Overall the build feels nice and solid. The back has a rubbery textured coating. The speakers are louder than most similar devices; the sound quality is about what you'd expect—adequate but not much bass.
Features and Functions
Since the Cruz Reader runs Android 2.0, it doubles as both a color ereader and a tablet. It is open to installing Android apps without a hack but doesn't come with the Android Market. It comes with the Cruz Market, a very limited source, but does contain links to other app markets.
Several apps come pre-installed. There's email, a calendar, calculator, dictionary, instant messenger, internet browser, apps for playing audio and video files, displaying pictures and slideshows, there's OfficeSuite for Microsoft files and PDFs, Twitter, Facebook, and others.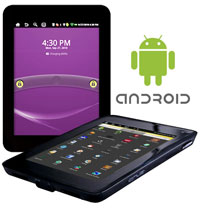 It comes with enough memory to install a few dozen apps and several thousand ebooks. There's 4GB internal, 256MB RAM, and it comes with a 4GB SD card and supports cards up to 32GB. There's a firmware update to partition the internal memory to get 2GB for using apps and 2GB for internal storage.
The Cruz Reader has a 7" TFT LCD touchscreen with a resolution of 800 x 600. While the capacitive screen isn't as responsive as higher quality devices like the Nook Color, it does work better than resistive screens. The capacitive screen allows for pinch-to-zoom and multi-touch for apps that are setup for that.
The battery charge lasts about 5-10 hours, depending on the brightness level, Wi-Fi usage, and which apps are being used. Games and videos are going to use a lot more power than using an e-reading app with Wi-Fi off and the brightness turned down.
Cruz Tablet Video Review
Installing Apps
The biggest fault with the Cruz Reader is that a good share of apps that should work without a problem won't install. Opera Mini, Adobe's PDF reader, several news apps and games I tried would not work. These are the same apps that I have no problem getting to work on other Android 2.0 devices like the PocketBook IQ and Pandigital Novel.
Even some apps available in the Cruz Market won't install. How does that make any sense? One of my favorite reading apps is FBReader, and it's available in the Cruz Market, but it will not install.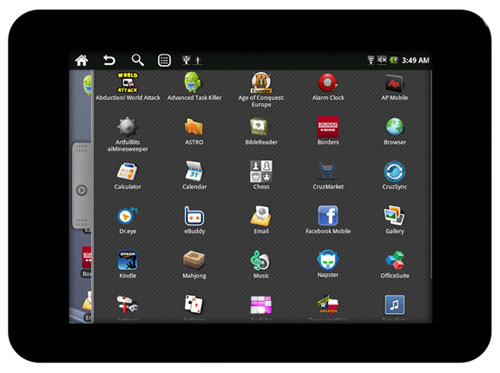 And then sometimes an app will install but won't work. The same YouTube app I've gotten to work on several devices will install on the Cruz Tablet but videos won't play, just sound. The Google Maps app works fine and Street View installs without a problem, but whenever I click on Street View it will not work.
There are a number of apps that work fine, but it can be frustrating when something you want to use won't. In the end it's pretty much a crapshoot as to whether or not apps supported by Android 2.0 will work or not on the Cruz Reader.
Here's a few apps that installed and seem to be working fine: Borders ebook app, Skyfire and Dolphin web browsers, Pandora radio, Aldiko ebook app, ACV comic viewer, OverDrive, Moon+Reader, Fox News, Time Mobile, Google Maps, Wattpad, and NYTimes.
I've written about installing apps on Android devices before, so make sure to check that page for information for beginners and where to find the apps mentioned here.
The Kindle eReading App
As mentioned above, the Cruz Reader comes pre-installed with the Kindle for Android app.
The Kindle for Android app works with free and purchased ebooks from Amazon's ebook store, which has over 800,000 titles. And the Kindle Android app recently received an update to add support for Kindle newspaper and magazine delivery, granting access to 100+ single issue or monthly periodical subscriptions.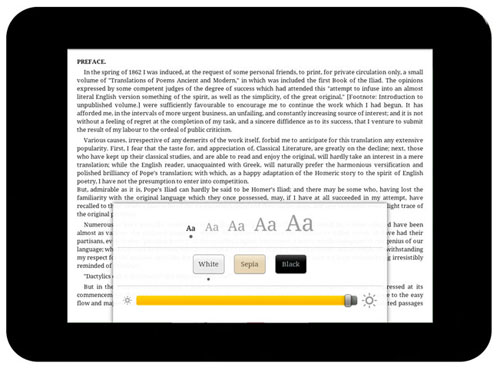 Features include adding notes, highlights, and bookmarks, searching for words throughout a book and on Wikipedia and Dictionary.com. There are 5 fonts sizes and 3 background color options to choose from: white, sepia, and black (night reading). There's a brightness adjustment dial, go to page, and table of contents. You turn pages by swiping or tapping the screen.
The Kindle app syncs notes, highlights, and last page read with other Kindle apps and devices. It also allows for reading non-Amazon ebooks side-loaded into the Kindle folder on the SD card. These ebooks need to be DRM free and in either PRC or Mobi format.
Overall the app works well for the most part. There are a few reports of an occasional book that won't download, but I haven't experienced that problem. The app is actually designed to run on phones and not tablets. Amazon announced the upcoming release of a tablet-specific app so that'll probably tie up some of the loose ends and add some more features.
Microsoft Files and PDFs
The Cruz Tablet comes with an app called OfficeSuite for displaying PDF files and Microsoft files. It's the free version of the app so functionality is pretty basic. You can zoom in, jump to page, switch to landscape orientation, and that's about it. It remembers the last page of a document if you leave the app open and running in the background, otherwise it restarts at the beginning.
Videos
What's surprising about the Cruz Reader is that it actually plays videos smoothly, unlike a lot of other budget tablets. I tested several MP4/M4V videos and all played surprisingly well. The main drawback is that newer videos formatted for widescreen have large black bars because of the 4:3 screen of the Cruz.
Read this article to learn how to setup videos. It was written for the Nook Color but the same steps apply, you just might try adjusting the ratio or messing with some other settings to improve quality.
As I stated I couldn't get the YouTube app to work, but the Skyfire web browser works and plays web videos, not from sites like NetFlix or Hulu though. It plays video embedded in web pages like the YouTube video on this page.
Wi-Fi, Internet, eMail
There's a Wi-Fi settings app on the homescreen for connecting to your home and public Wi-Fi networks. Once you enter your router's security password, Wi-Fi will automatically connect whenever you turn the device on, or you can turn Wi-Fi off when not in use to save on battery. I tested the Cruz on my home network and a few public networks without any trouble.
You can connect to the internet to shop for ebooks, download free ebooks, browse the web, send and receive email, shop, stream radio, watch video (using Skyfire), and whatever else you can think of online.
The Android web browser it comes with is fairly limited, but there are other options out there. Same goes for email. You can either use a browser, use the pre-installed eMail app, or find a new app.
Bottom Line
The Cruz Reader falls into an interesting sub-category as far as Android tablets/ereaders are concerned. As mentioned in the apps section above, the problem with the Cruz is that installing apps is hit or miss. You can get more reliability for app compatibility from similarly-priced devices like the PocketBook IQ and Pandigital Novel.
The Cruz Reader has some advantages over those devices however. It has a capacitive touchscreen and slightly better overall screen quality and clarity. And the biggest plus is that the Cruz can play videos smoothly whereas those devices lag somewhat. The Cruz doesn't appear to be faster in any other way, however.
What it all comes down to is how you intend to use the device. If you have your heart set on certain apps that won't work then you'll probably end up retuning it. But if you are new to Android and are happy with the pre-installed apps and the apps that do install properly (a considerable number do work) then you'll likely get along with the Cruz Reader after some time learning how to use it.
As far as pricing goes, the MSRP is $249. Don't pay that much for it; a Nook Color is a better choice at that price, especially a hacked Nook Color. But the Cruz Tablet has already dropped below $200 at places like QVC, and will probably continue to drop in price, so then it becomes a more difficult decision that all depends on what features are most important to you in an ereader and tablet.
Cruz Tablet/Reader T301 Specs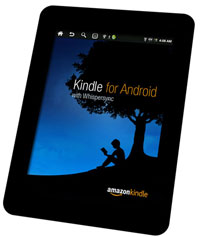 7-inch TFT LCD touchscreen, 800 x 600 resolution
Android 2.0 operating system (will not be updated)
Support for Android apps, includes Cruz Market app and access to other app stores.
CPU: ? (Velocity Micro refuses to specify)
Wireless: WiFi (802.11n)
4GB Flash memory, SD card slot for cards up to 32GB
Web browser, email, audio player, videos, calculator, plus other apps
Built-in speakers and 3.5mm headphone jack
G-sensor automatically rotates screen orientation
Comes with AC charger and slip cover.
Dimensions: 7.5" x 5.6" x .57"
Weight: ? (none given)
Image formats: JPEG, GIF, PNG, and BMP
Video: MPEG-4 and H.264
Audio: MP3, AAC, and WAV
Supported ebook formats: Kindle pre-installed, plus apps for other formats.