Alex Reader by Spring Design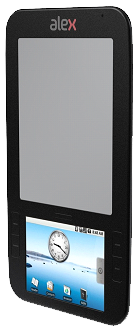 The Alex Reader was supposed to be the first dual-screen ebook reader, according to Spring Design, the makers of the Alex, who had shown their device to Barnes and Noble in an attempt to have them market and sell them in their stores.
Barnes and Noble declined, obviously, and released their own LCD E Ink hybrid, the Nook.
The Alex Reader debuted at the Consumer Electronics Show in Las Vegas. It is now available for order from the Spring Design website for $399 and started shipping as of mid-April. The Alex is also expected to sell from Borders sometime in the near future.
The Alex is a blend between a gesture-based cellphone, an ebook reader, and a web-browsing multimedia device that can do everything from displaying YouTube videos, sending email, and "grabbing" web pages to read offline.
Unfortunately we don't have a hands-on review of the Alex because they said they were going to send a review unit but never did. If you'd like to contribute a review of your own please send it on the contact page. If it's original and of high standard it'll get published here with your credit.
Alex Reader Reviews
Slashgear has their Alex eReader review posted, and it's generally positive regarding the readability of the E Ink screen and the versatility of the OS versus the Nook, and akin to just about every Alex review out there, Slashgear mentions the high price of the Alex to be it's major sticking point:
At $399 (for either a black or white unit) the ereader is $140 more than a Kindle or nook, and we're not sure its extra functionality and the flexibility of the open Android access makes it worth the premium for the everyday user. That's before you look to Apple and the fact that a 16GB iPad is only $100 more.
Another review of the Alex eReader can be found at MobileTechReview. This is their YouTube video review posted below.
Alex eReader Specs
Supports Adobe EPUB and PDF, as well as TXT and HTML formats.
Partnered with Google for 1 million free ebooks.
6-inch E Ink Screen.
3.5-inch color LCD touchscreen.
Google Android operating system.
Supports EPUP and PDF.
Built-in 802.11b/g Wi-Fi.
Wireless coverage: 3G, EVDO/CDMA, and GSM (select models).
Full internet browsing capabilities.
Patented dual screen interaction technology.
Micro SD card slot.
Built-in speakers.
Multimedia player.
Ability to download and display webpages on the E Ink screen and LCD screen.
Other Wireless eBook Readers