Asus DR-900 eReader Preview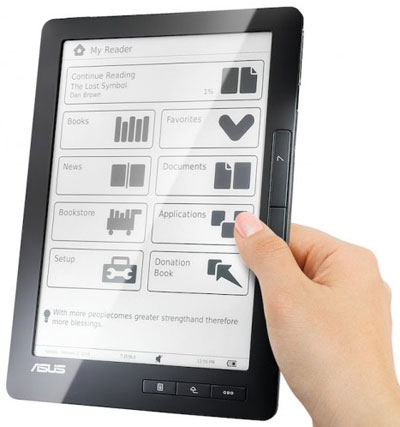 Overview
Earlier this year Asus showed off their new ereaders at CES and CeBIT, the DR-900 and DR-950, which was expected to launch in Q3 of this year, but has been delayed.
Asus hasn't released any official press release about their ereaders yet, other than a brief blurb and a few pictures on Flicker that have since been removed. But I'd expect one of the models to have 3G plus Wi-Fi and the other just Wi-Fi, and maybe a few minor feature differences.
So far, most of the information available is about the Asus DR-900, so let's go over what info is floating around on the web about it.
First, the DR-900 is one of a few new ebook readers to feature an epaper screen by SiPix, instead of the more common E Ink brand. The screen size measures a roomy 9-inches diagonally and features a capacitive touchscreen.
The video below shows us several details about what the DR-900 will offer, including an ebookstore application, web browser, text-to-speech function, on-screen note taking, highlighting, and more.
The most interesting app mentioned is a text editor, which is something uncommon for an ereader. Other apps include RSS news reader, audio player, calculator, calendar, dictionary, and painter.
Also, there's a menu tab at the bottom of the screen that looks to give options for sorting, searching, looking up words in the dictionary, zooming, changing screen orientation, etc. Even in its early stages, the Asus DR-900 appears to have a polished UI with plenty of features.
Asus DR-900 Video Demonstration
Preliminary Specs
9-inch SiPix screen with capacitive touchscreen.
1024 x 768 pixel resolution at 150 ppi.
16 levels of grayscale.
Built-in 802.11b/g Wi-Fi.
Optional 3G wireless connectivity.
Internet browser.
Battery life rated at 10,000 page turns with wireless off.
Dimensions: 222mm x 161mm x 9mm.
Weight: 370 grams.
Memory: 4GB internal; microSD card slot.
Text-to-speech.
Built-in speakers and headphone jack.
Supported Formats (Unofficial)
Text: Adobe EPUB and PDF, TXT, HTML
Audio: MP3, AAX
Images: JPG, GIF, PNG, BMP

More New eBook Readers