Coby Kyros Android 4.0 Tablet Review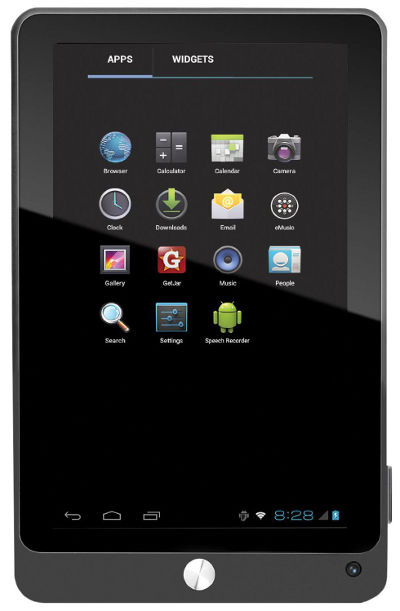 Overview
Coby is one of the more prolific budget tablet makers and this year's line of Coby Kyros tablets—there are at least seven of them in various sizes—run Android 4.0, a.k.a. Ice Cream Sandwich, and all come with similar designs and hardware.
The particular model used for this review is the 7-inch Coby Kyros MID7042. But since most of the Coby Android 4.0 tablets have similar specs, this review can apply to most of the other models in a general sense as well.
Quick Review: Coby Kyros MID7042
Pros
The single-core 1GHz processor is surprisingly adequate, and the operating system is smooth, apps load fast, and most things responds quickly.
The five-point multi-touch capacitive screen works well; it is surprisingly sensitive and quick to react.
The device comes with a mini-HDMI port, microSD card slot, a front-facing camera for video chat, and a mini USB port with hosting capabilities (it even comes with the adaptor).
Cons
Battery life is a disappointing 5 hours, less for video, and the battery drains needlessly while in sleep mode.
The screen has a glittery quality to it that is especially noticeable when the screen is white.
The built-in camera is pretty awful, even by budget tablet standards.
Doesn't come with access to the Google Play store for apps.
Verdict
The Coby Kyros MID7042 is one of those tablets that a review could go either way on. It's right in that gray area of being not too bad and not too good. It runs relatively well and comes with a decent amount of features for the price, but it doesn't come with Google apps and the poor battery life is a killer.
The price you pay for it determines a lot. The MSRP is $179; it's not worth anywhere near that price given the fact you can get a Kindle Fire or Nook Tablet for just $20 more. It fits more into the sub-$130 price range. Maybe less. If it was $99 I would be singing its praises.
Price: $109-$159
Coby Kyros 7" ICS Tablet Video Review
Hardware
As mentioned above, the Coby Kyros MID7042 tablet comes with a fair number of features. It has a 3.5mm headphone jack, a built-in speaker, a microphone, mini-USB port with host, mini HDMI port, Wi-Fi, an accelerometer, and a 0.3 megapixel front-facing camera. It has 4GB of internal memory, 1GB RAM, and a microSD card slot for cards up to 32GB.
All of the Coby Kyros Android 4.0 tablets come with Cortex A8 1GHz processors. Dual-core processors are better but for a single-core processors the Cortex A8 is surprisingly effective. Transitions are smooth, videos are lag-free, and it can even handle some impressive video games.
As you would expect from a budget tablet, the build quality isn't the greatest. The device feels fairly sturdy, twisting it creates minimal creaking noises, but the back is that cheap smooth plastic that scratches easily.
Aside from volume buttons and the power button, there is a single button situated below the screen. I thought it would be a home button but it is actually a back button.
Screen
The Coby Kyros MID7042 has a 7" screen with a resolution of 800 x 480. It has a five-point capacitive touchscreen.
On one hand the capacitive touchscreen is quite nice and is above average compared to some other tablet's capacitive screens, but on the other hand the resolution isn't very good and the screen has a lot of visual noise (glitteryness), especially when the screen is white, which makes it a sub-par ereader.
Battery
The poor battery life is the main thing holding the Coby Kyros tablets back. 5 hours is brutal, and that's not even at full brightness or running it very hard. Just basically web browsing and playing a few games. The box states video playback is only 4.5 hours.
What's worse is that when the tablet is in sleep mode it still drains the battery. Excessively. Let it sit overnight and it will drop 15% easily. Leave it sit for a couple of days and the battery will be dead. That's not good. Nobody should have to shut down and restart a tablet every time they want to use it.
Software
This year's Coby Kyros tablets all run Android 4.0 Ice Cream Sandwich (ICS). The specific version is Android 4.0.3.
ICS is the latest and best operating system for Android tablets, and aside from the lack of Google apps on the Coby tablets, it lives up to its expectations. ICS runs well and is highly-customizable with widgets, and folders, and live backgrounds.
The biggest disappointment is the fact that Coby's tablets don't come with access to the Google Play Store for Android apps. They come with the GetJar appstore instead. But you aren't limited to just that.
Luckily, the Amazon appstore works too, and so do some of the other alternate appstores. Of course there will likely be a hack to add the Android Market to the Coby ICS tablets, but between Amazon, GetJar, and 1Mobile I found most of the apps I needed without having to mess with hacking.
Videos and Camera
I tried various types of videos on the Coby Kyros tablet and it seems to handle video well. I tried some AVI and MP4 test videos and they all played smoothly and transfer over HDMI to an HDTV well.
Netflix works. But it doesn't fit the video to the screen when using the HDMI cable; the black ICS bar remains at the bottom of the screen.
Flash doesn't come pre-installed but I was able to install the version from 1Mobile without a problem. Flash is always a little wonky on Android tablets but with some patience it seems to work okay. 1080p won't play but up to 720p worked from my tests.
The Coby Kyros tablet has an icon on the homescreen for YouTube, but it turns out it's just a bookmark for the mobile website, which is lame. I installed the actual YouTube app from 1Mobile and it works much better, although signing in to your Google account won't work.
The built-in front-facing camera is for video chat, not for taking pictures, although you can take pictures with it. I don't use video chat so I'm not going to review that, but I will say the 0.3 MP camera isn't very good. It looks like it is in black in white it is so bad. It can be adjusted, but even still pictures look very grainy and out of focus.
Similar 7" Android 4.0 Tablets
Coby Kyros MID7042 Specs
7" TFT display
Capacitive touchscreen with multitouch (5 point)
800 x 480 pixel resolution
4GB storage memory
1GB RAM
MicroSD cards up to 32GB
1 GHz Cortex A8 processor
Speaker, 3.5mm headphone jack, microphone
Front-facing 0.3MP camera
Mini HDMI port
USB host
Wi-Fi 802.11 b/g/n
Battery: up to 5 hours for web browsing, 4.5 hours video playback
Size: 7.56" x 4.8" x 0.4"
Weight: 12 ounces
Comes with protective pouch, USB cable, USB host adaptor cable, earphones, and power adaptor.
Price: $129 - $149