Copia eReaders and the Copia Tablet
The new line of Copia eReaders and Copia Tablet are expected to release soon, along with the Copia digital content delivery platform that is centered around social networking. In fact, the software ties in directly with Facebook and Twitter so that you can share your reading experience with friends, join group discussions, and send notes and clippings back and forth in real time.
Copia was first announced at the Consumer Electronics Show last January. Their initial line of reading devices was expected to launch in early Summer, but got delayed and now Copia has unveiled a completely new line of devices. As for Copia's social reading software, it is currently in beta testing and will likely launch within the next month. Stay tuned for more updates.
Subscribe to our RSS feed to be notified when this page is updated.
Copia's New Line of eReaders

Copia Wave 5 and Wave 7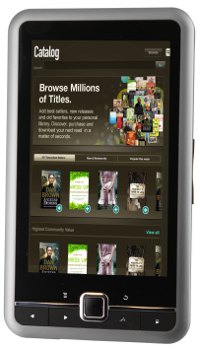 There are two versions of the Copia Wave, one with a 5-inch TFT screen and one with a larger 7-inch TFT screen, measured diagonally.
The Copia Wave 5 is expected to sell for $99 and the Wave 7 for $129. From the sounds of it, the Wave 5 looks to be the first Copia device that will be released—updates coming.
Other than the dimensions, the two devices share the same specs.
Both have 64MB RAM, come with 2GB of flash memory, and have SD memory cards slots for cards up to 32GB.
The screen resolution is 800 x 480 pixels, and the devices have portrait and landscape modes.
Additionally, there's a built in mono speaker and headphone jack for listening to music.
Copia Wave 5: Dimensions - 6.06" x 3.47" x .63" Weight - .42lbs.
Copia Wave 7: Dimensions - 8.13" x 5.24" x .63" Weight - .75lbs.
Supported Formats
Text: EPUB, PDF, TXT
Audio: MP3, AAC, WMA, WAV, OGG
Images: JPG, GIF, PNG, BMP

Copia Tidal and Tidal WiFi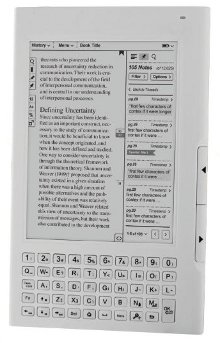 There are two variations of the Copia Tidal, one with WiFi (802.11b/g) that is expected to sell for $159 and one without that will cost $149. Both models share all the same specs otherwise.
The Copia Tidal features a 6-inch E Ink screen that supports 16 levels of grey, with a pixel resolution of 800 x 600.
The device comes with 2GB of flash memory and has an SD card slot expandable up to 32GB.
There are 5 font sizes, portrait and landscape screen orientations, and a built-in headphone jack.
Dimensions - 4.8" x 7.87" x .31" Weight - 9.3oz.
Supported Formats
Text: EPUB, PDF, TXT, HTML, PRC
Audio: MP3, AAC, WMA
Images: JPG, GIF, PNG, BMP

The Copia Tablet
Copia Tablet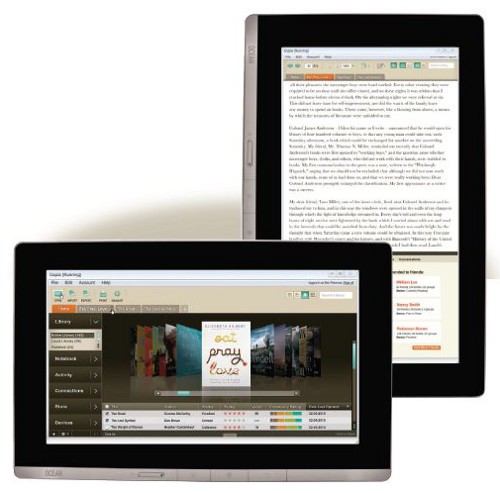 The Copia Tablet is indeed in interesting looking device, especially at the attractive price point of $299. A lot of the finer details are still uncertain, but here's what Copia's spec sheet reveals:
10.1" capacitive multi-touch color display
512MB DDR2 RAM, up to 200MHz
4GB Flash Memory
1024 x 600 pixel resolution
2D/3D graphics accelerator
Bidirectional tilt sensor
WiFi (802.11b/g)
Web browser
eMail
Instant Messaging
SD card slot (expandable to 32GB)
Stereo speakers
Earphone jack
Microphone jack
2 USB 2.0 ports
Dimensions: 10.67" x 6.9" x .6"
Weight: 1.12lbs
Copia Tablet Supported Formats
Text: EPUB, PDF, TXT, HTML, PRC
Video: MPEG4, WMV
Audio: MP3, AAC, WMA
Images: JPG, GIF, PNG, BMP

Copia: Reading Meets Social Networking
The Prototypes That Never Were
The six ereaders shown below were what Copia had initially planned to release, but with the constant changes in the industry, these particular models never made it to the market and never will. Copia instead elected to go with low-cost color ereaders, a tablet (thank the iPad for this), and a Kindle look alike that uses E Ink.
Copia Tidal eReaders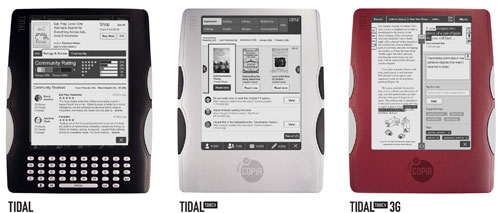 The Tidal line of Copia readers feature 6-inch screens that support 16 shades of gray, and have a pixel resolution of 600 x 800.
Two of the models feature capacitive touchscreens and the other doesn't have touch but a QWERTY keyboard instead. One touchscreen model comes with Wi-Fi and the other comes with Wi-Fi, 3G wireless, and a built-in speaker.
The basic model, the one without touch, comes with 2 GB of internal memory and doesn't have any expansion slots. Both touchscreen models come with 4 GB of memory and have microSD card slots. The touch models also have an audio jack, microphone, and 4 directional tilt sensor.
Copia Ocean eReaders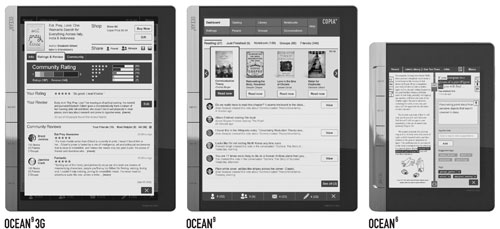 Copia's Ocean line of ebook readers all feature capacitive touchscreens, Wi-Fi, 4 GB of internal memory, 4 directional tilt sensor, audio jack, microphone, and microSD card slots.
The only difference between the two 9-inch models is 3G wireless. Both have built-in speakers but the 6-inch model does not. The 9-inchers have a pixel resolution of 768 x 1024, and the 6 is 600 x 800.
New eBook Readers