Cybook Gen3 Review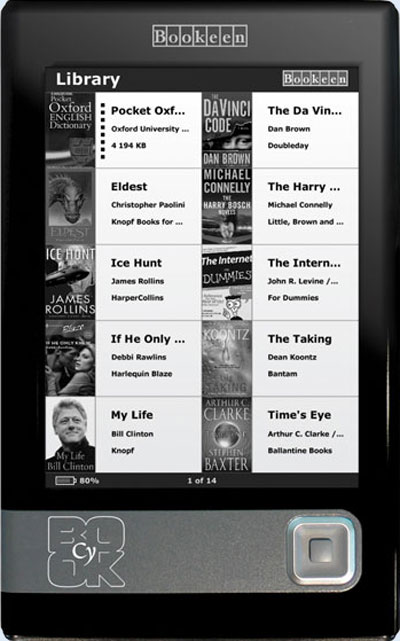 Overview
The Cybook Gen3 is a 6-inch ebook reader by Bookeen and is the European version of the Netronix EB-600, but with different firmware installed.
Unlike the Cybook Opus, the Gen3 comes installed supporting Mobipocket formats. You use Mobipocket Reader to manage your ebook library. Or, if you'd prefer the device to support DRM-protected EPUB and PDF files, Bookeen offers a firmware upgrade for this through use with Adobe Digital Editions.
Cybook Gen3 Features
At 174 grams (6.13 ounces), the Cybook Gen3 is one of the lightest ebook readers on the market among 6-inch E Ink ereaders. It is 188 x 118 x 8.5 mm in size and supports 4 levels of grayscale with a 800 x 600 pixel resolution.
Sporting a black plastic casing, it has a minimalistic design with a four-way navigation controller on the front and four small buttons on the left side for accessing the menu, music files, options, and delete. Below the navigation controller, on the bottom edge, there's a removable plastic panel where the USB port and headphone jack are hidden.
A huge perk over similar ebook readers, there are 12 different font sizes and a zooming options. You can also change font types if you copy font files to the device. Another quality feature, it offers dictionary support.
More versatile than the Cybook Opus, the Cybook Gen3 supports MP3 audio files and has a 2.5 mm headphone jack so you can drown out external distractions. The volume buttons are located on the bottom right edge of the device. Like the Opus it also supports JPEG, GIF, and PNG image files.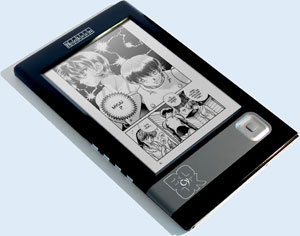 Not the most ergonomic ebook reader, the Cybook Gen3 doesn't have any dedicated page turn buttons; you must use the navigation controller on the bottom right, and being in the far right corner it's not in the most convenient of places to hold comfortably and turn pages at the same time. Also, the buttons are hard to press and sometimes don't register or jump forward too many pages.
It shows up as a storage device when plugged into your computer, making copying files as easy as dragging and dropping.
Depending on a few different versions, it typically comes with 64 MB of internal storage, and the device supports SD memory cards up to 2 GB.
PDF: New firmware revisions give the device 10 levels of Zoom and allow for scrolling, making PDFs more readable, but large files can take long to load or cause the device to crash.
Bookeen has two options for purchase: the basic model, which comes with a USB cable and quick start guide; and a deluxe version that comes with a leather case, 2 GB SD memory card, AC charger, extra battery, stereo headphones, USB cable, and quick start guide.
Bookeen's Video Demo
Cons
Users note that the navigation controller requires a firm press, too firm, to turn pages. And you often have to press the button more than once to get the page to turn.
Some users report problems with memory cards not working properly.
When you turn it on it doesn't go to where you left off, instead it highlights the book you were last reading.
With a plastic design, the Cybook Gen3 isn't as durable as other ebook readers.
Software prone to freeze-ups and crashes.
Users abroad complain of a lack of support when trying to contact Bookeen.
The leather case blocks use of charging and headphone ports; you must remove the case to access these.
Limited library sorting options.
eBooks for Cybooks
As stated above, the Cybook Gen3 works with Mobipocket out of the box. Mobipocket has around 120,000 titles to choose from on their website.
If you'd prefer to use Adobe Digital Editions you can get DRM-protected ebooks in PDF and EPUB formats from a number of online sellers. To get these formats you need to upgrade the firmware. Mobipocket doesn't allow DRM-protected ebook support for both their format and Adobe Digital Editions at the same time..
For a complete listing of ebook retailers visit our ebooks page.
Formats
Text: DRM-protected MOBI (PRC), and unprotected TXT, HTML, and PDF. Or Adobe Digital Editions support through firmware upgrade: DRM-protected EPUB and PDF, as well as unprotected TXT and HTML. Mobipocket doesn't allow DRM-protected EPUB in conjunction with their format.
Images: JPG, GIF, PNG
Audio: MP3
Technical Specifications
Dimensions: 188 x 118 x 8.5 mm; 4.7 x 7.4 x 0.3 inches.
Weight: 174 grams; 6.13 ounces.
Memory: 64 MB internal memory; 16 MB RAM; 8 MB ROM; SD card slot.
Display: 6-inch E Ink screen; 4 levels of grayscale; 600 x 800 resolution – 166 dpi; portrait and landscape modes.
Battery: 8,000 page-turns.
Headphone Jack: 2.5mm