Entourage Edge Preview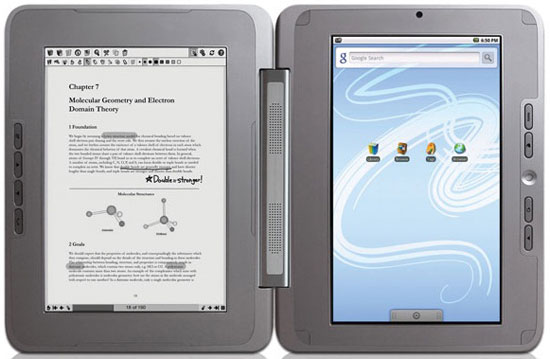 Overview
The Entourage Edge is one of a few new devices to build off the traditional ebook reader concept. With its unique "dualbook" design, the Edge combines the features of an ebook reader and a netbook in one. It features a 9.7-inch E Ink screen—the same screen size as the Kindle DX—and a 10.1-inch color LCD touchscreen.
In addition to being able to display Adobe EPUB and PDF ebooks, the Edge features a Wacom Tablet for writing notes and drawings directly on the E Ink screen with a stylus. The LCD screen is touch sensitive too, for both fingers and the stylus.
The LCD screen can also display content for reading with a backlight, as well as videos, web pages, pictures, etc. And it can be used as a keyboard, or you can plug a keyboard into one of the USB ports.
The Edge has Wi-Fi for browsing the web, it can send emails and IMs, can capture audio and video with the built-in microphone and webcam, and has a Google Android operating system that can run many different third-party applications.
It comes with Documents To Go software, giving it support for Microsoft Word, Excel, and PowerPoint files.
The Edge is currently available from the Entourage Edge website for $499/$539, depending on the color. The lowest priced model is midnight blue, the other colors are black, white, red, and ice blue.
Video Demonstration
Edge Specs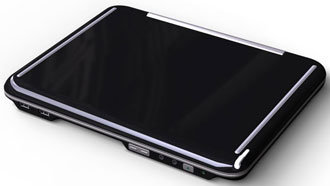 9.7-inch E Ink Screen with Wacom Tablet Touchscreen and 1200 x 825 pixel resolution, 8 shades of gray.
10-inch color LCD touchscreen with 1024 x 600 pixel resolution.
Google Android operating system.
Built-in 802.11b/g Wi-Fi.
Internet browsing capabilities.
Size (closed): 8.25" x 10.75" x 1.0".
Weight: 3 pounds.
Memory: 4GB (3GB available) and SD card slot.
Rotating screen.
Battery: 16 hours E Ink, 6 hours LCD.
Bluetooth compatible.
Built-in microphone, speakers, and webcam.
Supported Formats
Text: Adobe EPUB and PDF
DataViz Documents To Go Software: Microsoft Word, Excel, PowerPoint, and Zip
Audio: MP3, WAV, 3GPP, MP4, AMR, AAC, OGG, M4A
Video: 3GP, MP4, Adobe Flash Lite (H.264)

More New eBook Readers