B&N eReader iPad App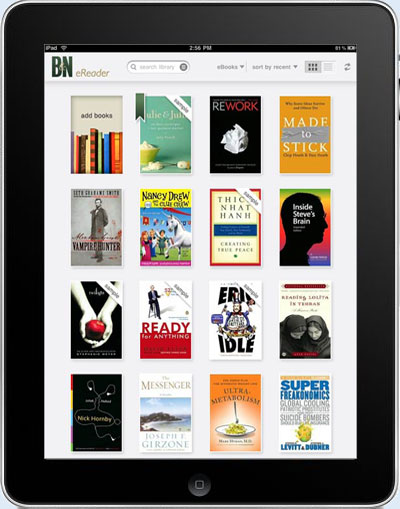 B&N's iPad App
It took nearly two months for Barnes and Noble to finally release their eReader iPad app; they probably decided not to rush it like they did with the Nook and receive criticism for releasing a glitchy, unpolished program.
So was the long wait worth it, you ask? Well, yes and no. The eReader iPad app offers some nice features and customization options that other iPad ebook apps don't, but its main failing is that you can't sideload ebooks into the program that you acquired elsewhere, even eReader ebooks—odd considering that's the name B&N chose for their software.
Here's a look at some of the B&N eReader iPad apps features:
LendMe features lets you share select ebooks for 14 days.
Download and read free samples of any ebook.
5 adjustable font sizes and adjustable line spacing.
Several different font types to choose from.
There are 5 themes to change background and text color options, and custom themes to create your own.
Turn justification on/off.
Synchronize notes, highlights, and last page read with BN eReader for PC.
Built-in Merriam-Webster's pocket dictionary.
Works with B&N's newspapers and magazines.
Two page landscape view.
Access to Google and Wikipedia for searches.
Video Review
Font Sizes & Landscape Mode
The B&N eReader iPad app has 5 different font sizes to choose from, and a generous 8 font types: Georgia, Amasis, Times New Roman, Joanna, Ascender Sans, Century Schoolbook, Gill Sans, and Trebuchet MS.
And like the iBooks app, it has a two column layout in landscape mode.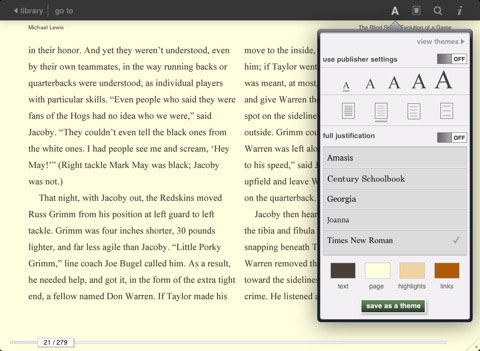 Themes: Change Appearance
One the best things about the eReader iPad app is the ability to change how the page and text appears. There are 5 pre-set themes: The Printed Page, Butter Pecan, Earl Grey, Night Light, and Mocha. And you can even create you own custom theme.
Themes allow for setting the font and line spacing options as well, along with turning full justification on and off.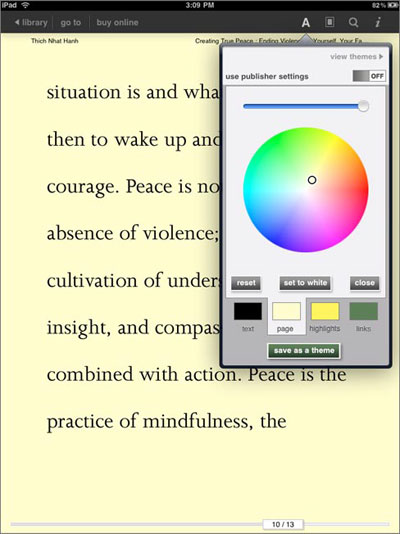 Notes
Add highlights and notes using the on-screen keyboard, which is synchronized with the PC app, but currently not the other Barnes and Noble eReader apps.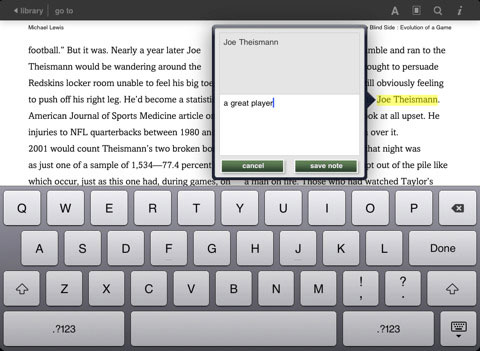 eBook Overview, Lending
The library view of your ebooks consists of a book cover layout as shown in the picture at the very top of this page. There is also a list view.
From the home menu you can select to see the ebooks description, where you can choose to lend it to someone, and it also shows your bookmarks, notes, and the table of contents.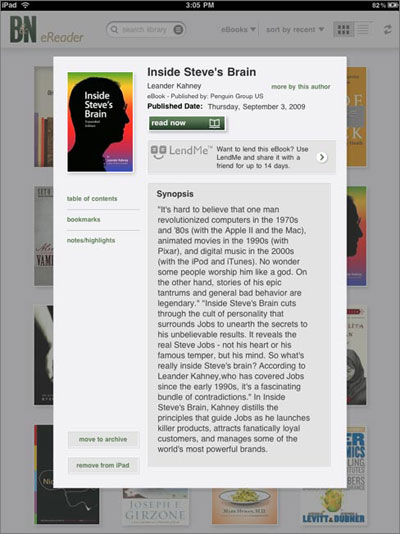 Searching Options
As expected, there's a searching option for finding a word or phrase within an ebook, and you can also search Wikipedia and Google.