Icarus Illumina HD Review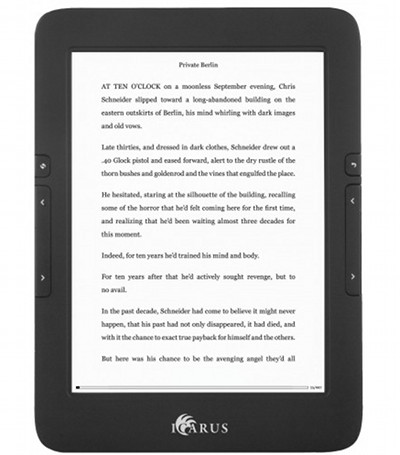 Review Date: August 2014 - Review unit loaned from Icarus
Overview
The Icarus Illumina HD is among the first wave of E Ink ebook readers to run open Android and have the ability to install Android apps. Most E Ink ebook readers, including the Kindle and Nook, are restricted to their respective ecosystems. You can't directly read Kindle ebooks on a Nook or Nook ebooks on a Kindle, but you can read both on an ereader that runs open Android.
The Icarus Illumina HD is available in different parts of the world under different names. The Illumina HD E653 is in fact a rebranded Boyue (or Boeye) T61. There's also an earlier model with the same name that doesn't run Android, model number E652.
The Icarus Illumina HD sells from IcarusReader.com for 119 euros (99 without VAT included), or 135 euros bundled with a cover. In the US it sells from Amazon.com for $182.95, plus $5.04 for shipping, and that includes a cover and four color choices.
Quick Review: Icarus Illumina HD (E653)
Pros
Lots of Android reading apps can be installed thanks to the open operating system.
The software runs better and smoother than any other Android ereader I've tested so far. No crashes, smooth scrolling with automatic partial refresh.
Nice compact design, feels solid and well built.
The device has a microSD card slot and physical page turning buttons.
Cons
It doesn't come with Google Play or any other Android appstores, so users need to be willing to install apps themselves through other means.
The frontlighting isn't quite as uniform as some other ereaders; there's a visible shadowing effect along the bottom of the screen.
Battery power drains faster than simpler ereaders.
No audio support.
Verdict
The Icarus Illumina HD is a unique ereader. The Android operating system makes it a lot more versatile than a typical E Ink ebook reader, giving the device the ability to support any ebook format via apps, and not just ebooks but all forms of digital reading from web browsing to comics and magazines. Usually the mix of Android and E Ink has the drawback of glitchy software with numerous bugs to put up with, but that's not case with the Illumina HD. The software runs surprisingly well with the preinstalled apps and various reading apps I tested.
The main disadvantage is the lack of Google Play or other onboard appstore. This makes it more difficult to setup having to sideload apps, but there are easy workarounds. The bottom line is the Icarus Illumina HD is an advanced ereader for advanced users. It's probably not going to be the best choice for someone just looking for a basic ereader to read Kindle books; it's better suited for those that want lots of choices when it comes to reading.
Update: The folks at Icarus have informed me that they will be including a curated appstore on the device with apps available for download starting in September 2014. They've also decided to drop the "HD" designation from the name to make it less confusing with the previous Illumina HD model. Note that this review will not be updated to reflect those changes since it was finished before they were introduced.
Icarus Illumina HD Video Review
Hardware and Design
The overall build quality of the Icarus Illumina HD feels solid. It's covered in a slightly rubbery, soft textured coating typical of ebook readers these days. It has a symmetrical design and fits in your hand well, with a thumb naturally resting on the page buttons that line each side of the screen. There's also a button for back and a dedicated page refresh button that turns the frontlight on and off when long-pressed.
The page buttons turn pages with the preinstalled ePub and PDF reading app (Adobe Reader), and scroll with other apps such as the web browser. They even work with many third-party apps, including Kindle and Kobo, when you enable page turning with volume buttons in settings.
The Illumina HD has a 6-inch E Ink Pearl display, with a resolution of 1024 x 758. It uses a two-point capacitive touchscreen, which works well for things like pinch-zooming. The device sports a frontlight too. The light has a nice white tone, and the levels have a lot of variance from very dim to bright. But the lighting isn't quite as uniform as newer ereaders like the Kindle Paperwhite 2 and Onyx Boox T68. There's a slight shadowing effect at the bottom of the screen reminiscent of earlier frontlight ereaders, like the Paperwhite 1 or Kobo Glo.
Along the bottom edge of the unit there's a microSD card slot, mini USB port, LED indicator light, reset port, and power button. Other hardware features include a dual-core 1GHz processor, 4GB of internal storage, 512MB of RAM, and Wi-Fi. The device lacks audio support, however, and does not have Bluetooth.
Software Features
The Icarus Illumina HD runs Android 4.2.2 Jelly Bean. Unlike the slightly larger Onyx Boox T68, it does not come with Google Play to install apps. In fact it does not come with any Android appstore at all. Users need to be willing to sideload apps themselves. The operating system is open so all you have to do is use the web browser or file manager to install the app's apk files.
I tried both the Amazon appstore and 1Mobile appstore and both worked well to install Android apps. Plus there's a method of installing apps from Google Play using the device's web browser and a third-party service that draws app files from the Play Store that works too.
Not all apps work on a device like this, of course. But most reading-based apps install and work correctly, with the exception of Google Play Books, which didn't work at all when I tried it (the device doesn't support Google apps so that's not surprising). The built-in reading app supports Adobe DRM, though, so Google's ebooks could be loaded into it. Other third-party apps like Kobo, Kindle, and Nook all work well enough to use. In fact the Kindle app comes preinstalled. So does Aldiko and Adobe Reader.
The Illumina HD also comes with a bol.com ebooks app. It's not in English so I didn't test it. Other preinstalled apps include gReader for RSS feeds (I use Feedly instead and it works too), there's a calculator, file manager, dictionary, email, and notepad app. Other apps that work well include Dropbox, Comixology, Nova Launcher, OverDrive, and Opera Mini.
The best ePub reading app for the Icarus Illumina HD is likely Moon+ Reader. It doesn't come preinstalled but it probably should. It has way more features than the built-in Adobe Reader app, and the page buttons even work. The only problem is some of the menus don't translate well to E Ink and are illegible. It's a really nice reading app once everything is setup properly, though.
The Kindle app works pretty well too. For some reason it's way more stable than the Kindle app on the Onyx Boox T68, which tends to crash when accessing the Kindle store. On the Illumina HD, the Kindle store works really well, with no crashing whatsoever. All the app's features work as they should, except audiobooks because the device doesn't support audio. Even page turns are smoother than on the T68 for some reason: there's less of a sliding effect, so text tends to remain darker and smoother when paging.
Overall I've been surprised by how well the software performs. The device loads quick and is nice and responsive. I've experienced no problems with freeze-ups or crashes. I like how partial refresh mode has been incorporated into the software so that it automatically kicks on whenever scrolling to make things smoother; on the Onyx T68 you have to turn on and off partial refresh manually, which is kind of a pain.
Additional Icarus Illumina HD Reviews
Below are some additional reviews for individual apps and features.
Comparison Reviews
Onyx Boox T68 vs Illumina HD »
Illumina HD vs Kindle Paperwhite 2 »
Icarus Illumina HD Specs
6" E Ink Pearl HD display.
1024x758 screen resolution.
Android 4.2.2 operating system.
Two-point capacitive touchscreen.
LED frontlight, with adjustable brightness dial, plus on/off.
Four page buttons (two on each side), back and screen refresh buttons.
1 GHz dual-core processor.
512MB RAM.
4GB internal memory.
MicroSD card slot for cards up to 32GB.
Wi-Fi 802.11 b/g/n.
Supported formats: Adobe DRM, EPUB, PDF, FB2, MOBI (without DRM), TXT, RTF, HTML, HTM, CHM, PDB, DjVu, DJV, ZIP, RAR, and more via third-party apps.
Weight: approximately 200 grams.
Dimensions: 159 x 112 x 8.5 mm.