Onyx Boox T68 Lynx Review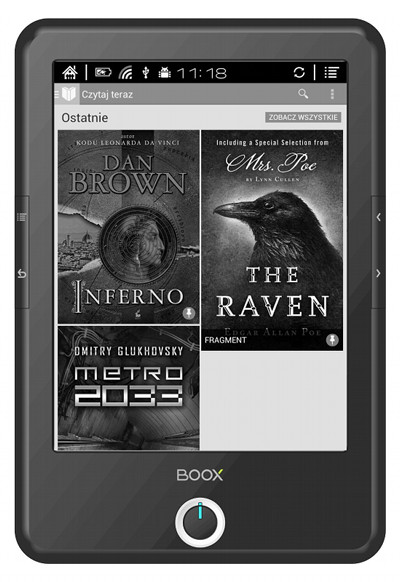 Review Date: July 2014 - Review unit purchased from Amazon
Overview
The Onyx Boox T68 is among the first E Ink ebook readers to run open Android with the ability to install third-party Android applications from Google Play. This makes the device a lot more versatile than common closed system ereaders.
The Boox T68 is also unique because of its screen. Most devices that run Android are tablets and phones with LCD screens. The Boox has an E Ink screen instead, and it's the second ebook reader behind the Kobo Aura HD to feature a high resolution 6.8-inch E Ink Pearl display, whereas most E Ink ebook readers, such as Kindles and Nooks, use slightly smaller 6-inch screens.
The Onyx Boox T68 is available in at least four different variations. There's the Arta Tech version that is referred to as the Lynx. It sells from Amazon in the US, UK, Germany and Italy, as well as on Onyx-boox.com. Then there's the regular Boox T68 model with no additional branding from Onyx International that sells from websites such as eReader-store.de. And there are two Russian versions, the T76ML Cleopatra and T76SML Nefertiti—all have the same specs and run Android 4.0.4, except the Nefertiti lacks a touchscreen.
Quick Review: Onyx Boox T68 Lynx
Pros
The high resolution (265ppi) E Ink screen looks great, text is clear and sharp, and the frontlighting is evenly distributed across the screen.
The Android operating system allows the installation of Android apps from Google Play, including a number of ereading apps, making the T68 a lot more versatile than a typical E Ink ebook reader.
In addition to the two-point capacitive touchscreen, the Book T68 has physical page and navigation buttons, which suits ereaders well.
It has a microSD card slot for additional storage space, and Bluetooth and a headphone jack for listening to music and text-to-speech.
Cons
There's more to learn initially to get things setup the way you want than with a typical ebook reader, and users need to be willing to test and learn how different Android apps work with an E Ink screen.
Not all Android apps work well because they are designed for Android tablets and phones with LCD screens, not ebook readers with E Ink screens. At times menu items aren't visible, text isn't as sharp as it could be, and some apps crash a lot.
The touchscreen is a little off. Sometimes the device registers touches inaccurately or doesn't recognize a tap. The first software update improved the touchscreen accuracy, items along the bottom of the screen respond a lot better now, but some fine tuning is still needed.
Bugs: Running open Android on an E Ink device is a relatively new concept, not everything runs as smoothly as it could, and some things need to get worked out with future software updates. Some users, including myself, have experienced an issue when the battery gets below a certain point (50% for me) it causes the T68 to get stuck in an endless boot loop until being plugged into a charger.
Verdict
Personally, I really like the Onyx Boox T68 despite the learning curve and the few bugs I've encountered with the device. It's nice to finally have an E Ink ebook reader that runs open Android and can install most reading apps and isn't locked down to a single format or reading platform. But the software alone isn't enough to make it a good ebook reader. That's what's great about the T68: even if it didn't run Android, the hardware alone would make it a standout ebook reader.
That being said, the T68 isn't the type of device for everyone. The software is open and there are so many things you can do, apps to install, and customizations to make that it doesn't suit a person who prefers something simple and easy. People who only want to read Kindle ebooks or Kobo ebooks are better off just getting a Kindle or Kobo. The Boox is for those that want to read ebooks from multiple sources, and not only ebooks, but all forms of digital reading, including comics, web reading, Rss, email, PDFs, etc.
Price: $199 at Amazon
Onyx Boox T68 Lynx Video Review
Onyx Boox T68 Tips and Tricks Guide »
Hardware and Design
It's hard not to compare the Boox T68 with the Kobo Aura HD because they are the only two devices to feature E Ink's larger and higher resolution 6.8-inch 1440 x 1080 screen. The Kindle Paperwhite, for example, has a more typical 6-inch 1024 x 758 screen. An extra 0.8-inches doesn't sound like a lot, but when the two devices are side-by-side the difference seems much greater. The T68 has a larger overall design than the Kobo Aura HD, and that makes it seem even bigger.
But I like the T68's design a lot better than the Aura HD. First, the T68 is a lot thinner and more comfortable to hold. Even though the overall size is larger, it actually weighs less than the Aura HD. And the T68 sports a soft textured coating front and back that offers more grip than the slick plastic on the HD. The Aura HD's screen looks slightly clearer and sharper, and the frontlight is a little whiter in tone, but the T68's screen still looks really good too, and the frontlighting is even.
The Boox T68 has a capacitive touchscreen that supports two-points touch for things like pinch-zooming. There are physical buttons as well. There are front and back page buttons along the right side of the screen. These work with all the pre-installed reading apps, but not third-party reading apps. Some apps they work for scrolling. Along the left side of the screen there are buttons for menu and back. Below the screen is a nav wheel for moving a cursor around the screen and for adjusting text size in the pre-installed reading apps. This will turn pages with most third-party reading apps including Kindle, Kobo and Google. There's also a selection button. Holding it down turns the frontlight on and off.
The Boox T68 supports audio and text-to-speech but it doesn't have a speaker. You can connect speakers or headphones to a 3.5mm headphone jack or with Bluetooth. Both options work well for audio playback. I tested Pandora with Bluetooth headphones and it worked very well streaming music in the background while reading and doing other things.
Other hardware features include a dual-core 1GHz processor, 512MB of RAM, Wi-Fi, and a microSD card slot.
Software Features
As mentioned above, the Onyx Boox T68 runs Android 4.0.4 and comes with Google Play to install apps. This is what makes it so unique from other ebook readers. Devices like the Nook Touch and Kobo ereaders can be hacked to run open Android, but the T68 is one of the first to openly allow third-party apps to be installed on an E Ink ebook reader. Since apps are designed for phones and tablets with LCD screens, it's a crapshoot whether or not they will work well on E Ink.
Most reading-based apps do work well enough to be functional. You can find individual reviews for several below in the next section.
The main problem is that many third-party reading apps use animated page transitions that don't translate well to E Ink. It causes the text to jumble for a second and can lead to afterimages showing on the screen or rough, light colored text. Some people don't mind it while others do; it comes down to personal preference. Onyx added the option to force a full screen refresh by holding the menu button, so that does help when the text becomes fuzzy and the screen shows afterimages.
The preinstalled reading apps have all been optimized for E Ink and have the option to customize the page refresh settings. The preinstalled reading apps include AlReader, FBReader, OnyxReader, and Cool Reader. There are tons of reading and text settings available—many are shown in the video review above. Each app offers something different. The OnyxReader app supports Adobe DRM for encrypted ePub and PDF ebooks.
Other preinstalled apps include a web browser, calendar, calculator, music player, email, dictionary, search, and the Google Play store. A number of other apps can be installed too.
Some third-party apps work really well on the Boox T68, almost like they were designed for E Ink. But other have animations or color schemes that don't work well on a black-and-white E Ink screen. Onyx incorporated the option to switch to partial refresh mode using the A2 setting on the menu bar, and that can help make some apps work better. It especially helps with things like scrolling because it keeps the E Ink screen from flashing and refreshing constantly.
There are countless ways to use and setup the Boox T68 because the open software is so flexible. The only downside with that is not everything is as smooth and optimized for E Ink as simpler ebook readers like the Kindle and Kobo ereaders. Those type of devices are more basic but the software has been tailor-made for E Ink and has been in development for many years. Things like page transitions and pinch zooming are often smoother on simpler ebook readers than on the Boox.
Additional Onyx Boox T68 Reviews
Below is a list of reviews for individual apps and features on the Onyx Boox T68.
Comparison Reviews
Onyx Boox T68 vs Kobo Aura HD »
Onyx Boox T68 vs Kindle Paperwhite 2 »
Onyx Boox T68 Specs
6.8" E Ink Pearl display.
1440x1080 screen resolution (265 dpi).
Operating system: Android 4.0.4 with Google Play
Capacitive two-point touchscreen.
Built-in LED frontlight, with adjustable brightness settings, on/off.
Page buttons, nav wheel, menu and back buttons.
1 GHz Cortex A9 processor.
512MB RAM.
4GB internal memory.
MicroSD card slot.
Wi-Fi 802.11 b/g/n.
Supported formats: Adobe DRM, EPUB, PDF, MOBI (without DRM), TXT, RTF, HTML, CHM, DOC, FB2, PDB, DjVu, ZIP, and more via third-party apps.
Text-to-speech: IVONA (preinstalled with Polish, English and German voices)
Preinstalled apps: Gallery, Internet Browser, Calendar, Calculator, Music player, Onyx Boox store, AlReader, Email, QuickDic, Google Play Store, Search, Clock, FBReader, OnyxReader, Cool Reader.
Weight: 236 grams.
Dimensions: 194.2 x 132 x 8.8 mm.
Price: $199, 179 €.