Kobo Glo Review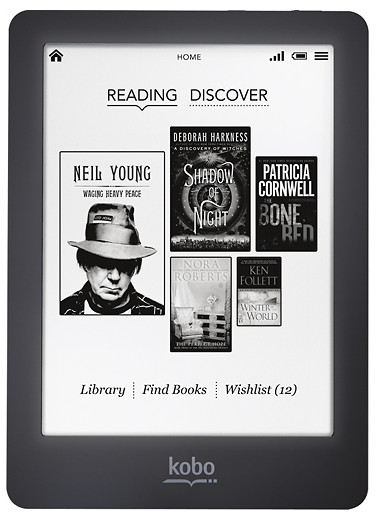 Review Date: December 2012 - Review unit purchased from Powell's Books
Overview
The Kobo Glo is among the first wave of ebook readers to incorporate a frontlight to achieve better radiability in low lighting conditions, especially at night. It is the first lighted ebook reader from Kobo, and is very much akin to Kobo's other two currently available ebook readers, the Kobo Mini and Kobo Touch.
The Kobo Glo comes in black or white with options for different colored backs. Aside from color, the various models are otherwise identical from a features and software standpoint.
Quick Review: Kobo Glo
Pros
The frontlight.
Lots of customizable font settings.
It feels well-built and comfortable to hold.
MicroSD card slot.
Noticeable speed boost with the 1 GHz processor.
Cons
Kobo's overall approach still isn't nearly as polished and streamlined as Amazon with the Kindle; Kobo isn't as easy to deal with and learn for newbies and non-techies.
Lots of wasted space when reading, needs option for fullscreen mode and removal of spaces between paragraphs.
PDF support is lacking.
No landscape mode for ebooks (PDFs have it).
Frontlit ereaders tend to have slightly grayer text than non-frontlight ebook readers and subtle shadows near the LED lights—the Kobo Glo is no exception.
Verdict
The Kobo Glo is the sleeper pick of the year. It doesn't have quite the ease of use as the Kindle Paperwhite, nor some of the advanced features, but it has a lot more font settings, a more uniform frontlight, no annoying advertisements, and it supports Adobe ePub for ebooks from a variety of sources, making it a solid alternative to the Kindle. The high-resolution screen and better frontlight beats out the GlowLight Nook Touch too. Overall, the Kobo Glo has some annoying quirks and a few deficiencies, but it's still one of the better choices for a dedicated ebook reader.
Price: $129 at Powell's Books, Indigo, WHSmith
Kobo Glo Video Review
Comparison Review: Kindle Paperwhite vs Kobo Glo »
Hardware and Design
The Kobo Glo is almost identical to the Kobo Touch from a design perspective. The only difference is it no longer has a physical home button below the screen and the quilted pattern on the back is more subtle. Without the button, it's about a quarter of an inch shorter than the Touch. The Glo is also noticeably lighter, weighing in at just over half an ounce less.
The Kobo Glo brings some upgrades over the Touch, including the frontlight, a new higher resolution 1024 x 758 E Ink Pearl screen, and a faster processor.
It still uses an infrared touchscreen and doesn't have any physical page turning buttons. The memory is still the same too at 2GB, and there's a microSD card slot for cards up to 32GB.
The high resolution screen is a nice upgrade, but in all honesty the difference is hardly noticeable in real life. Text is a little sharper and clearer, especially smaller text, but the high resolution screen certainly doesn't give enough of a reason to be a deciding factor over another device. For instance, the Sony PRS-T2 with the standard E Ink screen is just as easy to read. If anything the text looks a little darker without the frontlight layer.
Like Kobo's other ereaders, the Kobo Glo is covered in a soft texture front and back that feels rather pleasant to the touch. The only problem with it is it shows smudges. And instead easily wiping away with a cloth they mostly just spread around and make it look dingy.
Speaking of dingy, the screen has sort of a rough and dirty appearance when viewed at an angle, whereas the Kindle Paperwhite looks really clear. Head-on you can't really notice it, but side-by-side the Kindle's screen is sharper and clearer. It must have something to do with the layer used for the frontlight.
Kobo decided to use a faster 1Ghz processor with the Kobo Glo and that was a good choice because it provides a noticeable speed boost over the Kobo Touch and Kobo Mini. It's not like it's as fast as a tablet of anything, but when you are used to the slower 800 MHz processor it's a noticeable improvement.
The Frontlight
2012 is the year of the frontlight ereader so it's not surprising to see Kobo release a frontlight-equipped ebook reader of their own. The Kobo Glo uses the same technology as the Kindle Paperwhite and GlowLight Nook Touch with small LED lights built into the frame and a light layer over the screen to distribute the light.
Like other frontlight E Ink ebook readers, the Kobo Glo's lighting isn't perfectly uniform over the entire screen, especially when compared to something like a tablet. But it is the most evenly lit frontlight ebook reader I've seen. It doesn't have the large shadowy areas like the Nook Glow and there's no weird discolorations like with the Kindle Paperwhite.
The screen is a tad brighter at the top and there's a subtle line of shadows at the bottom of the screen. Kobo tries to hide the shadows with a black bar on screen, but there's an option in settings to turn the black bar off and I think it looks better without it because the shadows are hardly noticeable.
The brightness of the light is adjustable with an on-screen slider bar, and unlike the Kindle Paperwhite, the frontlight can be turned off completely by pressing a button along the top edge of the device.
The lighting appears mostly white in tone and is noticeably brighter than the Kindle Paperwhite and Nook Glow at the highest and lowest brightness settings. It could stand to have a slightly lower minimum brightness setting, though.
There's no question the frontlight is nice addition to the Kobo ereader. It makes it so you can easily and comfortably read in any lighting conditions from direct sunlight to the dark of night. This is what ebook readers should have been years ago (Sony tried with the PRS-700 but it didn't catch on back then).
Software Features
The Kobo Glo's software is almost exactly the same as the software on the Kobo Touch and Kobo Mini. In fact I might as well just pull a couple of paragraphs from the Kobo Mini review instead of trying to re-write it differently:
One of the best things with Kobo's software is that it offers more layout and font settings than most other ebook readers. You can fine-tune font boldness and sharpness exactly how you want it, along with margins and line-spacing, and you can even load in additional fonts of your choice to go along with the 10 already available. The only downside is that not all the layout setting always work for every ebook, especially sideloaded ebooks. Sometimes it's hit or miss when adjusting margins and line spacing.
The only thing I don't like with the way Kobo's ereaders display text is there is too much wasted space. At the bottom of the screen there's a huge block for the page numbers, and some books always show the book title at the top of the screen. Combine that with the fact that most Kobo ebooks uses spaces between paragraphs instead of indentations, it really makes for lots of blank space, especially with dialogue. Kobo really needs to add the option for full screen mode.
Other reading features include notes, highlights, bookmarks, and Facebook sharing. There's Kobo's unique reading stats and awards features. It has search and table of contents support (a single level list). There's a page slider and you can jump back and forth between chapters. There are built-in dictionaries for English, German, and Nederlands, as well as translation dictionaries for English, Spanish, German, and Italian, and you can load in other dictionaries too.
The device also supports several languages, including English, French, German, Italian, Spanish, Portuguese, and Japanese.
As far as organizing content, the Kobo Glo breaks your library down into four sections: books, news and magazines, previews, and shelves. You can view ebooks as book covers or a list. Sorting options are by title, author, file type, recent, and date added. With shelves you can create different lists of your ebooks to organize them.
Additional eBook Formats and Stores
The Kobo Glo supports ebooks in the following formats: EPUB, PDF, HTML, TXT, RTF, CBZ, CBR.
When it comes to PDF files and comics, the Kobo ereaders are rather basic and don't offer very much in terms of features. There's a zoom dial for zooming in and out, no presets, reflow, pinch-zooming, or advance features whatsoever. Not even any of the typical on-screen features work. No notes, no highlights, no dictionary. Nothing.
One of the nice things about the Kobo Glo is it supports ebooks from sources other than Kobo. Any website that has ebooks with Adobe DRM will work. That's the most widely used format, so there are plenty of choices, including free ebooks from libraries. Of course Kobo doesn't make loading these ebooks easy; you have to use a computer with Adobe Digital Editions installed to transfer them with a USB cable.
Extras
There's an Extras section accessible from the settings menu that provides access to some additional features. There are a couple of games, Sudoku and chess, as well as a sketch pad for freehand drawings and a web browser for reading on the web and downloading ebooks.
The web browser has just a few basic features, and the text is generally faint and sometimes hyperlinks take a couple of presses to react, but scrolling is surprisingly smooth and the zoom dial at the bottom of the screen works pretty well given the lack of pinch-zooming. Overall, web reading isn't very pleasant, but at least it works okay for downloading ebooks from popular free ebook websites like Feedbooks. It doesn't work with DropBox however; links won't react to download.
Who Should Buy a Kobo Glo?
The Kobo Glo is a good choice for anyone who wants a frontlit ebook reader that supports ePub format and offers a ton of font adjusting options. I still feel like the overall ereading experience and software is more polished and user-friendly on the Kindle Paperwhite, but the Kobo Glo is more open and comes with a microSD card slot and has a more uniform frontlight, and provides a good alternative to the Kindle if you for whatever reason don't like Amazon's ecosystem.
Kobo Glo Specs
6" E Ink Pearl display with 16 levels of grayscale.
1024x758 screen resolution.
Neonode zForce infrared touchscreen.
Built-in ComfortLight for reading at night.
1 GHz Freescale processor.
2GB internal memory,1GB available.
MicroSD card slot.
Wi-Fi 802.11 b/g/n.
Supported formats: Adobe DRM, EPUB, PDF, JPEG, GIF, PNG, TIFF, TXT, HTML, RFT, CBZ, CBR..
Battery Life: up to 4 weeks; up to 70 continuous hours with frontlight on.
Weight: 6.5 oz – 185 grams.
Dimensions: 4.5" x 6.2" x 0.4" — 114 x 157 x 10 mm.
Price: $129.