iPad 3 vs Asus Transformer Review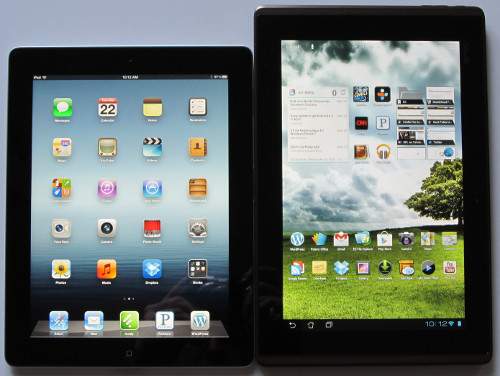 Introduction
This comparison review is between the iPad 3 and original Asus Transformer specifically, but can be referenced as a general comparison review between the new iPad and many Android 4.0 Ice Cream Sandwich tablets too since they have similar software and features, just with different hardware.
In a lot of ways it's an iOS 5.1 vs Android 4.0.3 review when it comes right down to it. Hardware and software are two very different aspects to consider when buying a tablet.
iPad 3 vs Asus Transformer Video Review
Hardware
When comparing the hardware between the iPad 3 and original Asus Transformer, they are similar in many ways. Both have dual-core 1GHz processors, front and rear-facing cameras, Wi-Fi, Bluetooth, microphones, speakers, headphone jacks, and roughly the same battery life.
According to benchmark tests, the iPad has the edge in the graphics department with its quad-core graphics chip, but I've never had an issue with the Transformer in that regard so the actual benefit is hard to pinpoint.
The biggest, most noticeable difference between the two devices is the screen, aside from the operating systems of course.
Both tablets use LED IPS screens, and the viewing angles are fantastic. The iPad uses a 4:3 ratio and the Transformer has a 16:10 ratio. This equates to the iPad's screen being about 1/2" wider than the Transformer's, and the Transformer's display being about 3/4" taller.
The iPad has a 9.7" screen measured diagonally with a resolution of 2048 x 1536—that's 264 pixels per inch (ppi). The Asus Transformer has a 10.1" screen with a resolution of 1280 x 800, which equates to 149 ppi.
I've always considered the Asus Transformer's screen better than similar 10" Android tablets because of the IPS display, but the iPad 3's high pixel density screen is even better. Colors are brighter and images have more depth and text is sharper, clearer and darker, especially small print.
So the iPad definitely has the edge in the screen category, and it is also slicker than the Transformers so it doesn't get gummed up when playing video games with on-screen controls. However, the iPad's screen shows fingerprints more, especially when the background is white, and they tend to build up faster. Both screens are glossy so it's a tie in that regard.
When it comes to ports, the iPad doesn't have a leg to stand on, just a proprietary connector that requires special adaptors (and by special I mean expensive) to connect to a TV, camera, etc.
The Asus Transformer on the other hand has a mini HDMI port and microSD memory card slot, and if you get the optional keyboard dock for the Transformer, it has a standard SD card slot and two full-sized USB ports.
For audio, both tablets have headphone jacks and Bluetooth. The Transformer has a speaker on each side so it has better stereo sound in that it emanates from both sides, but the speakers are absolutely awful. The iPad has one speaker on the bottom right corner that is prone to being muffled but at least it sounds okay.
All in all, the iPad's build quality with its metal back is a notch above the Transformer's hard plastic, but that's not surprising because this is the first generation Transformer, not the newer Transformer Prime or the even newer Transformer Infinity, which have a number of hardware upgrades. That being said, the Transformer 1 is still a really nice tablet and it offers more versatility over the iPad with the additional ports and optional keyboard dock accessory, which makes typing a lot easier.
Software - Android vs iOS
Hardware is only part of the equation. Software is where the real differences between the iPad and Android tablets lie, whether it be the original Transformer, the Transformer Infinity, or the number of similar Android devices.
The iPad's interface is more simple and straightforward, and is often more polished and smoother from an operation standpoint. Apps tend to work better and look better than their Android counterparts.
On the other side of the coin, Android is more open and customizable. The file system is more user-friendly for transferring files to and from the tablet, the homescreens have widgets and a number of options for customization, and Android tablets support Adobe Flash.
One of the biggest differences is that Android apps can be obtained from many sources, including Amazon for a free paid app everyday. And what's better is that these apps are compatible with hundreds of tablets and phones now and in the future, so you can keep your apps and move them from different brands of devices. With the iPad, the apps you purchase are always only going to work with Apple's devices now and in the future.
Another thing I've noticed about apps is that Android tends to have a lot more free apps than Apple, and better free apps. They often have ads but the selection is wide and varied. The iPad definitely has more of a buy-centric atmosphere, but the apps are generally better quality.
Both tablets have notifications and app grouping, meaning you can drag apps together on the homescreen to create folders. And both tablets have their own versions of multitasking. The iPad has a recent apps list that's accessible by double-pressing the home button or swiping up on the screen with four fingers, and you can swipe left to right on the screen to quickly switch from app to app. Android has an on-screen button to show the list of recent running apps with a thumbnail image of the apps' last state. Both systems work about the same. You generally can't have two apps open at once, unless it's running in the background like music apps.
In the end, Android tablets are more centered around Google's platform, so Google apps and services are favored and tend offer more features in that regard, where the iPad primarily centers around Apple's ecosystem for content, obviously.
My take on the whole Android vs Apple situation is this:
1. Go with Android if you want to spend less money in the long run for apps and content; go with Apple if you want apps that look better and run smoother (generally).
2. Go with Android if you want more control over your device, file management (folders), memory card support, open operating system; go with Apple if you want a more family-friendly, secure environment, where everything is more controlled and locked-in to one central platform.
iPad Screenshots
Transformer Screenshots
iPad 3 vs Asus Transformer: My Opinion
I've had the Asus Transformer for nearly one year and still use it everyday. It has some flaws but is a great tablet for the price and comes with some really nice apps pre-installed. I've had some issues with it since the Android 4.0 update, some of which have improved with the latest firmware update, but it still reboots by itself sometimes. I'd still recommend it, though, especially since the price is going down with the newer Transformers coming out.
The iPad 3 on the other hand is brand new. It's only been out for about 1 week as of this review, but it is clear that it's going to be as popular as ever with its new Retina display that really sets it apart from all other tablets. It runs very smooth and fast, and even a little too hot at times, but overall it is a very polished machine. And it's the first iPad that I have actually liked.
iPad 3 vs Asus Transformer: Specs
| | Apple iPad 3 | Asus Transformer |
| --- | --- | --- |
| Screen Size | 9.7-inch LED-backlit IPS | 10.1-inch LED-backlit IPS |
| Resolution | 2048 x 1536 | 1280 x 800 |
| Processor | 1GHz dual-core Apple A5x w/ quad-core graphics | 1GHz dual-core NVIDIA Tegra 2 |
| Operating System | iOS 5.1 | Android 4.0 |
| Storage | 16GB/32GB/64GB, no memory card slots | 16GB/32GB, microSD card slot |
| Memory | 1GB | 1GB DDR2 RAM |
| Wireless | WiFi, Bluetooth 4.0, 4G optional | WiFi, Bluetooth 2.1 |
| Front Camera | VGA | 1.2 megapixel |
| Rear Camera | 5 megapixel, 1080p video | 5 megapixel, 720p video |
| Input/Output | 30-pin connector, 3.5mm headphone jack, 1 speaker, mic | mini-HDMI, proprietary USB, 3.5mm headphone jack, 2 speakers, mic, microSD card, keyboard dock for additional ports (optional; ~$125) |
| Battery | 9-10 hours | 8-10 hours, 15 with keyboard dock |
| Weight | 23 oz | 24 oz |
| Thickness | 0.37" | 0.51" |
| MSRP | $499-$829 | $399 |