Kindle Fire Review Page 2
Amazon developed their own special web browser for the Kindle Fire called Amazon Silk. What it does is it uses Amazon's servers to help speed up loading time. This does seem to help page loading speed in some instances, but it isn't consistent—some pages load fast while others seem to take forever.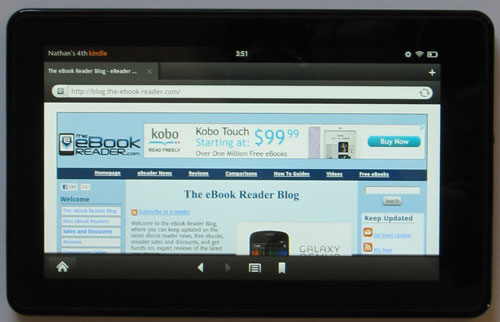 The Silk browser really isn't that much different from other Android web browsers. It features tabbed browsing and can have up to ten windows open at one time. Double-tap or pinch to zoom in. Zoom in and double-tap and it will re-flow the text to fit the screen. Holding down on a link brings up the usual Android functions. You can also select text to copy and paste, although that can be a little tricky at times.
Like the Honeycomb web browser, the Silk browser uses thumbnails for bookmarks, which get added to the homescreen carrousel and can be added to your favorites shelf as well.
The Silk browser can download files and even Android apps from non-Amazon sources. It supports Adobe Flash, Javascript, cookies, and can remember passwords.
All in all the Silk web browser isn't anything revolutionary, but it does work fairly well, and I do prefer it to the regular stock Android web browser. It doesn't have nearly as much going for it as the Dolphin HD browser, though.
Music and Audio
The Kindle Fire is different from other Android tablets in that it integrates directly with Amazon's music store. You can move purchased songs onto the device or store them in the cloud.
Amazon's Cloud Player even allows you to upload your own music collection. They offer 5GB of free space, and plans start at $20 per year for 20GB. You can sideload MP3 and AAC songs the old-fashioned method too with a USB cable.
There are other music apps available from Amazon's appstore as well, including Slacker Radio, Pandora Internet Radio, and TuneIn Radio for local radio stations.
For audio output the Kindle Fire has a headphone jack and two stereo speakers on top edge. The speakers aren't great but are better than most tablets; at least they are loud enough to hear.
Android Apps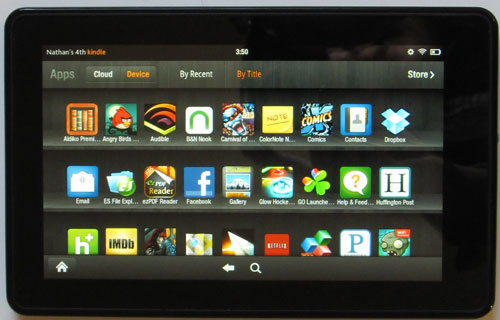 The Kindle Fire can install apps from Amazon's appstore as well as other third-party appstores and websites. To install non-Amazon apps you have to go to settings, then device, and then select to install apps from unknown sources.
The Amazon appstore has a good selection of Android apps, over 20,000. That blows away the Nook appstore, which has less than 10% of that. Still, the official Android Market has over 300k apps.
The best thing about the Amazon appstore is they giveaway a paid app for free every single day. That in itself makes the Amazon appstore worth using. I have over 150 free apps. Most of the daily freebies are games, but sometimes useful productivity or utility apps show up.
The Android apps from Amazon's appstore don't all appear in the Kindle Fire's appstore. A lot of these will work; Amazon just doesn't want you to use them, so you have to sideload the apps from somewhere else. This includes other ereading apps like Kobo and Aldiko, web browsers, and launchers. With other launchers you can bypass the Kindle Fire's homescreen and setup a typical Android homescreen to organize it however you want with apps and widgets.
Games
The Kindle Fire makes for a decent gaming tablet, especially since Amazon gives away more games than anything else with the free daily app.
All the games I tested on the Kindle Fire worked well—Angry Birds, Plants vs Zombies, Paper Plane 2, the highly-underrated Zombie Rider, some card games and puzzle games, and others. It does occasionally lag now and then, but nothing too annoying. It even fairs well with Pandora music running in the background.
Amazon Videos, Netflix, YouTube, Hulu
One of the things the Kindle Fire does exceptionally well is play video, and it comes with plenty of options for watching TV and movies, including Amazon's video service, Netflix, Hulu+, and YouTube. It also supports Adobe Flash for watching videos online.
The built-in video application connects with Amazon's video services, of course. You can stream Amazon's videos or download them to watch offline. And Amazon Prime members can stream Amazon's collection of instant videos for free.
The Kindle Fire comes with a free month subscription to Amazon Prime so I've had a chance to test a number of streaming videos. They play smooth and look great but most of the movies and TV shows are the same ones available on Netflix.
The Netflix app works well on the Kindle Fire. The picture isn't quite as clear and detailed as it could be, though. One time I had a problem with the Kindle stuttering horribly with Netflix and Amazon's instant videos both. Restarting the Kindle fixed the problem.
I was able to sideload a test MP4 movie using Dropbox, and it played very well and looked great, but given the Kindle's meager storage space it is much more suited for streaming video than clogging up the internal storage space with large video files.
The web browser has a bookmark for the YouTube website, but I went ahead and sideloaded the actual YouTube app from Freeware Lovers. I tested a 1080p video and it looked fantastic and played very smooth.
One complaint with non-Amazon videos is the menu bar remains at the bottom of the screen with an annoying bright white arrow icon in the center. This needs to be removed pronto.
Rooting and Installing Android Market
It didn't take any time at all for hackers to root the Kindle Fire and install the Android Market and Google apps, along with custom ROMs for different versions of Android, including Android 4.0. Here are the directions for Kindle Fire rooting and mods:
Bottom Line
Amazon is arriving late to the tablet party, but that isn't going to stop them from selling millions of Kindle Fire tablets. The device isn't nearly as advanced feature-wise as other tablets, but it does enough things well and has the specs and a low enough price to the interest of a significant number of people.
I would recommend the Kindle Fire more so for those new to tablets than advanced tablet users. It offers a lot for $199 in terms of features and Amazon makes everything really easy to learn and use, but the lack of a memory card slot limits it in a lot of ways and makes it very dependant on Wi-Fi and cloud storage.
Kindle Fire Specs
7-inch ISP screen
1024 x 600 pixel resolution at 169 ppi, 16 million colors
Gorilla Glass
8GB internal memory, cloud storage
512MB RAM memory
Dual-core 1GHz TI OMAP4 processor
Android 2.3 operating system
Stereo speakers, headphone jack
Amazon appstore, plus sideload apps
Wi-Fi
Comes with free month of Amazon Prime
Amazon Silk web browser
USB 2.0 (mini port)
Whispersync
Battery life: 7-8 hours typical use
Dimensions: 7.5" x 4.7" x 0.45"
Weight: 14.6 ounces
Price: $199