Kindle Fire vs iPad 3 Comparison Review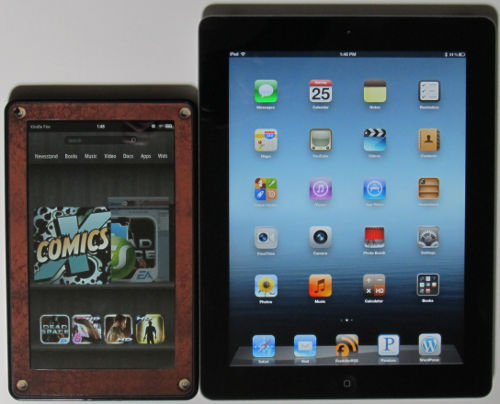 Introduction
When comparing the Kindle Fire with the iPad 3 there are a number of different aspects to consider. Each tablet shares a lot of the same features, and each offers something the other does not.
The iPad is a lot more expensive so it has more going for it, but not everybody needs the extra features.
When it comes right down to it both tablets can do many of the same things: browse the web, listen to music, watch videos, read ebooks, newspapers, and magazines, play video games, email, use social networks, and a lot more. In fact, many of the same apps are available on both platforms.
Aside from the operating systems, the biggest difference between the two tablets is their size. The Kindle Fire is about half the size of the iPad, although a little thicker. The iPad is more of an all around tablet whereas the Kindle is more designed around ereading, games, music, and videos.
Kindle Fire vs iPad 3 Comparison Video
Apple iPad 3 Advantages
Larger screen size, 9.7" for the iPad vs 7" for the Kindle, equates to about twice as much screen area.
Better screen quality: more pixels with brighter colors and sharper text.
Better battery life - 10 hours to the Kindle's 7-8 hours.
Options for 4G wireless (just Wi-Fi on the Fire).
Front and rear cameras (no cameras on the Fire).
Microphone.
Multitasking gestures make moving from app to app easier and faster.
The iPad's appstore is larger, but the Kindle can sideload apps from other stores.
More memory and RAM.
Better for productivity use for education, business, music, and videos.
Larger screen more suited for comics, PDFs, magazines than Kindle's smaller screen, but it's not bad either.
Available outside the US.
Bluetooth support for wireless headphones, speakers, keyboard, etc.
Connect to a TV, camera, etc (with adaptors).
Easy to take screenshots.
Thinner.
Better build quality, metal vs hard plastic.
Physical volume buttons vs on-screen slider for the Kindle.
The iPad's apps generally tend to look better and perform more smoothly that their Android counterparts.
Kindle Fire Advantages
$300-$629 less expensive.
Amazon gives away a paid app for free every single day. Most are games; holidays often bring expensive productivity apps well worth getting.
More e-reading centric. The smaller design makes it lighter and easier to hold, especially for long stretches of reading.
Supports Adobe Flash.
Android uses a folder system so finding and organizing content is easier than with the iPad.
Can easily get rid of the Amazon's homescreen carrousel to make homescreen more customizable with GO Launcher.
Can root the Kindle Fire to access Google's appstore.
Once rooted, can install custom ROMs to change the operating system such as CM9 for Android 4.0 and CM7 for Android 2.3.
Compact and portable, fits in a pocket.
The Kindle Fire can sideload apps from other app markets.
With Android loading files and managing files in easier than with iOS where everything is hidden.
Wirelessly send personal documents and non-Amazon ebooks for free to the Kindle Fire, and have them backed up and synced.
Doesn't get hot on back like the iPad can.
iPad Screenshots
Kindle Fire Screenshots
Kindle Fire vs iPad Review: Conclusion
When trying to decide between buying the Kindle Fire and iPad 3, more than anything it comes down to how much you want to spend. The iPad is bigger and more capable but it also costs 2.5 to 4 times as much.
In my opinion, the Kindle Fire is more suited for those that primarily want a color ereader with tablet benefits, such as playing video games, web browsing, watching videos, and listening to music.
It's also better if you want to save more money in the long run. Amazon's content seems to be less expensive by my experience, and they give away a paid Android app for free each day. Plus you can get Android apps from other sources, including Google if you choose to root the tablet. Rooting also opens up doors for further goodies like installing alternate versions of Android.
Because of its advanced feature-set and larger size, the iPad is more suited for business and education use than the Kindle Fire. The iPad can be used as a laptop replacement and is better for textbooks and educational apps in general. The iPad fits the role of an entertainment device and a productivity device, whereas the Kindle is more suited for content consumption rather than creation. It probably won't be long before Amazon comes out with their own 10" tablet to better compete with the iPad directly.
Kindle Fire and iPad 3 Specs
| | Apple iPad 3 | Kindle Fire |
| --- | --- | --- |
| Screen Size | 9.7-inch LED-backlit IPS | 7-inch ISP |
| Resolution | 2048 x 1536, 264 ppi | 1024 × 600, 169 ppi |
| Processor | 1GHz dual-core Apple A5X with quad-core graphics | 1GHz dual-core |
| Operating System | iOS 5.1 | Android 2.3, modified by Amazon |
| Storage | 16GB/32GB/64GB, no memory card slots | 8GB, no memory card slots |
| Memory | 1GB RAM | 512MB RAM |
| Wireless | WiFi, Bluetooth 4.0, 4G optional | WiFi |
| Front Camera | VGA | none |
| Rear Camera | 5 megapixel, 1080p video | none |
| Input/Output | 30-pin connector, 3.5mm headphone jack, 1 speaker, mic | mini-USB, 3.5mm headphone jack, 2 speakers |
| Battery | 9-10 hours | 7-8 hours |
| Weight | 23 oz | 14.6 oz |
| Thickness | 0.37" | 0.45" |
| MSRP | $499-$829 | $199 new, $169 refurb |